Killer Instinct with Rob Bredl
from Instinct Television on March 14, 2003
View comments about this article!

KILLER INSTINCT

PRODUCTION JOURNAL

2ND February 2002

 

Six episodes of Killer Instinct with Rob Bredl have become thirty nine.

And now a new adventure begins.

Killer Instinct is a lively television series centring on the behaviour of one of the animal world's most dynamic hunters. Following the original six episodes airing in Europe early in 2001 now the adventure continues with 33 more episodes to air on the Outdoor Life Network, USA.   

 

We journey with a man who has true animal magnetism, Rob Bredl, as he takes us up close and personal with animals using their power, cunning and special abilities to survive. Rob's specialty is being absolutely in tune with the animals he takes us to meet. He expertly handles snakes, crocodiles, lizards, spiders and a whole menagerie more. 

 

The series concentrates on the animals that hunt and kill to survive; using their superbly adapted senses and agility. Rob Bredl's journey is to discover and educate on the killer instinct that drives these animals big and small.

Production journal as at 1st Feb 2002...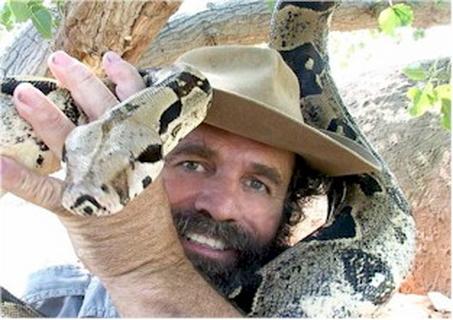 Already on the road and "bush bashing" for six weeks, Rob and the crew first traveled to one of the last great wildernesses. Cape York Peninsula is in the northern region of Australia and is as close to the equator as Australia gets. Facing scorching summer conditions of up to 50 degrees Celsius, that's 122 Fahrenheit plus high humidity, Rob went in search of freshwater crocodiles or "freshies" as their known. Finding a remote water-filled gorge near Laura, Rob spotted crocodile tracks on the sand bank… and the hunt was on. Freshwater crocs aren't as dangerous as their extremely aggressive saltwater cousins but, as Rob says.. "I don't care how `relatively harmless' they're claimed to be... you wouldn't want to tackle a big one in the water." But even with that in mind Rob still went snorkeling for smaller freshies in the murky waters. Poking around in underwater holes Rob soon found what he was looking for and manhandles them to the surface for a close up look at these prehistoric throwbacks. He also came across a magnificent water python hiding under a rock shelf. These snakes are known to the aborigines as the sacred rainbow serpent; maker of all rivers and lakes in the area. After digging up burrowing frogs and swimming with crocs and even snakes it was time to get on the move again.
It was in western Queensland that Rob was on the prowl for one of Australia's famous long lizards, the Lace monitor. He bagged a large specimen but not before the lightning fast lizard spun its head around and merely brushed his captor's arm with its razor teeth. Laughing with a six foot lizard in his hand, Rob described the creature while blood oozed from his arm. It's been said a bite from one of these creatures will never heal. "Another myth to be destroyed", muses Rob as he washes the blood from his already much scarred arm. 
It was then back to his own wildlife park at Airlie Beach where he was filming a descriptive scene for episode one in the series; "Face to Face with the Killer Instinct." He was demonstrating his skills with one of his own saltwater crocodiles, Galloper, when the 16 foot long monster suddenly spun around and chomped Rob on the foot. It was quick reflexes that avoided his whole leg being taken and thus Rob himself being wholly dragged into the water. On the way to the hospital Rob, in his usual high cheeky spirits, tells us that it was ONLY his 29th bite in 30 years…"I call them love bites" he says. Even while he was getting 10 stitches in the hole though his foot he describes what went wrong for the camera. "It's nesting season and they all get pretty aggressive at this time." explains Rob, "… I was using my stick to keep his eyes closed as I walked past him, but my foot slightly brushed one of his toes… of course he then knew where I was and millions of years of instinct kicked in and he made a lunge for lunch…me!" 
Always going barefoot, but now with one bandaged up, Rob just got on with the business he loves; catching, tending, describing and releasing the animals he loves. It's never a case of worrying about "getting back on the horse" with Rob, even though it's usually a giant crocodile he rides. "It was a momentary flash of aggression from Galloper to get something to eat," says Rob, "It was my fault, I got in the way, but I'll be working with him again tomorrow just like always... he'll try to eat me again and I'll just have to be quicker still."  Rob's no stranger to encounters like this, working this closely with wild animals even the best handlers get nailed occasionally… even Rob Bredl who's been on the wrong end of three bites from some of the deadliest snakes on Earth. "I don't go out to get munched on!" he laughs, "…it's one of the hazards of the business and I must be doing something right; I've still got ten fingers and ten toes…just"
It was on the road again to South Australia, at the bottom end of the continent, to chase up the Dingo… all dogs are said to be descended from wolves but the first "wolf" to be domesticated was the dingo and is now known to be the original "dog." No animal on earth has been so despised with governments legislating its total eradication. It's true the dingo hasn't helped its cause with terrifying encounters like the Azaria Chamberlain case that spawned the movie "A Cry in the Dark," and just last year another young boy was mauled to death by wild dingoes. Rob has dingoes as pets in his wildlife park and he travels south with a sample of their DNA to better understand the purity of their genes and their true lineage. He found high aggression alongside faithful companionship, this is the world of the dingo; the original dog still full of the killer instinct.
Rob then stayed in the southern region of Australia to go hunting Numbats for the Killer Instinct program titled "Marsupial Carnivores." "Australia has a wealth of amazing animals seen nowhere else in the world," states Rob, "…and with names like Numbats, Dunnarts, Quolls, Phascogales, Planigales and Antechinus, you'll agree they're the fierce little fur balls you've never heard of."  His hunt for the Numbat sees Robbie joining in with the world's only breeding program for these animals and an actual capture and collaring of a Numbat with pouch young; a rare find that proves things are looking good for the species. "They came as close to extinction as you can get," says Rob, "…but the people at Yookamurra have brought their numbers back by catching, radio collaring, breeding and studying these aggressive marsupials."     
The whole range of these amazing little animals feature high aggression matched only by their metabolic rates. Hunting and stalking their prey is like watching a lion or tiger hunt… only in fast forward. Rob shows us their needle-like fangs and ponders their roots in a harsh land where once their prehistoric ancestors where lumbering giants compared with their modern, high speed counterparts. Rob also searches for answers to the claims of the extinct and fearsome "Marsupial Lion" being an equal of the famed saber-toothed tiger.
Back on the road it was time for Rob to take a break and get something to eat. He's in the middle of what looks like nowhere and no MacDonald's for 100's of kilometers, but Rob, an experienced bushman, shows us how to feast when there's nothing but a fire and your own wits. For the Killer Instinct cameras Rob prepares a feast by first hunting, catching and preparing Mud Crab, Barramundi Sausage, steamed Welks and…Rat.
Rob grimly states.. "If you're going to survive out here it helps to know what you can and can't eat and where to find it… there were tragic stories during the Second World War where American airmen survived plane crashes in northern Australia only to starve to death when there was food all around them."
Rob's bush tucker meal, while not always the most palatable looking fare, has kept the aboriginal race alive for over 40,000 years so something's got to be working…. besides we're reminded, as Rob chomps into a freshly roasted bush rat like a corn cob, that rat meat is high in vitamin C!
Rob is currently traveling to hunt down Urban Birds of Prey. We may think we've urbanized and "civilized" an area but Magpies, Crows, Kookaburras, Owls and Butcherbirds continue stalking and killing prey to survive… it maybe the "friendly" suburbs but Rob shows us the murder going on all around us. Then to the oceans where right now in Australia we're seeing record stings and even deaths from ocean drifters like Box Jellyfish, Irukandjis, Portuguese Man o' War, Stonefish and blue ringed octopus. Rob wades out to bring us all close to "Ocean Venom."
Then it's back to more of what Rob calls his "pets" as he literally gets all wrapped up in Australian Pythons.
Rob's personal story of adventure is also uncovered in episode one with the discovery of rare footage of Rob as a boy hunting for snakes and lizards with his brothers and inspirational herpetologist father Joe Bredl. There's also film documentation of Rob becoming the crocodile man he is today with the early catches, breeding and release techniques for the first crocodile farm in Australia founded by Rob and his father Joe.
LATEST NEWS-
Amazing footage of Rob handling the 4th deadliest snake in the world, the King Brown. Rob was describing the attack techniques and even the "run away behavior" of this frightening snake when it turned in an instant and lunged back at Rob. Without pausing for breath Rob instantly describes his technique of standing still in such an attack. He does this as the snake propels itself at Rob's legs… judging Rob's static legs are part of the landscape (what prey would be silly enough to stand still?) it falls harmlessly to the ground between Rob's legs. Rob then had to move after this first strike because the snake was now close enough to strike successfully. Rob moves out of the way… the snake sees the movement and strikes again… missing Rob by millimeters… it's frightening footage that proves Rob is the real thing… a cool thinking, intuitive animal handler that lives to teach us more about his remarkable world every day.
Killer Instinct with Rob Bredl
Reply
by Nakita on March 17, 2003
Mail this to a friend!
I have to say that I THOROUGHLY enjoy Mr. Bredls' show!
He is very informative and has a very magnetic personality. In addition, unlike other T.V. personalities he doesn't appear to suffer from an over inflated ego nor does he think his skills are above reproach or that HE is the only person in the world capable of working with dangerous animals.
Unfortunately because of the "reptile show craze" that has transpired through the television we have been subject to many hosts who either share misleading information or simply take themselves to seriously (although one definately stands out I am referring to others as well).
In closing I would like to thank Mr. Bredl and Mark O'shea for sharing their adventures with us.
Jackie Lapradd

Killer Instinct with Rob Bredl
Reply
by Cantil on March 21, 2003
Mail this to a friend!
I saw Rob's show for the first time the other day and was very impressed. Finally a guy who is doing this for fun and out of pure love for the creatures. When you watch his show you can tell that he would be doing it the same way even if the camera wasn't around. I'll be pleased if Rob gets more attention and perhaps some hour long shows on different networks. I like this guy and I can't say that for all of the other TV herp guys.
Killer Instinct with Rob Bredl
Reply
by BigVaughn on May 22, 2003
Mail this to a friend!
I was just wondering if anyone knows any information as to the make or availability of a bowie knife like the one that Rob Bredl uses on the show. I would appreciate any help anyone can give. Thanks.
RE: Killer Instinct with Rob Bredl
Reply
by Nakita on May 24, 2003
Mail this to a friend!
Frost Cutlery makes many "Bowie" style knives and several look very much like the one he uses.
Personally I opt for a small folder which is much easier to carry and lends itself to more delicate work should it be necessary.
Take care
Jackie Lapradd
RE: Killer Instinct with Rob Bredl
Reply
by elapid62 on June 13, 2003
Mail this to a friend!
I have seen sevral of Robs shows now, and I must say that I think it is the best herp. shows I have seen.
RE: Killer Instinct with Rob Bredl
Reply
by husky on July 2, 2003
Mail this to a friend!
I have seen this show on the OLN network, here in the states. It is great fun and adventure to watch. Rob comes across as a great guy, who is smart, knows his stuff, loves the outdoors and is very very brave. I hope this series continues. All the best to Rob...
RE: Killer Instinct with Rob Bredl
Reply
by BayouBob on July 24, 2003
Mail this to a friend!
I think Rob is cool. Plus he looks like my dad. i've watched all of his shows. a i've also tryed most of his methods, and trust me they work. It's a great show to watch, and a great show over all. plus I think animals are cool.
Killer Instinct with Rob Bredl
Reply
by adz91 on July 29, 2003
Mail this to a friend!
I think the show is amazing i watch it every day.Rob is my idle alongside Jeff Corwin and Mark O'shea i think his tecniques of handling the animals are excellent and i use them myself when i handle snakes ect. His programme has taught me alot i didnt know about things and what to do if i see one ect and how to handle animals.
Killer Instinct with Rob Bredl
Reply
by whip5 on February 19, 2004
Mail this to a friend!
just watched a new episode of killer instinct with Rob. He was handling a scarlet king and a coral snake. He got the riddle for safe identification wrong. If red touches yellow, kill a fellow, red touches black, venom lack (or you're ok jack*). Red and yellow for coral, red and black on a scarlet king. Love rob's show, he's the man.
Killer Instinct with Rob Bredl
Reply
by Ahmad on February 21, 2004
Mail this to a friend!
I live in Canada and I make it a point not to miss any episode of Rob Bredl show.Besides being highly informative what I like the most is the very humble character of Rob Bredl.I think he is just great and I admire a lot what he does.My dream would be to meet him one day and possibly would love to be a part of his team.
RE: Killer Instinct with Rob Bredl
Reply
by RealAnimalLover on April 5, 2004
Mail this to a friend!
Hey! I also live in Canada and I also admire Rob Bredls amazing passion for nature. Animals are my passion so I have alot of respect for him. Right now Im looking at the wildlife in sounthern ontario and so far ive seen white-tailed deers, porcupines, red-winged blackbird, robbins, mourning doves, downy woodpeckers, hairy woodpeckers and much more. Animals are my life and so naturally Rob Bredl is my icon when it comes to animals.
RE: Killer Instinct with Rob Bredl
Reply
by Jessica_Kadikoff on May 13, 2004
Mail this to a friend!
I watch Killer Instinct whenever I can, it's extremely interesting, and I'm extremely impressed with with Mr. Rob Bredl's ability with animals, especially snakes. I fancy snakes more than my own boyfriend, and study them for fun, I even collect and photograph them for a hobby. I notice on other reptile shows, I can pick out mistakes that they say, (like when I heard a man say a boomslang is the most deadly and toxic snake on earth, Inland Taipan/Fierce Snake wins that category) and this always happens. But when I watch an episode of killer instinct, I can never find any of that. I'm happy that there is a show out there, telling true information. Rob is truly an inspiration to me. I even found a few mistakes with that Steve Irwin, thinking a Black snake was a tiger snake, and I don't much like the way he tail handles them. Anyway, Rob rules. Chow.
Killer Instinct with Rob Bredl
Reply
by BarefootBushmanUSA on June 13, 2004
Mail this to a friend!
Rob Bredl has inspired me-I do pretty much everything barefoot (except when in public.) I love his show, personality, and his knife.
Killer Instinct with Rob Bredl
Reply
by cris_toronto on June 25, 2004
Mail this to a friend!
Mr. Rob Bredl and his team are very knowledgble about reptiles and other land creatures and I think he does a tremendous job.
BUT and a big BUT....!!!

They are completly ignorant about the underwater world!
I have seen 2 episodes where Mr. Rob puts on some scuba gear and shows the Autralian Coral Reef.

What a freaking disservice!!!!!

In inumerous ocasions he praises how beautifull and delicate the coral reef is but can't help himself, and his dum assistant too, by puting his hands on the CORAL!!!!!

In case Mr. Bredl and his research team aren't aware, you should NOT TOUCH THE CORAL!

He appears in one scene actually grabbing the coral to show to the cameras!
This is not a crock you IDIOT is extremily delicate coral.
With that action not only he killed it, it also sends the message to millions of viewrs arround the globe that is OK to do so!
The Australian Govement and other countrys are spending millions of dollars to educate and preserve the coral reefs.
And this moronic goof does exactly the oposit.

Mr. Bredl, educate yourself, check PADI's AWARE program or ask and Diving professional about what can and can not do before you start.

Cristian Graca
Master Scuba Diver Trainer Padi 208464
RE: Killer Instinct with Rob Bredl
Reply
by cris_toronto on June 25, 2004
Mail this to a friend!
One more thing...
The damage that Mr. Bredl coused on that piece of Coral WILL NOT RECOVER IN OUR LIFE TIME.

RE: Killer Instinct with Rob Bredl
Reply
by logical on September 21, 2004
Mail this to a friend!
omigod , rob touched a coral reef, how will we survive, you butthead, even if half the population on this planet touched the same reef, you'll never see or feel the effects, you'll be 6 feet under and long gone. find some more worthwhile cause to make us puke on.
RE: Killer Instinct with Rob Bredl
Reply
by logical on September 21, 2004
Mail this to a friend!
another treehugger uggg! tell you what, you'll do more damage to the environment cutting trees down to make paper to write your essays critising rob, than doing good. ignorant.
RE: Killer Instinct with Rob Bredl
Reply
by ALA_herp31 on September 22, 2004
Mail this to a friend!
Logical.....I agree with you, thy talk big but do just the opasit of what thy preach......its called hipacracie......i my self think that ROB is probably the most insitful TV herper and animal expert out thare.....i have enjoyed hes show from the first time i saw it, and i try my best not to miss 1 single epasode......ROB man keep up the good work .....you are a true bushman ..........thanks for being a good imbasider to the herps we all love so much.....happyyy herping ..Wally
Killer Instinct
Reply
by crazy4reptiles on September 27, 2004
Mail this to a friend!
Wow! Some folks really are tougher behind a computer. Anyways, I feel bad for the coral, but really man, get over it. I think you could have adressed that situation in a more mature fashion. You can make a point without tearing heads off, and making a total ass out of yourself, but hey, the rest of us got a good laugh at your expense hahahaha!!!

As for the main reason I am posting a message, I was wondering if this would be the place I would post a request for an episode idea?

Any other fellow herpers want Rob to go to the many islands of Indonesia and show us some of the wonderful Candoia? I just got my first Candoia Carinata Carinata and I throughout my research I have been reading a lot about the many candoia waiting to be discovered, within the 10,000 islands of Indonesia and the south pacific.

If anyone has any further information about Candoia (I have already read the candoia pages by Jerry Conway) Please post.

Thanx, and glad to see the love for Killer Instinct and Rob Bredl! Keep up the great work Rob, we love you, and appreciate what you do! ~XENA~
RE: Killer Instinct with Rob Bredl
Reply
by Cyric on February 9, 2005
Mail this to a friend!
I would suggest that before you advise Mr. Bredl to "educate himself", you at least take the time to check your spelling.
RE: Killer Instinct with Rob Bredl
Reply
Anonymous post on March 20, 2005
Mail this to a friend!
hey hows it goin, names phil, watch the show 5 days aweek because thats how many times it comes on by me. i want to say "this is the most informative show ive seen, and ive watched 2 other ozzys shows and they were both them same, you are exciting to watch, and at the same time educational. one question though, you ever think of going to Alaska fer a show???? also i love the survival information you show. Thanks Big Phil
RE: Killer Instinct with Rob Bredl
Reply
by sybille on May 23, 2005
Mail this to a friend!
I read with pleasure the message of Cristian. He's always the same.

Ok Cristian, you're right, we have to
preserve the coral reefs, we just have to look ...

Kiss, your more faithful pupil
Killer Instinct with Rob Bredl
Reply
by iggi on August 14, 2005
Mail this to a friend!
Hi my name is Igor and i live in canada. i'm fourteen and eversince i can remeber ive been watching animal discovery shows like mr.bredl's. befor him was steve erwin the crock man. i must admitt i enjoyed his alot, but i must also say that it did not match up to the qualitie or mass of information and knowledge on these feared creatures of this earth. i make it so that i never miss an episode and i love the way Mr.bredl is sooo modest. I would kill to go to australia and meet Mr.Bredl. ive learned so much that im could just go out and handle any creature there is i've been learning how to do this since i could remember and its finally nice to find a place where you can talk to others that have the same sort of opinion as you do and are into animals almost as much as i am though i don know that but i assume so. Any way i just wanted to leave a forum here saying what i think of killer instinct and about Mr.Bredl. Im his biggest fan.

Peace
RE: Killer Instinct with Rob Bredl
Reply
by iggi on August 14, 2005
Mail this to a friend!
you dick... Rob has done more to show us about this world and its inhabitants than you eber will within this life time and the next. So i do agree he did kill a bit of coral reef, but if it doesnt mend in this lifetime it will in the next. Ok?!

He goes out and works his ass off to show us what we are distroying and without showing us he is only talk. By showing all of this he shows us that we must be more careful around what we do to preserve the magnificent beauty within our own community. You have no right to talk about someone like rob like that especially if you haven't done jak...

Next time you decide to trash on someone try someone whos isn't so loved u prick

Peace out...
Killer Instinct with Rob Bredl
Reply
by croc2005 on September 18, 2006
Mail this to a friend!
I wish I can email the guy or talk to him. THIS GUY IS GREAT!!He rides alligators! Who does that.
Killer Instinct with Rob Bredl
Reply
by Dumerils-Dude on September 24, 2006
Mail this to a friend!
I have watched quite a few of the Killer Instinct episodes and found them wonderful. Such detail, excellent camerawork, and care as not to distress the animals during the filming.

(Well, aside from when decides to sample the native food sources.) :)

While some could see the tradegy of our beloved Steve Irwin as a chance for another to tr to fill his shoes, I point out that the next big prints will be made barefoot.

I would love to see Rob Bredl go to Madagascar for an episode. They have so many species found no where else in the world. This is heightened since the country outlawed exporting reptiles over a decade ago. It has regions with different climates much like his homeland, I would love to hear his comparasons on what he finds.

If anyone knows how to contact the offical Killer Instinct website, please email it to me at Grasshopper069@comcast.net

Thanks for all your time and attention.
I hope this finds you well and in good spirits,

-Dumerils-Dude

(PS: Rob if you decide to go to Madagascar and want a skilled handler & camera man, drop me a line mate! Will work for just the experience. Cheers!)
RE: Killer Instinct with Rob Bredl
Reply
by Crikeysnake on December 2, 2007
Mail this to a friend!
Did anyone notice how SEXY this bonzer bloke is?

He is one FINE Aussie bloke, and when he sat on that crocodile ... well, I just can't write stuff that naughty in a public forum. This isn't Penthouse.

I just recently discovered Rob Bredl in his website and what a nice man he was to actually write back. I'm hoping he'll send me a sexy autographed photo!

He won't touch coral anymore, because I am sure someone warned him, but that was really mean when the above person started out with such a nice letter, only to turn into a monster near the end.

Tree huggers are good because they love trees. Peace, hippie!

I am planning to get his videos one day and even visit his zoo, when he gets it organized. I was told that this month, he was forced off his land and had to relocate like 800 animals! We need to support his zoo. It will be a lot easier once they put up a website with clear instructions on how people can donate funds to his zoo which he says is called Bredl's Blue Planet Zoo.

Crikey, mate. Rob is our crocodile hunter now. By the way, Steve Irwin and his family went to his zoo when Steve was a "billy lid" (child) and they learned just about all they know from Rob Bredl.

G'day mates!

ps. stop using such bad grammar in this forum or the grammar police will show up!


Email Subscription
You are not subscribed to discussions on this article.

Subscribe!
My Subscriptions
Subscriptions Help

Other Field Notes Articles

The Spring Egress: Moments with Georgia's Denning Horridus

Bushmasters and the Heat Strike

---