The Venomous Reptiles of the Western Hemisphere
from Heidi Lovette
Website: http://www.amazon.com/exec/obidos/ASIN/0801441412/venomousreptiles on July 14, 2004
View comments about this article!




NEW FROM Cornell UNIVERSITY PRESS

The Venomous Reptiles of the

Jonathan A. Campbell and William W. Lamar

Since the publication of The Venomous Reptiles of Latin America by Cornell University Press in 1989, scientific discoveries and taxonomic changes have resulted in the addition of many taxa and species to the herpetology of the Western Hemisphere. This greatly expanded and updated version of that book - now in two volumes - includes accounts of all 192 species of venomous snakes and lizards found in the Western Hemisphere.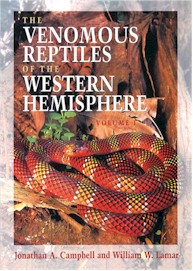 Lizards, coralsnakes, and seasnakes are featured in Volume I, whereas Volume II begins with pitvipers and includes all known species of rattlesnakes. The species accounts are accompanied by 1500 stunning color photographs of individual species—many of which are unique in showing newly discovered species and fresh views of male, female, and juvenile individuals—and images of damage done by snakebite, an important tool for the diagnosis and treatment of these injuries. Additional features include regional/country accounts with related bilingual identification keys; vegetation and topographic maps; chapters on mimicry, evolution, and snakebite treatment in tropical and temperate America; a glossary; literature-cited section; and index.
The Venomous Reptiles of the Western Hemisphere, Volumes I and II is an essential reference for all naturalists interested in herpetology—amateurs impressed by the beauty and complexity of venomous reptiles as well as professional herpetologists and their students conducting research in the classroom, in the field, and at the zoo.
Jonathan A. Campbell is Professor of Biology at the University of Texas at Arlington and the author of several books. William W. Lamar is Adjunct Professor of Biology at the University of Texas at Tyler. For interviews, or expert commentary on reptiles, contact Professor Campbell at campbell@uta.edu.
Ithaca and London • A Comstock Book
• 1500 stunning color photographs • Eight color vegetation and topographic maps
• 161 black-and-white photographs • 109 line figures
• 113 completely revised black-and-white distribution maps
Cloth ISBN: 0-8014-4141-2 • Price: $149.95 £86.95
For additional information contact: Heidi Lovette 607-277-2338 x230 email: hsl22@cornell.edu
Cornell University Press, Sage House, 512 East State Street, Ithaca, New York 14850
The Venomous Reptiles of the Western Hemisphere
Reply
by JenLongley on July 15, 2004
Mail this to a friend!
Questions/order info can also to directed to me at jal225@cornell.edu.

Jen Longley
Sales Coordinator
Cornell University Press
jal225@cornell.edu

The Venomous Reptiles of the Western Hemisphere
Reply
by Snakeman1982 on July 19, 2004
Mail this to a friend!
I absolutely love this book. It is completely up to date with all the recent taxonomic changes of genera and new species. It has photos, natural history, and distribution maps of every species, except maybe a few. An important batch of photos and literature on bites caused by many of the species. Definitely the favorite book on my book shelf. This large book is completely filled with important information and photos. Easily worth twice this list price. I have never seen another book quite like it. In the immediate ranks as some of the great books such as Savage's "Amphibians and Reptiles of Costa Rica" and Gloyd and Conant's "Snakes of the Agkistrodon Complex".

Robert
The Venomous Reptiles of the Western Hemisphere
Reply
by agki on July 19, 2004
Mail this to a friend!
I recommand those books for everyone interested in venomous reptiles cause I baught it this weekend at the NY Metro Reptiles expo.It was worth the cost!
RE: The Venomous Reptiles of the Western Hemispher
Reply
by Chris_Harper on July 27, 2004
Mail this to a friend!
This is a 2 volume set that really has to be seen to be appreciated. I just received it today and I am seriously impressed with what I've seen so far. Definitely a must-have for serious venomphiles.

Chris Harper
webmaster@venomousreptiles.org


If you only buy one book this year....
Reply
by Crotalus75 on July 29, 2004
Mail this to a friend!
This should be it! This book is an absolute masterpiece that contains detailed information on every (to my knowledge) species of venomous reptile in the New World. VRWH contains tons of fabulous full color photos including stunning species and habitat shots and some of the most HORRIFIC envenomation pictures that I have ever seen. The two volume set is literally packed full of fantastic line drawings (head comparisons, scale counts, skull structures, etc...) and detailed range maps. VRWH covers a huge variety of topics including distribution, climate, vegetation, topography, morphology, natural history, medical implications, etc.... This is probably the best text on this subject to date. What are you waiting for?.....go get this book!
Email Subscription
You are not subscribed to discussions on this article.

Subscribe!
My Subscriptions
Subscriptions Help

Other Recent Articles

The Spring Egress: Moments with Georgia's Denning Horridus

Jameson's Mamba Captive Care

Captive Care and Breeding of the Monocle

Keeping Kraits

I Should Be Dead

---