Mark O'Shea Answers Questions
from Mark O'Shea on January 31, 2006
View comments about this article!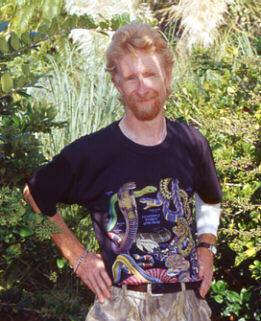 Mark O'Shea is a herpetologist of the first degree, having studied venomous snakes in 30 countries on 6 continents, especially in the tropics. He is the author of 4 books, over 100 articles, and has presented 36 television documentaries, including 4 series of "O'Shea's Big Adventure" on the Animal Planet network. Post your questions for him, and he'll personally answer them as his time allows. ~Webmaster
Q&A with Herpetologist Mark O'Shea
Mark O'Shea Answers Questions
Reply
by martyn on February 2, 2006
Mail this to a friend!
Is it true that at you tucked a rat under your chin when you entered a reticulated python enclosure and it bit you ? i heard this from a guy called mark.

RE: Mark O'Shea Answers Questions
Reply
by keyz on February 2, 2006
Mail this to a friend!
Hi Mark I hope that you are well, my name is Kieron and I contacted you last year concerning how to get some work with ANY reptiles and I am glad to say it seems that all the asking and begging (nearly) is starting to pay off as a local Reptile supplier is interviewing me in the next month as there are alot of applicants, Thankyou for giving me some hope and also, if you do think of anywhere I should really try for work experience paid or voluntary please will you post there contact emails thankyou.,

Q2 When you did the episode about the King Cobra's alleged inteligence- was it really as awesome as it seemed staring into that huge Cobras eyes and what conclusion did you come to about there possible inteligence (over other Cobras) and also any other seemingly inteligent/aware snakes Thanks again Mark.
Keyz.
RE: Mark O'Shea Answers Questions
Reply
by Rinkhals on February 2, 2006
Mail this to a friend!
Hi Mark
I'm 16 from england and am fascinated by animals in general, though snakes are a cut
above the rest in my opinion. I've always known that if i can i want to work with snakes and
i dont really know how to further my interest. In England im hesitant to go out catch
snakes because i know there are laws regarding the handling of them in the wild and wondered
if you had any adice on the sort of path i should aim to take. I dont really want to be on
the tele or anything like that, i just want to work in the wild, first hand with the animals.
Also do you know of any snake collections in england where i might be able to get work
experience and learn more about handling snakes as getting a pet snake is tricky because my
mum apparently has nightmares when i mention the idea. I joined the British Herpetological
Society in the hope that that would enable me to work with snakes a bit and learn something
on the way.
I would be most grateful for any help you can give me.
Regards
Ben Freeman
magical_mongolian_monkey@hotmail.com

By the way you spoke at my school and at that time i was too young to be allowed to go so
if you're ever down Portsmouth way again can you do another speech. Also if you ever need
someone to help out on an expedition as an apprentice kinda thing im eager and willing!
(I know there is no chance but worth a try eh)
Well good luck on your future expeditions and hopefully one day ill be privaleged enough to
have handled half as many snakes as you.
Bit long maybe but i got carried away...
Posted Again :)
RE: Mark O'Shea Answers Questions
Reply
by Mark_OShea on February 5, 2006
Mail this to a friend!
No Martyn, this is not true. I think it is one of those apocryphal stories that gets attached to someone for not better reason that there was nobody else about at the time. This does sound like the famous case of the guy who was killed in the US when he tucked a rabbit (or maybe it was a rat but they are quite small) under his chin when he needed both hands to open a retic cage. His wife found him dead some time later with the snake still in the vicinity. I think it happened about 10 years back but these stories tend to come around and get stuck to people again later. For instance, when I was in Papua New Guinea in 1990 I heard that an Indian school teacher up at Wewak (north coast) had released his two 'pet' cobras into the wild. I was dubious of the story, wondering a) how he had got them into PNG (and why) and b) why he had then released them.
When I was back in PNG in 1992 the favourite story amongst the white expats was how 'I' had gone up to Wewak and released two 'pet' cobras. Well I have never been near Wewak nor imported cobras into PNG but by all accounts the story is now 'proven fact' and part of the folklore.
Never pay attention to wild rumours, they are invariable incorrect, including the two (or was it three) that have eminated from the US since 1999 which claim I am dead. If I am, then this is the first email from beyond he grave. Ouch, just pinched myself, yep, I'm still here.

Mark
RE: Mark O'Shea Answers Questions
Reply
by Mark_OShea on February 5, 2006
Mail this to a friend!
Well Keiran, I am pleased to hear you have an interview, that is the first step. It is not easy to find a job doing what you love but a word of warning, when your hobby becomes your job it ceasing to be your hobby!
As for voluntary work, many reptile collections are keen to bring in talented, enthusiastic, smart voluntary assistance during the busy season and if one of those volunteers shines a job may turn up at the end of the season.

Q2 I really do believe there is something going on behind those eyes when it comes to king cobras. Ask anyone who works with them or keeps them in captivity. I can't explain it but I don't see it in any other snake.

Good luck with the interview.

Mark
RE: Mark O'Shea Answers Questions
Reply
by Mark_OShea on February 5, 2006
Mail this to a friend!
So Ben, do you want to help conserve endangered British reptiles and amphibians because the Amphibian and Reptile Groups of United Kingdom (ARG(UK)) need all the enthusiastic volunteers they can get.
If you are in Portsmouth you are in good herp country (Hampshire/Sussex) and both countries have ARGs. And there is the Herpetological Conservation Trust and Froglife too. Look for their websites on the internet.
You are correct, you should not simply go and catch snakes in the UK, we only have three species, one of which has total protection (smooth snake), one is threatened and venomous (adder), and one less common than it was (grass snake). It would be much more satisfying and educational to get involved in a real project to study and conserve these wonderful creatures and enable them to continue living in the countryside.
As for working with snakes etc in collection, well I am sure you realise there is a great deal of competition for actual paid employment but as I said in my previous reply to Kieran, many collections take on voluntary help in the open seasons. The problems in the UK are things like transport and insurance. I don't think our safari park takes any volunteers under 16 for the former reason and if you have to travel 30 miles to volunteer for no income it becomes expensive for the volunteer. If there is a collection on your doostep that would like to give you some experience so much the better. Mind you, at 16 you have an entire life-time ahead of you and if you really want to work on reptiles in the wild, in the tropics, on research projects, than education is the most valuable thing you can get now, not experience. Joining the BHS is a good idea, I've been a member since 1972 and spent 3 years on the Council.
No plans to come back to Portsmouth yet I'm afraid. I was doing a join presentation with my friend and mentor Prof.David Warrell from Oxford, the worldwide snakebite and tropical medicine specialist, because Pompey was his old school.
Good luck, Mark
Mark O'Shea Answers Questions
Reply
by vikki on February 8, 2006
Mail this to a friend!
Hi mark a few questions.

i know you have a BSc how come you never went further into MSc or PHd ?

2. You obvioulsy like reptiles but what about amphibians. Do you like every reptile and amphibian or do you specialize in certain ones ?
Mark O'Shea Answers Questions
Reply
by Herpwannabe on February 8, 2006
Mail this to a friend!
Hi Mark,

I was just curious about something after I read about the tragic death of Joe Slowinski due to a bite from a krait snake in Myamar during his research there. You had also mentioned in another one of your replies that snake bites are a hazard of the trade when you are a herper dealing with venomous animals. My first question is: Do you usually carry antivenom with you for a snake you are going to capture in advance? – Or is it often the case that you will be studying a snake species of which no antivenom has been developed yet?

Why didn't Joe have antivenom for kraits available to him in a remote area? and what have you done yourself in the past, when you were bitten?

I really admired your work, by the way! And love snakes myself.

Eugenio
RE: Mark O'Shea Answers Questions
Reply
by Chris_Harper on February 8, 2006
Mail this to a friend!
Eugenio,
I can answer those questions for you. The answer is that field researchers almost never carry the antivenom with them. There are a couple of reasons. #1, Without a resuscitation team standing by, administration of antivenom in the field is an extremely dangerous undertaking. Allergic reactions occur in around 80% of the people who receive the current antivenoms used for Krait bites.

Honestly, for purely financial reasons, medical teams are not sent with field researchers, because snakebites to herpetologists in the field are such a rare event. And in reality, it IS a risk of the job.

I have volunteered my services for this in the past, but I haven't had any takers yet. ;-)

I'll let Mark answer the rest of your questions and comments.

Chris Harper




RE: Mark O'Shea Answers Questions
Reply
by Herpwannabe on February 9, 2006
Mail this to a friend!
Hi Chris,

Thank you for your reply so soon. I read your profile and since you took the time to answer me, could I ask you a couple of questions since you work with hospitals and since you are a paramedic?

I live in Canada, and the only venomous snake we have here in Ontario is the Eastern Massassauga Rattler (Please feel free to correct me on anything I might be wrong on). Two years ago I almost picked one up from the road when driving in to a marina towards a friends'cottage. I love snakes and didn't want this one squashed by a car as it was in the middle of the road. Upon approaching it and reaching for it, "Wow" what a jump back I took!! I was really shocked when I realized the end of its tail, and had to check my pants afterwards. Told what happened to our hosts, and my buddy Mark showed me a device that apparently delivers a high voltage charge localized to a snake bite. According to him this device alters the molecular structure of the venom when applied around the bite a few times, making the venom inactive in its destructive form.

How much truth is in that? and are you aware of such device? It looks like a cordless hand held shaver, but with two prongs sticking out of it, and boy, it gives you quite a surge apparently.That year I caught 7 water snakes and just last summer caught a 5ft. fox snake (and released it off-course) at the same cotage, since they are protected by law here.

Thanks a million,

Eugenio
Mark O'Shea Answers Questions
Reply
by VAsnakeman on February 9, 2006
Mail this to a friend!
Wow, the real Mark O'Shea.

I just wanted to know why they took your show off Animal Planet. Hands down, yours was my favorite to watch... Also, what channel would it show on? Ill need to order it...

BTW, Im on the east coast of the US.
RE: Mark O'Shea Answers Questions
Reply
by Chris_Harper on February 9, 2006
Mail this to a friend!
Eugenio,

That concept was based on the anecdote about a farmer who was stung by a swarm of bees and reported that falling on to an electric fence immediately caused cessation of symptoms, various 3rd world physicians started using jumper cables off of cars and other devices to "shock" their snakebite patients. The initial idea was that since the human body has a slightly negative charge, and venom is positively charged, that somehow the electricity was changing the polarity of the venom, thereby disabling it molecularly from attaching itself to human tissue. THAT WAS THE THOUGHT ANYWAY. Did it really work? Not even a little. Every experiment that could be done was done, and it simply doesn't have the intended effect. The case has been closed.

Many people and even physicians who have used it, and had their snakebite patients survive, have fallen victim to the "false positive deception". They thought that it was what was curing their patients, but it wasn't. They would have been just as successful if they had put a pebble under their tongue, or sacrificed a chicken at midnight. The truth is that most snakebite patients survive anyway!

Supportive care alone, (IV Fluids, pain meds, oxygen, airway control,etc) will improve the survival rate of snakebite patients. Prior to antivenom, the mortality rate of Eastern diamondback patients was only 25%. With supportive care, not including antivenom, it's probably less than 5%.

But don't think for a second that I'm telling you to sit at home and ride out a snakebite. That would be foolish. Antivenom is the only real cure, and besides that, early antivenom is proven to reduce the amount of permanent damage that snake venom does. So if you are bitten, get to antivenom pronto. No one can predict what your severity of envenomation will be, and you may just be in the top 5%.

~Chris Harper
RE: Mark O'Shea Answers Questions
Reply
by Herpwannabe on February 9, 2006
Mail this to a friend!
Mark,

If snake bite is such a rare event as Chris mentioned, and I believe him, it seems to me that every show I watch about someone dealing with hot snakes have been bitten by some of them. Bill Haast count goes as far as 160+ times, and sounds like you also have been bitten. I watched a show of a guy (forgot his name at the moment) who was handling a cobra and on that show he also reported about being bitten by that same animal before, in one of his prime milking events. He almost died and has his left forearms' muscles pretty much destroyed because of that incident.

I guess, Bill Haast may have the benefit of having antivenom available to him at arm's length, as he deals with so many snakes all the time at the Miami Serpentarium. I am really curious to know what is the incident count of "on the field bites" of herpetologists, if there are such statistics available.
and how do they deal with it? I am kind of surprised that more herps don't have the same tragic fate of Joe Slowinski, considering you guys don't usually take antivenom with you.

Keep safe!


Eugenio
Mark O'Shea Answers Questions
Reply
by kin_onn on February 11, 2006
Mail this to a friend!
Hi Mark!
I'm Chan from Malaysia...currently a 2nd year undergrad from the national university of malaysia doing my Bachelor of Science in biology majoring in zoology. I'm a passionate herper with most of my passion going to boigas and asian pit vipers. As someone mentioned..I love your work and your show is my fav. Was wondering if Malaysia or borneo is on your schedule for any research in the near future? If so..i would very much love to be apart of it! even as a porter.. ;)

Q2 : I love going out to the field to gather specimens and being a field biologist is pretty much the direction i'll be heading i think. How hard is it to get a job as a research assistant for lets say national geographic? (taking into consideration my location in south east asia)
RE: Mark O'Shea Answers Questions
Reply
by keyz on February 18, 2006
Mail this to a friend!
Hi again Mark , I hope you are well and enjoying whatever you are currently doing,
Just a Question wondering why you decided to look for the Patagonian Pit Viper? Was it that they are so rare or maybee the lack of knowledge about them? or sheer enthusiasm and dedication to find such an elusive snake?
Also it looked like some really hard work was put in to make this episode, was it as hard as it seemed?
I am fascinated by the more "unheard of" Reptiles and I am currently reading a few small books about Sand Boas and various Blind snakes, They strike me as innofensive a secretive hoprfully a few traits I would like to have,! What is your opinion on these lesser kept and lesser known snakes.
Best wishes
Kieron.
Mark O'Shea Answers Questions
Reply
by Medico on February 18, 2006
Mail this to a friend!
Hey mark, I'm 14 and doing a school assignment on neurotoxins and Spitting Cobra's have really got me interested. I only have a few questions

Q1 how long is the "venom recharge" between spits
Q2 how does the venom delivered via a bite work?
Q3 how long does it take to "recharge" that venom
Q4 how long does it take to kill someone after being bitten?
Q5 Whats the death rate each year from spitting cobra bites?
Q6 is the venom that the snake spits the same as the same delivered via a bite?
Q7 If so, is it merely in diluted amounts, mixed with something or is it pure venom?
Mark O'Shea Answers Questions
Reply
by toddg on February 20, 2006
Mail this to a friend!
High Mark. I really enjoyed your latest book. Unfortunately, a friend has borrowed it, for several months, and I can't recall the title! In it, you state that Mang mountain vipers reportedly spit venom. I've spoken to one of the keepers at my local zoo (They do have Mang mountian vipers on exhibit!) and he assured me that this is not the case, that they, in fact, can selectively aim thier musk gland. If you have evedence to the contrary, please share. I (and the keepers at the zoo) would much apreciate it.


RE: Mark O'Shea Answers Questions
Reply
by LongDucDong on February 21, 2006
Mail this to a friend!
Hello Mark! I was wondering what experiences you have had with Bothriopsis b. bilineatus and if you could share your thoughts and opinions on them.
Mark O'Shea Answers Questions
Reply
by Stuart on March 5, 2006
Mail this to a friend!
hi mark. Im Stuart from england and keep many reptiles, even though im only 15. I would like to know how to make my hobby of being a herpetoculturist, a career to become a herpetologist. Do you know of any universities that would study zoology or more specifically herpetology, which preferebly would be in the u.k. but any recomendations for such universities anywhere in the world would be welcome. Thanks
Stuart
RE: Mark O'Shea Answers Questions
Reply
by Mark_OShea on March 9, 2006
Mail this to a friend!
Hi Vikki,

Sorry it has taken over a month to get to the following replies. I have been so busy working to complete two books and two PowerPoint presentations, plus a few other herp projects that take up time and simply not visited venomousreptiles.org for some time.
Okay, you asked if I had gone further than the BSc.
Since I completed my BSc, as a mature student, over 20 years ago I have been so involved with first long term field projects (3, 4, 5, 6, 7 months away every year in the field) and more latterly filmwork (months away several times a year) that I have not had time to commit to going back into structured education. I did have a PhD planned back in the early 1990s, studying coconut husk pile herpetofaunas in PNG, based out of the Durrell Institute of Ecology and Conservation (DICE) at Univ.Kent, UK but could not raise the funding and it fell by the wayside. In truth I have spent so much practical time doing fieldwork that I probably have more field experience than many professors and I have written about my discoveries. That was what led The British Chapter of the Explorers' Club of New York to honour me with one of only nine Millennium Awards for Services to Exploration in Zoology in 2000 [Buzz Aldrin and fellow astronaut F.Story Musgrave, balloonists Donald Cameron and Brian Jones, marine biologist Sylvia Earle, mountaineer Sir Chris Bonnington and polar explorer Sir Ranulph Fiennes, historian Michael Wood were the other recipients] and the following year my Alma Mater, Univ. Wolverhampton, to honour me with a DSc (Doctor of Sciences degree) for my contribution to herpetology. So I do have a doctorate even though I would like to find the time to also do a PhD.
Your second question mentioned that I seem to prefer reptiles to amphibians and asked if I specialise. Well reptiles and amphibians are very different groups of animals, reptiles being closer to birds and even mammals than they are to amphibians, but only the French recognise them as separate disciplines and use the term Batrachology for the study of amphibians. It is true that my main interest is reptiles and within reptiles my main areas are snakes (esp. venomous species), skinks and crocodilians but there are also turtles that I am very interested in and I support the ShellShock campaign to combat the Asian Turtle Crisis. Amongst amphibians it tends to be the secretive species that interest me most, rather than the beautiful dart-poison and treefrogs that turn everyone else on. I have always been fascinated by species that live in different habitats to ourselves and that accounts for my interest in seasnakes and sea kraits (which are ignored by many snake enthusiasts) and burrowing species like blindsnakes, amphisbaenians and caecilians. Each of these groups has a few die-hard supporters but since none are either easy or 'interesting' to maintain in captivity they tend to be over-looked, and that is what makes them interesting. In my PowerPoint presentation: Blood, Sweat and Snakebites: The Making of O'Shea's Big Adventure" I explain one of my maxims "It is not necessary to be Big or Dangerous to be a OBA Quest Species (but it helps)". Yes I have sought out and filmed king cobras, anacondas, pythons, Komodo dragons but the really fascinating species are often the ones hiding a few feet away, the little luminous lizard, the green-blooded skinks, the saltating Bachia, the ajolate etc.
RE: Mark O'Shea Answers Questions
Reply
by Mark_OShea on March 9, 2006
Mail this to a friend!
Hi Eugenio, Chris has already answered your question but I would like to add some comments from my perspective also.

Chris is quite correct when he says there are a lot of "allergic reactions" to antivenom. Most (not all) antivenom is produced from the serum of horses immunised agains the venom of one species or species group (monovalent) or all the dangerous snakes of the region (polyvalent) and both contain horse antigens, to which the patient may react violently either immediately or up to 10 days later as "serum sickness", the polyvalent causing the worst reactions. I have experienced these effects and they are unpleasant, involving numerous odd sensations including global external and internal hives, topped off by going blind! The treatment is stop the antivenom (only possible if it is being administered in a polyfuse (drip) - too late if it was by push-injection) and administer adrenaline or similar. This is the realm of the paramedic or doctor and it all depends whether the field team can afford to take one along with all his equipment and requirements for a fridge or coolbox for his drugs etc. And of course you need a sat phone (possibly not available in Burma when Joe was bitten) because if the doctor needs to call in a medi-vac he needs communications and the medi-vac insurance needs to be set up beforehand too. it is becoming a big operation for something you prey will never happen.
I have had several bites in the field, the first being a rattlesnake bite in northern Amazonian Brazil on the Royal Geographical Society Maraca Rainforest Project in 1987. We made two radio checks with base in Boa Vista (5hrs away by road) every day by short-wave radio 6am and 6pm.
At 6.30pm I was bitten. I had to make it through the night before we could even raise the alarm. The expedition nurse had never treated snakebite but we had Butantan antivenom in the sometimes functioning fridge. I lasted until the early hours before I required antivenom, and then I went blind from the effects, infusion was stopped, adrenaline administered, sight restored later, aircraft called in, journey to aircraft by jeep, canoe, bandaranchi and flown to Boa Vista. That was the way large expeditions would function in the 1980s.
In 1997 I was bitten by the famous stiletto snake in S.Africa while filming Black Mamba. We drove to a remote hospital where the doctor wanted to use cryotherapy on my two hands (which could have cost me fingers) so I decline and left, there is no antivenom but I needed pain relief. The third was the little pitviper bite off Komodo filming dragons in OBA in 2001. Our sat phone has just started to work again that morning and I was bitten shortly afterwards. We monitored the bite all day and in the afternoon the medi-vac people in Bali wanted to know whether to send the helicopter because it would have to stand down once it was dark. I decided the bite was not serious enough to go and we stood them down, and I was proved right.
As for taking doctors on film shoots, we have taken them along on some of our more remote shoots in Western Australia, PNG, remote parts of India, Thailand, onto Queimada Grande (home of golden lanceheads) off Brazil, Chappell Island off Tasmania etc. but the average fieldworker does not have the benefit of a television budget.

Moving on to your correspondance with Chris.
Electric shock creates a burn, a deep burn which may permit infection to enter the wound. It destroys protein, both venom and the victims, and although it has been said to work on scorpion stings in Kenya I doubt its value for snakebite. Imagine your heart beat when someone comes towards you with a set of jump leads attached to a car battery !
They say you should give at least one shock, probably more depending on the amount of venom injected. How do you determine that at this early stage ? Often symptoms take time to develope and by then you are beyond the electric shock stage (thankfully). I can tell you this, one shock and I would be off, snakebite or no !

I agree with Chris, serious snakebites require antivenom and support drugs administered by someone qualified to recognise a problem before it becomes too serious. With people keeping snakes illegally they get bitten, dare not call anyone for fear of loosing their collection or being busted, so they sit tight and hope for the best. Trouble is the best may not happen and there have been at least 2 US herpers found dead by their telephones, they left it too late. Don't be an idiot, you get bitten by something dangerous, seek medical help immediately, you need to live to deal with the knock-on effects. You go and die and you will certainly loose your collection.

Mark
RE: Mark O'Shea Answers Questions
Reply
by Mark_OShea on March 9, 2006
Mail this to a friend!
Dear VAsnakeman,
Thanks for your vote of confidence.
Why did they take my show off. I really don't know, maybe I failed too many times in Series 4, but then that is life isn't it and my OBA No.1 Golden Rule is "No Set-ups".
Let me tell you a story about the film Water Cobra which we made in Lake Tanganyika in 2003.
We spent weeks besides the lake searching for water cobras at night with lanterns, snorkelling, diving day and night, searching in the rocks, and all we got was a brief sighting by one of the guys working for us, and the dead one killed by a fish eagle (which Pete McIntye and I published in Herp.Review). That was a coincidence because I saw the fish eagles taking fish and did a 'piece to camera' saying they might even take surfacing water cobras, then next day we found the killed cobra ! But another, more spooky coincidence is coming later.
We continued searching and even had local fishermen offering to catch us a cobra in a gill net and bring it for us to release and me to catch. I turned this generous offer down, firstly, cobras drown in these gill nets and I don't want them setting them to catch cobras and bringing one live and 3 dead snakes, and secondly, NO SET-UPS, we are prepared to fail and fail honestly as we have before. After 3 weeks on the lake and no live water cobra (I did get puff adders and a nice forest cobra) we left to go home. As we motored down the lake towards Mpulunga (land-locked Zambia's only port) we passed a boat full of tourists heading up the lake to a lodge. They waved, we waved back.
From Mupulunga we flew to Lusaka and then to J'burg in S.Africa. The crew and I flew back to the UK while the Director (Mark) met up with his partner for a brief holiday in S.A. In his second week, he was in a bar in Cape Town, thousands of miles from Lake Tanganyika, and he fell into conversation with two S.Africans:
S.A.: Your first trip to S.Africa ?
Mark: My first to S.Africa but I have been to Africa before.
S.A: Oh, where ?
Mark: I've just come down from Zambia.
S.A.: How strange, we've just come back from our first trip to Zambia, where were you ?
Mark: On Lake Tanganyika.
short silence
S.A.: Are you part of a film crew ?
Mark: Yes, I'm a Director, how did you know ?
S.A.: Were you filming water cobras with that red-haired guy O'Shea ?
But you didn't find any.
Mark: Yes, how could you know that ?
S.A.: Do you remember coming down Lake Tanganyika and a tourist boat went past you, the occupants waving ?
Mark: Yes I do.
S.A.: That was us, and guess what, when we arrived at the lodge we were met up a great crowd of excited villagers. They thought we were you and they took us to see a water cobra swimming in shallow water not far up the coast.

If that is not coincidence enough, Toby Veall who owned the lodge were we stayed, had another cobra come ashore right below my chalet one week after we left.

No I have finished my reminiscences I will try to answer the rest of your question. I do not really know why my shows are not being shown in the US, esp. as I am in the UK, bit there are a few years old now and there seem to be a lot of folks making these sort of films now anyway. I am not aware it shows on any other channel apart from Animal Planet so unless they decide on a nostalgia night you might be out of luck. Sorry.

Mark
RE: Mark O'Shea Answers Questions
Reply
by Mark_OShea on March 9, 2006
Mail this to a friend!
Herpwannabe again.

Bill Haast had been bitten over 150 times when I met him in the early 1980s and if you read his difficult to find biography Cobra's in his Garden, you will learn he was bitten by a blue krait for which there was no antivenom and also be a king cobra. Although he had a rough time and ended up on an iron lung he puts his survival of the king bite down to immunising himself over 11 years with cobra venom. I do not recommend this as a good idea. Remember when Bill was bitten antivenom was in its infantcy and even today there are species for which no antivenom exists such as the Malayan krait, African twigsnake, and New Guinea small-eyed snake although tigersnake antivenom does work.
The person who was bitten and had his arm severly damaged with van Horn I think, his being a feeding bite from a hungry king but I think a great deal of his suffering was put down to mismanagement of the bite by the persons treating him. Hospitals should follow procedures put in place by real experts, professional physicians with proven experience of successfully treating snakebites, not johnny-com-lately self-professed 'experts' - I think someone knows to which recent incident I am referring.
Joe Slowinski's tragic death was highly publicised because he was a well loved and respected American herpetologist with many friends and colleagues (we had planned to film with him in Series 3 in Burma, one of my Directors had been talking to him about a film on Asian spitting cobras and/or kraits) but his was not the only snakeman's death in recent years. An Indian snake handler was killed a year or so ago and the first news I received (back in 1997 when I got off the plane in Durban to meet the Black Mamba Director and Producer, was that a young snake expert at a S.African snake park, who had been advising our production team, had been giving a demonstration at the snake park with a snouted cobra (Naja annulifera) that morning when he was bitten and although paramedics were on hand very swiftly and a doctor attended with antivenom, he was pronounced dead 30 minutes later.
Great news to kick off our film and a bad omen indeed because bad luck comes in threes, I had the stiletto snake bite and Nils was nailed by a black mamba before we were finished filming.

Someone once asked the Australian founder of the venom research unit at Melbourne, Straun Sutherland "How serious is a snakebite in a remote location" to which his reply was "As serious as a myocardial infarction (heart attack) or severe shotgun injury".

Mark
RE: Mark O'Shea Answers Questions
Reply
by Mark_OShea on March 9, 2006
Mail this to a friend!
Dear Chan in Malaysia.
You lukcy chap, such a wonderful part of the world.
I made my first tropical expedition to Borneo (Sarawak) when I organised a 7-man expedition up the Baram River in 1983-84. Great fun, we spent Christmas with the hospitable Kayan at Long Naah, and we found a few neat herps including one of those rare Niah Dave geckos Cyrtodactylus cavernicolus - I wondered what it was at first.
Although I would like to go back to Borneo and have several interesting storylines to follow I am not making films at present. OBA came to an end with Series 4 in 2003 and I have not done anything in that vein since, dropping back into writing, lecturing and doing fieldwork again (my first love).
I agree Boiga is a fascinating genus and I am sure there are many more species to be discovered, especially in Indonesia and possibly the Philippines.

I cannot comment on how hard it is to get to work for National Geographic but it might be easier for you than for me. After all my films used be shown on their opposing channel Animal Planet. I think you might try contacting the Expedition Advisory Center at the Royal Geographical Society in London and find out what UK undergraduate expeditions are heading your way for 2006/7. It may be they would like the help of a local person with similar interests, Bahasa Malay and a lot of enthusiasm. EAC at RGS holds a w/e workshop and seminar every November (I used to be involved) where returning expeditions present their results and outgoing expeditions for the next year back their plans and contacts. These days many of these expeditions have herp. elements. Good luck

Mark
RE: Mark O'Shea Answers Questions
Reply
by Mark_OShea on March 9, 2006
Mail this to a friend!
Hi Kieron

I decided to seek out the Patagonian lancehead because it is the southern-most snake in the world, found further south than Cape cobras and ringhals in S.Africa or tigersnakes, copperheads and white-lipped snakes of Tasmania. Remember this was the first shoot of the first series and we were just finding our feet in what was a fairly new genre. We became, hopefully, more descerning and scientific as OBA progressed but this was an interesting film in a remote location and great fun to make. We took Marcio Martins along from Univ. Sao Paulo, Brazil. I have known Marcio since around the time of the Maraca Rainforest Project (see an answer further up the page) in the late 1980s, he wrote up the frogs while I wrote up the reptiles. Marcio was a very important contributor to our film on the golden lancehead on Queimada Grande and when he heard we were next going to Argentina for the Patagonian lancehead he told me how interested in the species he was he was studying a related species in Brazil. We took him along for the few days he had spare before flying overseas and I really wanted to find lancehead, as much for him as myself. I found a female (gravid) and called the crew and Marcio. I remember how please he was and within minutes he found a male. He flew out later that day and the next day we found a juvenile, then no more. It is an elusive snake and I think to find it you must look for high levels of prey species, small lizards, because in the miles and miles of suitable habitat is occurs in small localised areas. how far south it occurs is hard to tell but further south of where we were on the Peninsular Valdes for sure. the further south you go the hard it becomes to find because the population is smaller and eventually it will no occur, but it is very hard to draw that line. The setting out of many refugia might help answer the question.

And yes, the films we made were hard to make, long periods of time in remote locations with limited resources. Since we did not set up any captures we know we might fail. In fact we got to film 9 of Series 1 (Americas) before we did fail, the splendid leaf frog in Costa Rica, we did not find it and although we had a pair brought in at the end I told the camera the truth, they had been brought in, we had not found them. Success and Failure, two sides of the same coin, to appreciate one you have to taste the other.

So you are interested in secretive blindsnakes and other burrowers, so am I, and I am just completing the first draft of Pythons and Boas of the World (sister volume to Venomous Snakes of the World New Holland/Princeton Univ. Press 2005) which should be published in 2007. In this book I have not just dealt with the popular pythons and boas but all those strange burrowing species so often overlooked or ignored or misunderstood by herpers.

best wishes

Mark
Mark O'Shea Answers Questions
Reply
by keyz on March 9, 2006
Mail this to a friend!
Mark I see you are busy,
Can you recommend a good book on Burrowers and Blind snakes until it is possible to purchase your new book.

Please let us know when you have completed your book as I would love to read it if its as informative as it sounds.
Who do I write to to ask if they plan to show your Big Adventure series, I could watch it again, As I didn't have the chance to tape it.
many thanks and may you continue to be happy in what you do.
Kieron.
RE: Mark O'Shea Answers Questions
Reply
by Mark_OShea on March 9, 2006
Mail this to a friend!
Dear Medico
Thanks for your list of questions, lets see how I do:
Q1. If you watched my film on spitting cobras in S.Africa you will see that spitting cobras can spit repeatedly and since a venom gland is a bit like a sponge you will never remove all the venom. If snakes are milked they are generally not milked again for about 3 weeks to enable them to build up sufficient venom again to make it worth while but it is not true that a milked snake cannot deliver a fatal bite immediately afterwards. Our S.African results were published in African Zoology (Young & O'Shea 2005 40(1):71-76).
Q2 Snake venom works in a variety of ways depending on its composition. Some venoms cause respiratory paralysis, others prevent the blood from clotting, others punch holes in the blood vessels and promote internal bleeding esp. into the brain, others digest tissues, some attack the kidneys or the heart, some break down muscle, they are very clever. I have tried to explain the main types of venom in my book Venomous Snakes of the World (2005).
Q3 See the last part of my answer to Q1 above.
Q4 Death depends on how much venom was injected and where, the concentration of the venom (more concentrated in a snake that had not fed for a while ie. hibernation, carrying young, skin sloughing), the condition, behaviour, body weight etc of the victim, what first aid and medical treatment is given, how long is a piece of string ?
Many cobras will dry bite (no venom) and as many as 50% of cobra bites might be non-lethal, even without treatment, but how do you know ? Again some of this is covered in my Venomous snake book.
Q5 The death rate from spitting cobra bite is low compared to that of non-spitters. The little Mozambique spitter in S.Africa causes the majority of snakebites (along with puff adder) and the tissue-destroying venom causes some terrible injuries, even loss of digits, but these cytotoxins do not generally kill and the amount of neurotoxin present is not as dangerous as in the non-spitters. The neurotoxin is a post-synaptic neurotoxin, it works beyond the synaptic gap and it can be reversed with antivenom. The pre-synaptic neurotoxins of some Australo-Papuan snakes cannot be reversed with a/v once paralysis has set in.
Q6 & 7 We believe the venom spat is the same as that injected, but this is a good question which possible requires further analysis (are you listening Prof. Bruce Young?) When one considers the spat venom is intended to drive away a threat, not kill it, and injected venom is intended to kill prey, then some subtle difference is logical, but can the snake control its production or concentration ?

Best wishes

Mark
RE: Mark O'Shea Answers Questions
Reply
by Mark_OShea on March 9, 2006
Mail this to a friend!
Hi Toddg
How can you forget the title of my book ?!
Surely "Venomous Snakes of the World" is one of the most used titles in herp literature and the only alternative is "The World of Venomous Snakes".

I was suspicuous of this claim that the MangShan was a spitting pitviper and you will note (if you had a copy of my book to hand) that I said "only non-cobra reported to spit venom" I did not say it DID spit venom.
I had to mention this claim even though I was dubious of its truth and am very interested to hear that keepers do not beleive it either. The aiming of musk glands in interesting though, rather like the copperheads which really smell strongly of musk. Has anyone noticed that some snake 'guilds' have specific smells. For instance the cat-snake guild of nocturnal colubrids with vertically elliptical eyes has a distinct smell regardless of whether they are American, Asian or African genera and it is African cobras, not Indian cobras, that smell of curry!
Nobody seems to work on the distinctive musks of snakes.

Best
Mark
RE: Mark O'Shea Answers Questions
Reply
by Mark_OShea on March 9, 2006
Mail this to a friend!
Hi LongDucDong
Interesting species Bothriopsis bilineatus, smallish and arboreal like Bothriechis schlegeli, which is a fairly innocuous species from Cen.America. However, do not be fooled, Bothriopsis bilineatus is a very dangerous species. I met the species only briefly in Amazonas, Brazil in the late 1980s but some people who have met them have been less fortunate. I examined a preserved specimen in southeast Brazil, little thicker than mu little finger and only fractionally over 30cm long it had killed an adult man. A friend of mine was bitten by this species and almost died in Ecuador. The biggest killer in the Amazonian countries is the common lancehead Bothrops atrox, but Bothropsis bilineatus is probably in a close second place.
So take care with this attractive but lethal snake.

Regards

Mark
RE: Mark O'Shea Answers Questions
Reply
by Mark_OShea on March 9, 2006
Mail this to a friend!
Hello Stuart from England,

Herpetoculturist and Herpetologist are different professions, just like Aquarist is different from Ichthyologist. One is the keeper and breeder of species, the other a scientist who studies them. I am primarily an herpetologist (silent 'H') with a fieldwork background but my curatorship at West Midland Safari Park (www.wmsp.co.uk) enables me to be both.
To become an herpetoculturist you strictly do not need qualifications although some in biology or ecology give you a greater understanding of your animals and a degree is often required if you want a job in a zoo.
To be an herpetologist you do need qualifications since fieldwork is not simply a matter of finding interesting animals, it also involved statistical analysis of your results and structured methodology.
There are many universities in the UK where you can study zoology, biology, ecology, environmental science etc. You need to take a look in the UCAS handbook and make a choice, then work hard at school and obtain the necessary qualifications to gain entry. Good luck,

Mark
RE: Mark O'Shea Answers Questions
Reply
by Mark_OShea on March 9, 2006
Mail this to a friend!
Hello again Kieron

When my book is completed and published, presumably in 2007, it will come out with New Holland in the UK and I believe at the moment Princeton Univ.Press are still interested in the title for the US.
As for a book on burrowers and blindsnakes, they tend to pop up in general books on herpetology or snakes but do not seem to warrent titles of their own, apart from sand boas I suppose which turn up regularly in the herp magazines. It is worth looking for scientific papers by Van Wallach from MCZ on blindsnakes, Carl Gans on shieldtails etc. but I cannot think of a single all encompassing title.

With regards to OBA, the films were made by YAP Films in the UK and transmitted by Animal Planet in the US, Channel 4 and Animal Planet in the UK and Discovery Europe, Discovery S.America and Discovery Asia elsewhere in the world. It seems the films are not showing in the UK or US anymore and since they decided not to produce DVDs or VHSs of them, they are not available for purchase. So if you did not video them, I am sorry but you will need to find someone who did.

Regards

Mark
RE: Mark O'Shea Answers Questions
Reply
by TeguLove on March 12, 2006
Mail this to a friend!
Hi Mark,
I am the Secretary/Treasurer of the South West Wales Reptile and Amphibian Group.
We are based in Tenby, at a Tourist/Educational establishment, run by a couple whose love of all the creatures in their care is admirable.
We would like to arrange a meeting with you, maybe at the Safari Park, maybe in Tenby.
We would all love to meet you.
Regards,
Tricia

Mark O'Shea Answers Questions
Reply
by SNAKE001 on March 12, 2006
Mail this to a friend!
hi mark i live in England I'm a volunteer for the HCT can you tell me would snake tongs be any good for adders
paul
RE: Mark O'Shea Answers Questions
Reply
by bothrops03 on March 13, 2006
Mail this to a friend!
Hi Mark. I want to know if you will come to Argentina again for a research. I'm from here, and I saw your program when you came to look for Bothrops ammodytoides. Oh, if you could tell me something of that trip I would be very interested!
I'm a Bothrops keeper (I currently have Bothrops alternatus, Bothrops diporus X Bothrops neuwiedi paranaensis hybrid and Bothrops ammodytoides)

Cheers!
Martin
RE: Mark O'Shea Answers Questions
Reply
by Mark_OShea on March 16, 2006
Mail this to a friend!
Hi Tricia

When you say South West Wales Reptile and Amphibian Group do you mean part of the ARG that conduct studies into our native herps or do you mean a hobbyist club keeping reptiles, or a bit of both ?
I am planning to do some fieldwork with several local ARGs in the Midlands this spring-summer, especially those surveying adders.
I am at the Safari Park most Sundays and some holidays this spring-summer also and if you check their website you should find out more www.wmsp.co.uk

We do get herpers calling by the Reptile House to meet us from time to time but I am not at the Park all the time due to all my other commitments.
The Park does some good rates for parties and you would have a good day out with all our other animals, lions, tigers, leopard, elephants, rhinos, hippos, African hunting dogs, giraffe etc.

Best wishes

Mark
RE: Mark O'Shea Answers Questions
Reply
by Mark_OShea on March 16, 2006
Mail this to a friend!
Dear Paul

I am pleased to hear you are volunteering with HCT, presumable with the worthy 'make adders count project'.
I would question whether you needed to handle or catch adders though. The groups I am planning to work with do not permit their volunteers to handle adders for insurance reasons and also for the safety of the snakes. That is where I can help them, doing any necessary scale counts, weights and measures etc. but I am sure HCT has someone who can do that for you and remove the need for you to actualyl catch the adders yourself. Studying these snakes does not involved hands-on at every opportunity, that disturbs the snakes too much.
What ever, tongs are not designed for sometime like an adder. I use the soft handle of a snake hook (the O'Shea hook from Midwest) or tubes for all small vipers.

Hope this helps but you should be thinking, sometimes is it not better to look than catch.
Also bear in mind that catching reptiles on reserves requires permission from the trust controlling the reserve. The Wildlife and Countryside Act is there to protect our endangered animals from their enemies, but also from well-meaning but over enthusiastic friends.

check out the Make Adder Count project
http://www.herpetofauna.co.uk/make_the_adder_count.htm

best wishes
Mark
RE: Mark O'Shea Answers Questions
Reply
by Mark_OShea on March 16, 2006
Mail this to a friend!
Hi Martin

I have not plans to return to Argentina, although I would like to go back, such a fascinating country and herpetofauna.
You can find more about our trip by checking the Series 1 Americas section on my website www.markoshea.tv
I have not updated this site for reasons I won't go into here, so Series 4 is not on-line yet.

I see you have a hybrid Bothrops, wild or captive ?
I have to say I not keen on hybridization, I much prefer true species. Hybridization of venomous snakes may also produce snakes with rather complicated venoms that may cause problems in the event of a snakebite.
Bothrops alternatus is a very attractive species I must say, nasty bite though eh !!

Don't get tagged Martin, it ruins your weekend (and the rest of the week for that matter)


Regards

Mark
RE: Mark O'Shea Answers Questions
Reply
by SNAKE001 on March 16, 2006
Mail this to a friend!
hi mark yes it is make the adder count i have tailed adders befor for photographic purposes,
im taking on two adder sites that tony phelps used to survey before he went to s/a big shoes to fill but ill do my best any tips

regards
paul smith

RE: Mark O'Shea Answers Questions
Reply
by TeguLove on March 16, 2006
Mail this to a friend!
Hi Mark,
Thanks for taking the time to reply - much appreciated.

S.W.W.R.A.G. is a club catering for the hobbyist reptile keeper.
We are based at Silent World Aquarium & Reptile Collection in Tenby, Pembrokeshire where there are many local and exotic herps and collections of local marine life.

While not related to the ARG's we have undertaken some recreational surveying in the past but are foremost a collection of herp keepers who meet up to share experiences and problems.

In the past there have been trips to various animal collections including Bristol Zoo some time ago. There was a talk recently of a trip soon so West Midlands Safari shall be at the top of the list!!! Having said that, the distance is proving to be an obstacle but we will get it planned soon.

May I send you our club leaflet, together with Silent World's leaflet? C/O the Safari Park ok?

Do your travels around UK ever bring you to Wales?

We will contact you again regarding our visit as we would very much like to meet you.

Cheers,
Tricia
for S.W.W.R.A.G.

Mark O'Shea Answers Questions
Reply
by Pywacket on March 17, 2006
Mail this to a friend!
Hi Mark.

How are the viking battles going?
I dont know if you'll remember me but we met when I lived in Brum back in the early eighties. I play drums with Welsh rock band Budgie. You came to a gig at Dudley town hall where your first aid skills came in very handy when Burke Shelley got zapped by a live microphone. It's always good to see a nice guy get on so well. I've enjoyed following your exploits on tv and would have loved to have travelled the same paths as you. Still I cant grumble about my lot. We have a new guitarist whose from your neck of the woods and usually tour the UK in the autumn. Maybe you'd like to come along to a gig if we play near you later this year, that is if your not up too your knees in mangrove swamp at the time (bring your first aid kit just in case). Anyway all the best.

Steve williams.
RE: Mark O'Shea Answers Questions
Reply
by Mark_OShea on March 17, 2006
Mail this to a friend!
Yes, big shoes to fill, following Tony.
Wolfgang Wuster, Cathy Pook and I joined Tony and his team on a visit to some of his S.African adder haunts before 5th World Congress last year. You can find out more about his Cape Reptile Institute by visiting his site http://www.crepinstitute.co.za/

Tips, the best way to study adders is to disturb them as little as possible. Of course for initial data it is necessary to measure, weigh then etc but Tony got to know his snakes(some around 30 years old) and was happy to watch them without them knowing he was there.

Another tip, when out studing snakes don't make it too obvious to those persons around who do not like them. Ostentacious snake catching equipment can attract unwelcome attention so be low-key when you can.

Good luck, we are off our to check some rare Midlands sites soon.

Mark
RE: Mark O'Shea Answers Questions
Reply
by Mark_OShea on March 17, 2006
Mail this to a friend!
Hi Trisha

I am pleased to hear your group are considering a trip up to WMSP. Distance, what distance, don't let the Americans here you saying 100miles is too far, those fellows travel across their entire country to get to reptile shows. S.Wales (even Pembrokeshire) is not all that far from WMSP, we get a huge number of Welsh visitors at the Park and hear as many lilting Welsh accents as broad Brummie ones. Either up the M50 and then the M5 or up to Aberystwyth and through the Black Mountains if you want the scenic route.
I don't have any leaflets here but if you check out the website www.wmsp.co.uk or phone 01299 402114 you can probably get a group booking package sent out to you. There is plenty to see and do on a nice day but avoid the bank holidays, they can be incredibly busy.
You can send me your club leaflet care of the Safari Park (address on their site). My travels don't take me to Wales mush, apart from bookshopping at Hay on Wye once a year.

Mark
RE: Mark O'Shea Answers Questions
Reply
by Mark_OShea on March 17, 2006
Mail this to a friend!
Hi Steve, Long time ago wasn't it. I remember coming to your house in Birmingham to buy a pair of Great Plains ratsnakes and remarking that you must like Budgie, cos you had lots of the same album. I've still got the signed album you gave me, sadly not the ratsnakes all these years later, nor for that matter, a record player.
I remember Burke doing the Stone the Crows thing and nearly electricuting himself, like their vocalist, when he completed the circuit, before mics had circuit breakers or something wasn't it.
You were married to a Texan lady back then I recall, still together ?

Yes, if Budgie is touring the UK let me know I will try to get to the gig. I may be overseas this autumn but we may coincide so keep me posted.


New guitarist eh, Ozzy is from around here you know, and Plant and Page from Zep, and Slade of course, and Roy Wood of Move and Wizzard, lots of rockers around these parts.
Talk of blast from the past, it must be at least 25 years !!

best wishes, great to hear from you again, Mark
RE: Mark O'Shea Answers Questions
Reply
by Pywacket on March 19, 2006
Mail this to a friend!
Cheers Mark.

I'm sure the other VR members won't appreciate personal messages taking up space here so perhaps you'd consider emailing me. My address is in the profile section. I'll get back to you with tour dates later in the year and hopefully we can meet up again. Good site this huh? I'd love to keep venomous species. Legally of course!

All the best.
Steve.
Mark O'Shea Answers Questions
Reply
by cobraviper on March 21, 2006
Mail this to a friend!
Hello

I am using reptiles as a part of my dissertation, and have a keen interest in herpetology, however I have not found any thing on reptillian intelligence, any info would be appriciated.

Keep up the good work,

Karl Hudson
RE: Mark O'Shea Answers Questions
Reply
by bothrops03 on March 21, 2006
Mail this to a friend!
Hi Mark! The Bothrops diporus X Bothrops neuwiedi paranaensis hybrids are captive born. Nevertheless, I think that hybrid would exist in the wild, because those species are very related (Bothrops diporus was Bothrops neuwiedi diporus until 2004, if I am not wrong). I prefer pure species too, but these hybrid are very nice...

By the way... a friend who gave me the hybrid also has an adult Bothrops alternatus X Bothrops neuwiedi paranaensis hybrid that was wild caught in Misiones (north-east Argentina). That hybrid was pregnant when was caught, and she had babies. I don´t know which what species have bred, but maybe with B. neuwiedi paranaensis. So, Bothrops hybrids do exist in the wild, and very rare ones!!

I didn´t want one of those babies, because those rare hybrids don´t like me at all. They have a lot of crosses and you don´t know nothing about them. Besides, like you told it, the venom could be quite different.

Cheers!
Martin



RE: Mark O'Shea Answers Questions
Reply
by Mark_OShea on March 22, 2006
Mail this to a friend!
Hi Karl

I would say reptiles, in general, are probably not that intelligent, certainly not snakes and lizards despite what some keepers like to believe. The exception there would possibly be the king cobra, eveyone who works with them or keeps them comes to the conclusion there is something going on behind those eyes. So that narrows your search somewhat.
Bruce Young, who filmed with me in India when we went looking for kings, has done some work in this line and I am sure Rom Whitaker would comment on this too, he knows more about kings than most.

As for other reptiles, crocodiles seem to learn, look at the recent work training them in US zoos, they certainly remember when and where to catch wildebeest in the Mara River during the migration, but then crocs are nearer to birds and dinosaurs than to snakes and lizards, so it is not surprising they appear more intelligent. Some say large lizards like Komodos may be similar but of course they are not related to crocs.

Food for thought ?

best wishes

Mark
RE: Mark O'Shea Answers Questions
Reply
by Mark_OShea on March 22, 2006
Mail this to a friend!
Hi Martin

Yes hydrids do occur in the wild but where races overlap and reproduce we might term them intergrades. We tend to think of hybrids as non-reproducing animals like mules but whether two species can breed together goes to the heart of the "Species Concept" one of the most controversal subjects in biology.

I agree, I prefer natural species and subspecies over hybrids, I photograph the latter but would not desire to keep them.

I was amused to hear the hybrids don't like you, maybe they have a double-dose of aggressive Bothrops gene from both parent species !

I also do not like playing God with captive populations.

Best wishes

Mark
RE: Mark O'Shea Answers Questions
Reply
by bothrops03 on March 22, 2006
Mail this to a friend!
Hi again, Mark! Yes, this hybrid is a demon. Both Bothrops diporus and Bothrops neuwiedi paranaensis are very aggressive (mainly B. n. paranaensis). I have to handle it with caution!
I'm so moved because you answer my posts, It's difficult to explain, but you and Jeff Corwin are my idols! :)

...and I'll take advantage of this opportunity and I'll ask you another thing... How many times have you been bitten by venomous snakes? Which was the WORST bite and how it has happened?

I hope you understand my bad english! LOL! I don´t practice it frequently.

Regards,
Martin

Mark O'Shea Answers Questions
Reply
by sniperviper01 on March 23, 2006
Mail this to a friend!
HI mark, im very interested about learning more about sea snakes and sea kraits. i was wondering if you know were i could get some good info on them and if it was possible to own one in a private collection. i live in new mexico and its hard to find anything in this area. thank you for your time.
Mark O'Shea Answers Questions
Reply
by Emmy on March 23, 2006
Mail this to a friend!
Hello Mark,

I am not sure if you might happen to remember me, I spoke to you about the lack of Asian Pit Vipers in the UK at WMSP last summer, and am now slowly working to the conclusion of my MSc in Ecology at Bangor University.

I was wondering if you knew of any places in the UK where you could get more experience in working with reptiles? I was lucky enough to go to Dominica with my course (and Wolfgang Wuster!) and look at the small snake species out there in the wild (unfortunately no boas!) but would love some further experience.

Hope you can help!

Thanks,

Emmy x
RE: Mark O'Shea Answers Questions
Reply
by Mark_OShea on March 23, 2006
Mail this to a friend!
Hi Martin

Thanks for you of vote of confidence.
I don't count my bites, I also don't quote numbers of bites, it is not good to get bitten, an occupational hazard to avoid and I certainly prefer to avoid it. My worst bite was from a 1.0m+ canebrake rattler back in 1993 and that was almost fatal because it was a full-on two-fang prey-taking bite in the wrist delivered when I was feeding a group of canebrakes. I was very lucky to survive and I know it. It happened, it was a fact but I'm not going to brag about it, I made a mistake, the snake didn't.


Your English is just fine, I understand you perfectly.

Regards

Mark
RE: Mark O'Shea Answers Questions
Reply
by Mark_OShea on March 23, 2006
Mail this to a friend!
Hi sniperviper,

There are several good sources for seasnake information: the classic Biology of the Sea Snakes by Dunson (expect to pay dearly for this), Hal Heatwole's v.readable Sea Snakes is a more recent and excellent introduction, then there is Gopalakrishnakone's Sea Snake Toxinology and the old Monograph on the Seasnakes by Smith. most Australian field guides include the Aussie species and Ivan and Laboute wrote Sea Snakes of New Caledonia, an excellent book valuable beyond New Cal. I also include a chapter on them in Venomous Snakes of the World.
Not many are maintained in collections although I think Fort Worth were successful at one time and Baltimore Aquarium kept some too. Most do not do well in captivity, beaked seasnakes cannot handle hard edges, many species have specialised diets like eels of a particular species and size or fish eggs but a few can be maintained. They are not really private sector species unless you have time and space to devote to a mega marine aquarium and a ready supply of the right diet.
There are many papers in the academic journals including in recent months, two papers describing two new sea kraits, bringing the Laticauda count to eight.
Seasnakes and sea kraits are often overlooked but they are truly fascinating and diverse. Benthic and pelagic, oviparous and viviparous, specialist and generalist, open clear coral reef and muddy, turbid estuarine dwellers, docile and aggressive, slender and fat, big-headed and small -headed, long and short, wide-ranging and localised, even venomous and (going) nonvenomous !!

Mark
RE: Mark O'Shea Answers Questions
Reply
by Mark_OShea on March 23, 2006
Mail this to a friend!
Hi Emmy
Yes I remember you talking to me at WMSP.
Good luck finishing off the MSc. and I am sure the Dominica trip was still fun even without the boas. As for experience, we do occasionally have places for seasonal staff in the reptile house at WMSP and with someone leaving this week there may be a place for the summer, trouble is the vacancy is now, not in a couple of months. As for voluntary, no income and all the usual expenses like accomodation, food, transport etc do not make it all that viable for someone who is not local to the collection.
What sort of reptiles are you trying to get experience with because the ARG groups offer volunteers experience with British herps, though most hands off. It really is difficult to get experience in the UK, esp. with venomous species where insurance and zoo regulations prevent non-staff from getting anywhere near them. If you look back through these Q&As you will see it is a common theme, though your qualification certainly increases your chances in the zoo world. Funny you should mention Wolfgang because he and Cathy are coming to stay over for a couple of days tomorrow.
I will have to try and remember to chat to them about ideas.

Best wishes

Mark
RE: Mark O'Shea Answers Questions
Reply
by Emmy on March 24, 2006
Mail this to a friend!
Mark,

Thank you for taking the time to reply!

Dominica was wonderful, I loved it. Even without the boas there were enough general herps to keep me happy! It is a shame about that position at WMSP, it really would have been ideal for me. I might well throw in my C.V. and hope to get considered if anything comes up in the future.

Any herps would be perfect at the moment, I was talking to Cathy yesterday about one on the 4th April which I unfortunately cannot go to here in North Wales as I am back in your neck of the woods for 3 weeks! I will definately chase up the ARG groups though, thank you!

Thanks again for the help,

Emmy x

P.S. I am trying to persuade Wolfgang to be a second reference for me after Anita, so any hints dropped about that would be very welcome!!
RE: Mark O'Shea Answers Questions
Reply
by Mark_OShea on March 28, 2006
Mail this to a friend!
hi copperheadjim

I think this could be the shortest response to any question possible.
The answers are "several" and "one".

Being bitten is not to commit a crime, but it is not something to be proud of either. So I never talk about how many, they are not boy scout merit badges to brag about, there were accidents that can and sometime do happen.

Mark
RE: Mark O'Shea Answers Questions
Reply
by Herpwannabe on March 29, 2006
Mail this to a friend!
Hi Mark,

Thank you so much for your answer, and honestly I feel very well respected by being honoured with such an extensive response, and with incredible itemized detailing. I truly appreciated it! It demonstrates how serious you are about what you do and clearly defines you in my opinion as a person who has a lot of respect for others. A true professional indeed.

Keep safe and snake-bite free!!

Thank you again and best wishes in your amazing and dangerous work!

Eugenio
Mark O'Shea Answers Questions
Reply
by keyz on March 30, 2006
Mail this to a friend!
Hi Mark I have been looking at your website and seeing the mission criteria that you set yourselfs, this seems dangerous in some places due to terrain, and the possibility of been bitten without any hope of recovery. How difficult is this as I assume its dangerous by yourself let alone with a crew to take care of, how do you do it?
secondly, I have no experience or real knowledge of the Stilletto snake that bit you, and if I remember you stated that it could protrude its fangs outside its mouth and actually stab you! thats some move! how is this possible?I belive it was mis identified also, an easy mistake at night with a small snake,Was the bite you recived a "stabbing one" or was it to quick 2 tell sorry to go on but I may aswell ask them when you are availiable to answer them, thanks Mark. sounds like im kissing ass but do you send autographed piccys to people as I am sure it will be a long time till we ever meet! and my son would love it as we are collecting them, Thanks again, Kieron and son Jake
RE: Mark O'Shea Answers Questions
Reply
by Mark_OShea on March 31, 2006
Mail this to a friend!
Eugenio

Thank you for your kind remarks. I think it is right that people who end up in the public eye because what they do appeals to others, should remember their fame (forget about the fortune !!) is due to the fact that others appreciate what they do. These film stars and pop idols who think they have reached a level where they do not have to converse with 'ordinary' people have lost the plot and deserve the fall for their ignorance.

When I was much younger a great British snakeman called John Foden found the time to help me with a sick snake. I have not forgotten that. I met my first snake when I was 8 because the keeper at Dublin Zoo, Ireland, let me handle a boa constrictor. I never forgot that either. It is only through encouragement of others that the lineage of snake enthusiasts will continue and I often wonder how many people have been inspired by my films (and the films of others) to pursue careers in herpetology and how many will, 20-30 years from now, be on TV themselves (if it still exists) or carrying out fieldwork based on a PhD they might not have gone for without a little spark of encouragement or inspiration. Not a bad legacy I think you will agree.

Mark
RE: Mark O'Shea Answers Questions
Reply
by Mark_OShea on March 31, 2006
Mail this to a friend!
Hi Keiron and Jake
First off my website is way out of date. I discovered it does not actually belong to me, after all the work I did on it, so I did not spend more time putting on Series 4. I am slowly building a new site, bigger and better I hope, which will be right up to date and include much more diverse stuff than just the films I hope.
Now to your question, or was it an observation.
Yes, we go to very remote regions and look for highly venomous creatures, that is the name of the game (or we did because OBA finished with Series 4 and may have been replaced with someone else chsing snakes). And you are quite correct when you realise the crew is at risk too, if not more so.
When I was looking for timber rattlesnakes in Wisconsin one journalist said "Never mind O'Shea getting close, what about his cameraman, he is real close". In fact he missed the point, I was wearing a lipstick-camera (the hyphen to make sure those two words stay together so you don't get the wrong idea) on the side of my head and that camera saw everything I saw close-up with my eyes. I also wore it when I found the, then undescribed, Alcatraz lancehead off Sao Paulo, Brazil (Lost Worlds) within 10 minutes of searching when we had allocated 2 days for the search.
But the crews are at risk, the cameraman is concentrating on the view-finder which gives him a black and white image while the sound recordist is wearing headphones and concentrating one what I am saying, not the branches near him.
On really remote films, PNG, Kimberley Western Australia, dive films on Ashmore Reef or Lake Tanganyika, Ilha Queimada Grande (golden lancehead), Krakatau, Komodo etc we took a medic with us in case of accidents or illness. There are other things that can go wrong like falls, malaria, serious cuts, stomach upsets, which need someone along who can deal with them, it is not just snakebites that one has to consider and in all my films we only had three, my stiletto snake and Nils's black mamba bite in Black Mamba (which was not OBA) and my island pitviper bite on Komodo (OBA).
The S.African Bibron's stiletto snake (Atractaspis bibroni) is the best known of 16 species in the genus which is occurs through Africa and Arabia and belongs in the family Atractaspididae (check out my new book Venomous Snakes of the World Princeton Univ.Press (US) or New Holland (UK) publishers for much more information). Of the 16 species, perhaps 3 have been implicated in human deaths but not the one that bit me. There is no antivenom. And yes, they have long horizonal fangs that flick out and pull back to bite. You cannot pick this beauties up behind the head. I have caught three species in my career (the other two in W.Africa in 1989) and been bitten by two of them. The other bite is a very amusing story but I have no time to tell it here. They are called side-stabbing snakes, burrowing asps, once they were called mole vipers. The bite I received in S.Africa was actually 3 bites, one to the back of the right hand and two to the back of the left hand, as the snake rolled over my hands. And it hurt, a great deal.
I can send an autographed postcard or two if you give me a postal address. I see you live near Stonehenge, not so far away, we may yet meet since we are on the same island. You can buy a copy of Venomous Snakes directly from me, signed and dedicated, if you wish. It costs £24.99 + £5.00 postage. Cheques should be sent to me at West Midland Safari Park (Reptile House), Bewdley, Worcestershire DY12 1LF. Overseas buyers please note this is the inland UK postal rate for the book. I also have another book available, my DK Handbook to Reptiles and Amphibians which is £12.99 + £2 postage and more books are on the way.

All the best

Mark
Mark O'Shea Answers Questions
Reply
by Catly on March 31, 2006
Mail this to a friend!
hello there! I've just returned from a honeymoon of a lifetime in the Orinoco Delta. On one evening trip back from the Warao settlement I saved my newly acquired husband from stepping on a snake which my guide said was extremely toxic having both neuro and heamo toxicity. I know it's quite a young nipper (no pun intended) but I'm not having much luck in identifying it. can I email anyone three pics of it to see if I can get an identification? It's a real beauty and the local name began with an 'N' but my spanish is pretty awful I forgot to try and write down the pronounciation.

Any help gratefully received!
RE: Mark O'Shea Answers Questions
Reply
by keyz on April 1, 2006
Mail this to a friend!
Thanks for replying so promptly, Please could you tell me how to get my postal address to you as I really want to spend some money on more books, as I alredy have enough snakes (for my limited space), And a signed dedicated copy of a book I would want would be brilliant, Also please contact Karl Betts for my email address if you require it as im sure he will have it, Thats a bit of a mickey take with the website and I wondered what had happened but you have explained, If you are going to be doing any work down south and there is a chance of actually meeting you please private email me and I will do my best to be there, Thanks again for your time Mark, Keep safe Kieron+Jake,
RE: Mark O'Shea Answers Questions
Reply
by Hotherps on April 6, 2006
Mail this to a friend!
Qoute "Hospitals should follow procedures put in place by real experts, professional physicians with proven experience of successfully treating snakebites, not johnny-com-lately self-professed 'experts' - I think someone knows to which recent incident I am referring." end qoute.

Yes I and many of the respected "names" within the herp community know exactly who you are referring to. He has learnt a hard lesson and hopefully will not be giving out any unauthorised advice in future.

RE: Mark O'Shea Answers Questions
Reply
by Mark_OShea on April 7, 2006
Mail this to a friend!
Hi Catly

So pleased to see the lady coming to the rescue of her beau!
Can you post the images on the internet and I will take a look at them and see if I can recognise the snake if someone has not already idented it for you.
In Orinoco delta, interesting, that narrows choices of venomous (or nonvenomous) species down a little.

Curious !

Kindest regards, Mark
RE: Mark O'Shea Answers Questions
Reply
by Mark_OShea on April 7, 2006
Mail this to a friend!
Hi Keiran

No plans to be down south just yet, maybe a filing day or two down there but the schedule will be tight, too tight for me to go wandering off !!

I tend to use the Reptile House address @ West Midland Safari Park, Bewdley, Worcs. DY12 1LF


I did not altogether follow all of your email but never mind.
Hope all this helps

Best

Mark
RE: Mark O'Shea Answers Questions
Reply
by Catly on April 8, 2006
Mail this to a friend!
Hi Mark

Thank you so much for responding- you're infamous among the local guides for your programme on green anaconda's in Venezuela! I tried posting the three photo's but I kept getting an error message- probably me doing something wrong! There is a photo of the snake under my profile on the webpage. I hope you can help identify it although I don't want it to turn out to be too harmless- that would ruin the story for future grandchildren and lessen the weight of gratitude my newly-wed needs to bestow on me! (not that I would tell him!)

Thank you so much for taking the time to respond.

Best wishes
Cat



RE: Mark O'Shea Answers Questions
Reply
by Mark_OShea on April 10, 2006
Mail this to a friend!
Hi Catly

The photo your profile looks like a Bothrops, and there are two possibilities for the Orinoco delta, B.asper (terciopelo) or B.atrox (common lancehead). The former is the larger and mor aggressive species but the latter is the most dangerous snake in Latin America, causing more snakebite fatalities than another other species. Either way it looks like a juvenile but your hubby should still be grateful for you rescuing him.

It is possible that those apparent pits on the head are an aberration and it is a colubrid, a harmless Thamnodynastes of Xenodon which resemble Bothrops, but I think not.

It would be helpful to see a high resolution image of the head though.

Best, Mark
RE: Mark O'Shea Answers Questions
Reply
by Catly on April 10, 2006
Mail this to a friend!
Hi Mark

Thank you so much for taking the time to reply. I've posted the better picture of the head on my profile now and it blows up quite well when you double click on the picture. Don't worry if you don't have time to look at it though.

many thanks for all your help! I've printed your reply and stuck it in the photo album next to the pictures of the snake for all to see!

Best wishes
Cat
Mark O'Shea Answers Questions
Reply
by catch22 on April 12, 2006
Mail this to a friend!
Hi Mark;

Who is the expert on the stiletto viper aka burrowing mole snake, in Natal. In a recent incident, at the home of a distant friend in Bothas Hill/Hillcrest Durban a local African gardener was observed at distance by a 6 year old female toddler placing the stiletto into a garbage can. The Toddler then ambled over, opened the can and was bitten on the hand. The unfortunate thing was that the toddler was taken to a pharmacy first and only two days later was rushed to Hospital and misdiagnosed. Necrosis ocurred and she nearly lost her arm, but this was saved and a tip of the finger was amputated. Several ops later skin is grafted from her leg to her hand. She is probably traumtised for life.
I understand that relatively little is known about this species and subspecies and (you got bitten too?) but there needs to be some education here (in RSA) and some info on how to recognise these bites (esp with single fang which can be mistaken for a spider bite) I think that the danger element is downplayed here.
Natal is infested with snakes and it seems to be getting worse as I encounter them every single visit there. The last time I was there, a Mozambican Spitting Cobra who invaded the kitchen of a house on a Game Farm was killed by the rangers after several tense minutes looking for it as it hid behind a fridge in near darkness. Again education should be given to these dumbasses in ranger gear on how to safely relocate snakes. CSIR has no published antivenin for the Stiletto.
Keep up the good work.


RE: Mark O'Shea Answers Questions
Reply
by Mark_OShea on April 16, 2006
Mail this to a friend!
Hi Catly,

I mailed your photo to Wolfgang Wuster, who is the person who sorted out the systematics of the Bothrops complex a while ago. He agreed with me that it looked like B.atrox, but he pulled me up for suggesting B.asper comes anywhere near the Orinoco delta. Apparently that is an error that many experienced herpetologists make thinking the large Bothrops in northeastern Venezuela and Trinidad is B.asper, when it is genetically closest or identical (not sure which) to B.atrox. I looked in Campbell & Lamar and they show B.asper here too, so if they can make that mistake I think I can be excused too (see my review of that excellent publication elsewhere on this site). I certainly looks like you saved your beau from the common lancehead which, despite is unassuming name, is the species of snake responsible for most serious and fatal snakebites in S.America.
I hope he bought you some flowers, or chocolates or something else as a thankyou!

Best, Mark
RE: Mark O'Shea Answers Questions
Reply
by Mark_OShea on April 16, 2006
Mail this to a friend!
Dear catch22

I was extremely distressed to hear about this snakebite, to a 6 year old girl, I do know what she went through having received a triple bite to both hands in Transvaal during filming of Black Mamba in 1997 (I think it was).
In the dark of the road we mistook the snake for a wolfsnake (a foolish mistake) and I was bitten on my right hand once and left hand twice before I could react, as the snake rolled over my hands. The right hand bite was the least severe, the final left hand bite, to the back of the hand, the worst, but all three were very painful and my hands swelled considerably during the hour drive to the northern Transvaal bush hospital. I have been criticised for taking my discharge from hospital and not following the doctors advice and treatment. At the time I could hardly say on camera that the Cuban doctor (a land without any front-fanged venomous snakes) wanted to use cryotherapy on both hands to reduce the swelling and insisted he has seen two bites, the one with cryotherapy retaining fingers, the one without, loosing them. In view of the potential necrotic effects of the venom I and Donald Strydom, a noted S.African snake expert, argued he had his cases mixed up and cryotherapy could lead to loss of tissue, but he would not have it, it was accept his treatment of get treated somewhere else. We negotiated to have a painkiller shot (it was severe) and a perscription for antibiotics and we left.
I received three bites and this little girl only received the one but sure enough it will have been exceedingly painful. I hope she was given some pain relief even though, of course, there is no antivenom for this bite. It is a comfort to know that although 3 of th 16 Atractaspis have caused deaths, the S.African Bibron's stiletto snake is not amongst their number, but something should be done to avoid the necrosis of the wound. I wonder, you did not mention, was cryotherapy used as treatment ?
There are good snakebite doctors in Natal and one of the best I can recommend is Dr Paul Rollinson at Empangeni Hospital. He probably sees more KawZulu-Natal snakebites, certaining treating more mFezi bites, (that is Mozambiaque spitter Naja mossambica to everyone outside Zululand) than anyone else and since these snakes are highly cytotoxic he is well versed in treating necrotic snakebites.


Finally, S.African antivenom is not available for treating stilettos because no horses have been immunised against its venom. The reason is that in a land with so many potentially fatal species, the stiletto is just too far down the list and not yet proven to cause a fatality. Its venom is unusual, it contains sarafotoxins which cause coronary artery vasconstriction which means they narrow the blood vessels to a degree that may lead to a heart attack, so in truth the possibility is there.

I agree that many rangers are not versed in snake identification nor safe capture, though I have met many excellent snakemen in S.Africa. If you move into an area it is worth obtaining the phone number of the local expert who will likely come out and remove offending serpents from you house and released them away from the property, which is best for all concerned. Non-experts attempting this risk bites, venom in the eyes and ultimately fail or kill the snake.

I hope this information helps. though it is of no use in saving this little girl's finger-tip so long after the bite.

Kindest regards

Mark O'Shea
Mark O'Shea Answers Questions
Reply
by popespitviper on April 25, 2006
Mail this to a friend!
hi mark my names daniel i work in londen zoo reptile house,i just wonderd how you got where you are today , when and where you first started working with reptiles
RE: Mark O'Shea Answers Questions
Reply
by Mark_OShea on April 27, 2006
Mail this to a friend!
Hi Daniel
I check in with www.venomousreptiles.org when I have a few moments spare and at the moment I am waiting for a call back from my editor regarding Boas and Pythons of the World, which is due out in 2007, so it seems like a good time to answer your question.

So a quick potted history, if such a thing is possible.

I met my first captive snake, a boa constrictor at Dublin Zoo, in 1966 and my first wild snake, an adder, the following year I think.
I kept snakes from the age of 8 or 9.
I built up quite a large collection through the 1970s and spent a lot of time looking at British herps in the wild, esp. in Dorset.

Pete Stafford (now BMNH) and I organised a couple of herping trips to the US in the early 1980s.
I also studied for a degree and came away with a BSc with honours in 1985.
In 1983 I took a sabbatical from my studies and organised an expedition into the heart of Borneo, and came into contact with professional expeditioners who were planning Operation Raleigh. We returned to the UK in 1984.

In 1985 I was invited to join the Scientific Directing Staff of Operation Raleigh. I ran a 3 month herp project in Honduras in 1985 and then PNG in 1986. In 1986 I also started working with television companies on blue chip natural history films and was invited to join the staff of West Midland Safari Park as Curator of the new reptile house.

In 1997 the Director of the Royal Geographical Society, Dr John Hemming, invited me to spend 7 months in northern Amazonian Brazil as herpetologist on the 1987-88 Anglo-Brazilian Maraca Rainforest Project.

In 1989 I spent 4 months in Cameroon for Operation Raleigh.

In 1990 Prof David Warrell asked me to go to PNG for 5.5 months as the herpetologist on the Oxford Uni., Liverpool School of Trop. Med., UPNG snakebite project. I also spent some weeks in PNG working on the BBC Natural World "New Guinea: An Island Apart".

In 1991 and 1992 I made two expeditions to Nepal for Raleigh Executive with Col. John Blashford-Snell, as Biological Director.
In 1992 I was back in PNG on venomous snake research and returned in 1993.
In 1993 I went to Guyana with Discovery Expeditions, again with JBS, again as Biological Director.
In late 1993 and early 1994 I was back in PNG on venomous snake research.
In 1995 I was going back to Borneo but dropped out when my father passed away. Around this time I stopped keeping reptiles at home, either moving my remaining specimens to WMSP or parting with them to friends.

In 1996 I was in Venezuela filming "Giant Snake".
I also went to PNG to launch "A Guide the Snakes of Papua New Guinea" and spent time in Sri Lanka working on Discovery's "Cobra, King of Snakes".
In 1997 I was in S.Africa filming "Black Mamba".

In 1999 we filmed the 1st series of OBA in Brazil, Argentina, USA, Mexico, Costa Rica, Trinidad, Cuba, back in Brazil and finally Guyana.

In 2000-2001 we filmed the 2nd series of OBA in Australia, PNG, New Caledonia, Guam & Saipan, back in Australia (Ashmore Reef), then Tasmania, Philippines and Indonesia.
In 2000 I returned from Australia to receive the "Millennium Award for Services to Exploration (Zoology)", one of only nine awards, from the British chapter of the Explorers' Club of New York. Other recipents included Buzz Aldrin, Sir Ranulph Fiennes and Sir Chris Bonnington.
Around this time I became Consultant Curator of Reptiles at WMSP.

In 2001 I received a DSc (Doctor of Sciences) degree by Wolverhampton University for my contributions to herpetology (fieldwork and written rather than television).
Also in 2001 the co-authored "Handbook to Reptiles and Amphibians" (DK) was published.

In 2002 we filmed the 3rd series in India, Thailand and Sri Lanka.

In 2003 we filmed the 4th series in Mauritania & Senegal, S.Africa, Zambia & Tanzania, and Peru. You can find out more about these films at www.markoshea.tv although Series 4 is not online at present.

In 2005 "Venomous Snakes of the World" (New Holland/Princeton Univ.Press) was published.

I have also managed to attend every World Congress of Herpetology: Canterbury, UK 1989; Adelaide, S.Australia 1992; Prague, Czech Rep. 1997; Bentota, Sri Lanka 2002; Stellenbosch, S.Africa 2005 and have presented papers at other symposia in Sri Lanka, Brazil and Sweden as well as the UK and written many articles, papers, notes and contributions to mult-authored volumes.

I hope that answers your question.
Simply jotting it all down certainly brought back some great memories, I simply must write that autobiography some day.

Mark
Mark O'Shea Answers Questions
Reply
by spidersnake on April 28, 2006
Mail this to a friend!
Mark, I have watched your TV shows in the past and enjoyed them. And I intend on becoming a herpetologist when Get out of college. I am 16 and live in Rush Springs Oklahoma. I am a sophomore and i am starting to have to decide what college i would like to go to. Could you recommend any particular college that has a good program for that. Also what courses could I take? Biology of course, and Zoology, but is there any thing else i should do?.What kind of degree should i get?
I would appreciate your answers.

Sincerely

James Woodman
RE: Mark O'Shea Answers Questions
Reply
by Mark_OShea on May 1, 2006
Mail this to a friend!
Spidersnake

The problem here is I am born, raised and educated in the UK and have little knowledge of the US educational system. We don't have sophomores here (to my knowledge) and most of us only learned about frats from watching Animal House.
What I do know is that many of the US universities have top-flight herpetologists on their staff so you need to look around and decide what aspect of herps most interests you and which geographical region appeals as many universities have on-going research projects around the world.
I would suggest a well-rounded zoology or biology degree and specialise in herps later or tailor your more general degree around herps, because they do not live in isolation. Amphibians and reptiles live in botanical habitats, and prey upon, are preyed upon, and are parasitized by, other organisms, so you really need to understand the big picture first. On other words, don't get tunnel-vision and only show interest in herps.
My suggestion is visit some of the university websites or if a particular US herper works on something that interests you, or writes in a way you enjoy, then find out where they are based.
In the US you have better opportunities for herp studies under highly qualified herpetologists than anywhere else in the world, but then, you are also up against greater competition with more students like yourself also chasing the same places. This means you have to make good grades. I hope that helps, it is probably as good advice on education in the US that a 'limey' can give.

Mark
Mark O'Shea Answers Questions
Reply
by SimplySnakes on May 2, 2006
Mail this to a friend!
Mark,

Have you ever thought of writing a book about all of your experiences in the field? I would think it would be a best seller. Also, do you think you will have another show on television in the future? I really miss that!

Sincerely,
Paul Moody
Simply Snakes
Mark O'Shea Answers Questions
Reply
by MikeB on May 4, 2006
Mail this to a friend!
For Spidersnake from Rush Springs, as I am also in Oklahoma, I can tell you that both OU and OSU have pretty strong biology/zoology departments, and I think there is at least one faculty member at each who is a specialist in herpetology. In general, one gets the bachelor's degree in general zooology or biology and then specializes in a particular field for the master's and, if desired, doctoral, degrees.
RE: Mark O'Shea Answers Questions
Reply
by Mark_OShea on May 7, 2006
Mail this to a friend!
Hi Paul

I have been asked several times to write my autobiography and I do intend to do it, it is just finding the time. I don't want a ghost writer, that is so fake, it has to be all my own work. So what I have been doing is writing up individual stories and episodes over the years, some for herp magazines, others for websites, Russ Gurley has asked for one or two for a book he is compiling, so that some day I can pull them all together into one volume, link them together and add some more. I put some of them on the Reptiles magazine site at www.animalnetwork.com/reptiles/home.aspx

As for more films, well not at the present. I enjoyed making OBA but I really wanted to reflect genuine fieldwork with all its successes and failures and today, the demand for more sensational footage and the cutting of budgets, time and money, it becomes increasingly more difficult. I was also prepared to fail in one or two of my quests if I did not find the species I was searching for, but I don't think that sits well with the broadcasters, they really do expect success every time. But life isn't like that, success and failure are two sides of the same coin, and to truly appreciate one you have to taste the other.
Anyway, I am getting back into fieldwork again, there is nothing I enjoy more than working steadily on a research project in the tropics. However, don't get me wrong, I really enjoy making documentaries too and would make more if asked to, but that is not the be-all and end-all of my herpetological existance.

Kindest regards

Mark
Mark O'Shea Answers Questions
Reply
by polarbearbrad on May 9, 2006
Mail this to a friend!
Hi Mark.

I am a teacher in South Korea and this question has come up several times to which I can not find an adequate answer.

Are there any venomous snakes in South Korea? If so what are their names, descriptions, habitats and so on? This question comes up numerous times a year and for once I would like to reply with something more than "I have no idea."

I have heard there are but of course getting concrete proof through the net is a litte more difficult. This site I trust so if you wouldn't mind addressing these questions or asking a trusted source to do so that would be greatly apprecaited.

Thanking you in advance.
Sincerely,
Bradley Ellis
RE: Mark O'Shea Answers Questions
Reply
by Mark_OShea on May 11, 2006
Mail this to a friend!
Hi Brad, yes there are venomous snakes in South Korea.
There is the rear-fanged, inoffensive-looking keelback known as the yamakagashi which has caused a fatality or two in Japan (Rhabdophis tigrinus) and there are several pitvipers from genus Gloydius ie.
G.blomhoffi - Mamushi
G.saxatilis - Rock mamushi
G.ussuriensis - Ussur pitviper
the taxonomy of this genus is always in a state of flux but one of the best guides would be Gloyd and Conant's magnus-opus Snakes of the Agkistrodon Complex or Gumprecht et al Asian Pitvipers.
You are a little too north for elapids, even the oriental coralsnakes failing to make the peninsular, even though they are in Japan and the Ryukyus.
Another good book would be Stejneger's Herpetology of Japan and adjacent territory.

Happy herping, or avoiding, depending on your disposition !

Mark
Mark O'Shea Answers Questions
Reply
by MasterTurtle on May 12, 2006
Mail this to a friend!
Hello Mark!
I am 16 years old a have been a huge fan of yours for years! I got your name from John Reinsch on the subject of herp related conservation projects in or around Texas. I would like to do several aimed at texas endangered and or threatened herps adn was wondering if you knew or if you were the right person to contact to learn more about them? Also I was wondering if you know of any researchers that might need help on a trip or are looking for or willing to apprentice some one I look foward to your response!

Reed M.
RE: Mark O'Shea Answers Questions
Reply
by Mark_OShea on May 16, 2006
Mail this to a friend!
Hi Reed, I do wish I was able to offer keen budding herpers more cutting-edge advice but if you are looking for herp related fieldwork experience in Texas I have to point out that I have been to the Lone Star State once only, and that was at least five years ago when Winston Card invited me over to open an exhibition at Dallas Zoo.
I did spend a short while in the field with Texan herpers and know there is a very good group of reptile and amphibian enthusiasts and researchers in the state. I visited both Dallas and Forth Worth Zoos and think that either of these collections might be good places to contact to ask about fieldwork projects as well as the museums and universities and the herpetological societies within state. I am sure there will be fieldworkers in your area with projects that would benefit from an extra pair of hands and eyes but I must be honest and say I don't know what they are. Texas is a big and geographically diverse state and you did not mention which part of Texas you hailed from. I am sure there is a Texas Herpetological Soc. and and East Texas Herp Soc. and probably local city based societies too. Visit your local museum or library and ask, or you local zoo to talk to the herpetologist.

Hope this helps
Good luck discovering the jobs of fieldwork
Mark
Mark O'Shea Answers Questions
Reply
by RAINFORESR on May 31, 2006
Mail this to a friend!
hi i keep many venemous snakes myself in the uk and was wondering were i could get midwest tongs and hooks in the uk cause i am desperate for them as the ones i am using at the moment are nowere near as good after using my mates midwest thanks tom
symtoms
Reply
by CJROY on June 17, 2006
Mail this to a friend!
hi mark,
how r u doing. recently i was bitten by common vine snake (A. nasuta)suffered some effects after the bite. i dont know why it happened but the symtoms were similar to nurotoxic envenomation. first the there was numbness, and then local swelling and pain, now these snakes are regarded as harmless so why all these things happened.
pls explain.
and by the way how is ur feild works going on??
regards
chirag roy
RE: Mark O'Shea Answers Questions
Reply
by Mark_OShea on June 26, 2006
Mail this to a friend!
Hi Tom

As far as I know Midwest does not have an agent in the UK so you may simply have to order direct from Dana Savorelli or ask someone going to a US show to bring back the equipment you require.
Midwest is the best, accept no substitute!
Mark
RE: symtoms
Reply
by Mark_OShea on June 26, 2006
Mail this to a friend!
Hi Chirag Roy

It is not unusual to feel something following the bite of a small rear-fanged snake, they are venomous, and lethal to lizards afterall, so localised effects would not be rare. I am not aware of any research into the venoms of Ahaetulla species, it just lucky they are not like their African lookalikes Thelotornis.
One wonders how you got bitten, these snakes issue and impressive head-flattening warning before biting and even then the long head means the fangs are a reasonable way back.
The only information I have found was on the excellent Clinical Toxinology Resources site run by Julian White in Adelaide <www.toxinology.com> where this species is reported as capable of cusing local pain and swelling through mild envenoming but other details are lacking, even the venom composition.
Regards

Mark
Mark O'Shea Answers Questions
Reply
by ocreptileguy on July 5, 2006
Mail this to a friend!
Hey Mark how's it going? I met you once before a show here in southern California at a poorly kept reptile store Called Prehistoric pets. I had assisted you in taking some pictures of V. Griseus. I have been working with venomous for a while now. I have experience in both native and non native exotics because a friend of mine has his permit here in CA. I'm very interested in getting into field studies of venomous reptiles and later venom research to help diseases, Mainly I would like to see what the protein effects would be on Huntington's disease because it is a genetic disease that runs inn my family and I am about to lose an uncle from it. Are there any schools, businesses, or people that you could recommend that I check out? Any help would be greatly appreciated… My email is Bitisnasicornis1@aol.com if you would like to contact me there privately. Thank you
Zach

Mark O'Shea Answers Questions
Reply
by nymslm on July 7, 2006
Mail this to a friend!
HI Mark,
I dont have Animal Planet so I cant watch your shows yet. However, I am very passionate about reptiles and whenever I research something on the net I always see your name. I have visited your official sites and you seem like a pretty cool guy. I am from Bangladesh but live in Canada and hope one day soon to go back to Bangladesh to observe the reptiles. I especially like lizards. Me and my friend often argue about which is more dangerous, the King Cobra or the Black Mamba. Which is it in your opinion?
I am prestently reading REPTILES AND AMPHIBIANS. I beleive you are one of the authors becuase your name is one the page cover. Good Stuff. I am just curious:
-do you have any pet lizards or venomous snakes
-which is your favourite lizard ( I like calotes)
By the way, have you ever been to Bangladesh? I heard Sundarbans ( mangrove forest, bordering West Bengal ) is the place to be ( for nature lovers).

Take Care
Naja Nayeem
Mark O'Shea Answers Questions
Reply
by MasterTurtle on July 8, 2006
Mail this to a friend!
Hello Mark,

My Name is Reed I asked you a while ago about a herp related project. I am now curious if by some off shot you may know some info on C. aspera the Viper boa. I am looking into getting one but have run across 2 problems A. much conflicting info in care sheets and B. lack of them for sale online. If you could resolve either of these problems? Thank you very much! Another Question I had is what is in your opinion the best rout to go to get hot training I will be turning 17 soon and want to find a source for it so I can start as soon as I am 18. I know a much esteemed herpetologist here in Austin that I might be able to get training form is that the way you suggest getting the experience? Thank you very much!
Reed
Mark O'Shea Answers Questions
Reply
by frenchfry on August 1, 2006
Mail this to a friend!
Hello Mark, first let me tell you that you are a huge influence on me and my collection. I have always enjoyed watching O'Shea's Big Adventure! I truly envy you and the other recognized herpetologists internationally. Now on to my question. I am currently in possession of one Boige Dendrophilia and I have poured of loads of information but determining sex has eluded me. If you could shed some light on this beautiful species I would truly appreciate it! Thank You!
Mark O'Shea Answers Questions
Reply
by gingerm196442 on August 2, 2006
Mail this to a friend!
Dear Mr.O'Shea,

I am interested in finding out about becoming a herpetologist.I have had a ball python and a corn snake.What subjects do you sugjest i study?My Name is ginger and i am 42 yrs.old
Mark O'Shea Answers Questions
Reply
by mikes19 on August 11, 2006
Mail this to a friend!
mark im a bin fan of you i would love to meet you do you go to any reptile shows on the east cost of the usa and what zoo are you at
RE: Mark O'Shea Answers Questions
Reply
by Soulweaver on August 20, 2006
Mail this to a friend!
Mark,

Would you be interested in writing some articles for the Victorian Herpetological Society here in Melbourne Australia??

I cna be contacted throught he V.H.S site www.vhs.com.au or my email address attached to this site


Regards

Luke Ludwell
Mark O'Shea Answers Questions
Reply
by cachinho on September 20, 2006
Mail this to a friend!
I'm Debora from Brazil..doing Bachelor of Science in biology majoring in zoology.i´m 22 years, I'm working with venomous snakes. I would like to know what do you think about dry bites, why does it happens?
thank you.... best wishes
Mark O'Shea Answers Questions
Reply
by dalton94 on September 29, 2006
Mail this to a friend!
Hello Mark,
I just have a few questions for you. I was wondering how you decided to become a herpetologist? Have you ever been to West Virginia before? And how long did it take you to become a herpetologist?

Thank You,
Dalton
Mark O'Shea Answers Questions
Reply
by vietherp on October 16, 2006
Mail this to a friend!
Hello Mark. Loved your book,i Live and travel constantly in Rural central Vietnam,and studied Vietnmaese for years, Love the Fascinating Snakes! but Vietnamese regard all cobras besides the king as spitters or not(this usually occurs after thay start spitting at you as one of my uncles found out much to his discomfort he looked like rocky after the first fight for a week, but recovered fully, Not very good for identification purposes! I've seen so many color varieties and variation of spitting abilities with and without Hood markings, that i'm just obsessed to find out what kind of cobras they are!
I regularly "disturb" cobras in my garden, a mutual retreat is usually the order of the day for both parties,and "malayan" pitvipers are also a pretty common sight,around the plantation knee high rubber boots are used often,they have a very pink like hue almost like a dusted blush on their skins and their pattern and camouflage is superb
My Questions are
1.What Cobras inhabit Vietnam? is vietnam some sort of cobra cross roads?where a wide variety of ranges cross?fron indian to indo-chinese,(monocoled),king, or is a lack of study the problem
2 what is usually the highest elevation cobras can be found at and what is the minimum temperatures you think that they are active?(do they eat eggs?)
3.I've never seen a russells viper here, do they occur in vietnam at all?
4.Can you suggest any "classic" or more detailed detailed works on the different species of Asian cobras,any internet searches about vietnam, snakes and cobras brings forth a ton of info about the vietnam war, none about snakes
5. why does one very famous and quite good nature show host never encounter a spitting cobra in all his travels through asia? this to me is simply not possible
I've personally observed at least 20-30 cobras in the wild Most of them spit!
6 How are we ever going to get a hold of your series!

Mark O'Shea Answers Questions
Reply
by b_mcclister on October 23, 2006
Mail this to a friend!
Hello Mark:

In your book "Venomous Snakes of the World", it states that there are 4 species of mamba (3 green and 1 black) yet you only covered the Black Mamba and the Eastern Green Mamba. Can you tell me about the "other" species not covered in the book?
RE: Mark O'Shea Answers Questions
Reply
by Mark_OShea on November 16, 2006
Mail this to a friend!
Dear Zach and everyone else, apologies in not being available to take questions but I've been in Papua New Guinea woorking with the Australian Venom Research Unit for a couple of months and largely out of internet contact.

Okay Zach, venom research, this is a very complex subject and I was not aware anybody had found a potential cure for Huntingdon's Disease within snake venoms. Of course there may be something there but exploring this would be extremely expensive and extremely time-consuming so sadly I don't think anybody would have an answer in time to save your uncle.
If you want to get involved in venom research at the laboratory level you will need a PhD in biochemistry or pharmacology and an attachment to a large university with suitable facilities. One person who springs to mind who is actively involved in the study of venom components is my old friend Bryan Grieg Fry, you might try posting him.

Best wishes, Mark
RE: Mark O'Shea Answers Questions
Reply
by Mark_OShea on November 16, 2006
Mail this to a friend!
Dear Naja Nayeem, thanks for your positive comments.
I will try to answer your question about king cobra v. black mamba.
Both are extremely serious bites but the venom of the king is not as toxic as that of a common cobra, it just puts in a great deal more, so it is quantity rather than quality that kills. The black mamba delivers a smaller amount of highly toxic venom. However although both are elapids there venoms are different and comparing different venoms is like comparing different fruit, as I said in Venomous Snakes of the World, say apples, oranges, bananas, all fruit, different shapes, colours, textures, so how do you compare them? With fruit you might compare sugar levels and with venoms you compare their killing ability, their LD50 the lethal dose that kills 50% of a test group of mice, the lower the number the more toxic the venom. In this the black mamba would win over the king cobra because this is a quality, not quantity, factor, but there are Australasian snakes with venoms even more toxic than the black mamba.
I do not have any pets and do not keep reptiles at home, haven't for 15 years or more, my reptiles living at West Midland Safari Park (my UK base) www.wmsp.co.uk
My favourite lizards are the 'pukpuk palaia' Tribolonotus gracilis and the monkey-tail skink Corucia zebrata.
I have been to Bangladesh, briefly enroute to Nepal in the early 1990s. The Sunderbans are a great place to get eaten by either a tiger or a saltwater crocodile. The nearest I have been to the Sunderbans was the Bhitakarnika swamps of Orissa, northeast India (OBA3 "The Cobra's Revenge")

Best,

Mark
RE: Mark O'Shea Answers Questions
Reply
by Mark_OShea on November 16, 2006
Mail this to a friend!
Dear Reed

I know Candoia aspera very well, in fact I caught (and released) two on Karkar Island, Papua New Guinea just about 10 days ago. I must have seen dozens there during my visits, they are very common and the locals call them "lazy snakes". My colleage David Williams has a large one living free in the venomous snake rooms in the Australian Venom Research Unit snake unit in Port Moresby.
As for where to get one and how much to pay, I really do not know as I have nothing to do with buying or selling of snakes, especially wild caught snakes and I figure most of the ground or viper boas available have come in from Indonesian West Papua.
Venomous training, why rush in, get more experince with nonvenomous snakes first, there are plenty of fascinating nonvenomous snakes to work with before you take the plunge. Here in the UK people have problems getting hot experience because no zoos insurance will cover non-staff and we have a long training period for our reptile house staff. I recently attended a workshop on venomous exotics at Melbourne Zoo and the talk was of who were suitable people to work with venomous reptiles. Level headed people without egos, who are mature on outlook if not necessarily in years, were much preferred by the professional zoo personal.

hope this helps, Mark
RE: Mark O'Shea Answers Questions
Reply
by Mark_OShea on November 16, 2006
Mail this to a friend!
Hi Frenchfry,

I used to keep Boiga dendrophila and quite a few other Boiga in the old days. The Malaysian B.d.melanota was a much more robust and larger form than the Borneo B.d.annectans one sees today but none of these snakes are as common in the UK collections as in the past when they were kept by everyone. For a while they were restricted by our Dangerous Wild Animals Act but I think they may have come off or are coming off the bill.
With their fast reactions, big mouths, chewing bites and long reach I think they are a good substitute for a highly venomous snake, you will certainly learn to move quickly at feeding time with a 6 or 7ft specimen coming out of its cage. There are numerous articles in the 1970-80s herp literature on keeping them in captivity, I even wrote something myself back then. Sexing them, they are not rally sexually dimorphic so it is probably down to the old snake probes I'm afraid.
But take care putting them together, they can be cannibalistic.


Mark
RE: Mark O'Shea Answers Questions
Reply
by Mark_OShea on November 16, 2006
Mail this to a friend!
Hi Ginger

It is never to late to study, it broadens the mind and gives a lot of satisfaction. I believe we live to learn and even now I am thrilled to discover something new in an area I thought I understood fully.
Subjects for herpetology, well obviously biology, also ecology to understand habitats, biochemistry and microbiology help one understand venoms and DNA, systematics allows one to understand how species are described, biogeography, how they are distributed around the world, statistics, how populations are studied, etc.
Of course, if you want to be a herpetoculturist, to keep and breed snakes, then a little genetic knowledge might be useful too.
But take it steadily and decide which aspect of herpetology interests you once you have your basic grounding, and good luck.


Mark
RE: Mark O'Shea Answers Questions
Reply
by Mark_OShea on November 16, 2006
Mail this to a friend!
Hi Mikes19

I live in the United Kingdom and am based, some of the year, at West Midland Safari Park, where I am the Consultant Curator of Reptiles.
I only get to the USA from time to time, mostly to the various NARBC shows in Anaheim, Phila, Chicago, although I have been over to Daytona once and MARS Baltimore once (east coast enough for you ?)
I have not been over to any shows during 2006 and my tropical fieldwork schedule for 2007 is loking quite full so not sure if I will get over to any then either, even if I am invited !!

Mark
RE: Mark O'Shea Answers Questions
Reply
by Mark_OShea on November 16, 2006
Mail this to a friend!
Hi Luke

What a coincidence, I've just got home from PNG but I came back via the Exotic Venomous Snake Forum at Melbourne Zoo for which I ran a venomous snake trivia quiz (which Bryan Fry won) and presented the plenary lecture on the second morning, so I was not far away.

I would be interested in writing for the Victorian Herp. Soc., it is just time and Alan Wilkie is always chasing me for articles for The Herptile - just had two articles in there and two more are in prep.
Still this is something I would consider, what would you be after and what wordage, do you pubish in colour (for photos) etc.
Perhaps you can send me over a sample of your journal.
I use the West Midland Safari Park address ie. Reptile House, West Midland Safari Park, Bewdley, Worcestershire, DY12 1LF, United Kingdom

I will send this to your address also.
Again sorry for delay in repling, was in PNG for some months.

Best wishes

Mark
RE: Mark O'Shea Answers Questions
Reply
by Mark_OShea on November 16, 2006
Mail this to a friend!
Hello Debora,

Dry bites certainly do occur in some species.
I think sometimes the snake may be pulling its punch, knowing that the bite alone is a deterent and there is no need to waste venom, afterall the snake does not care if you live or die provided you leave it alone, and a dry bite tends to have that effect.
Some species never seem to dry bite, taipan for instance, but cobras do so frequentlt, the trouble being you simply don't know if he did or didn't.
It may be less common in vipers because the muscular process of the fangs swinging into the strike position is likely to start the process of transporting venom from the glands, down the ducts to the fangs.

What do you think ?
It is an interesting subject that has not been fully studied

Mark
RE: Mark O'Shea Answers Questions
Reply
by Mark_OShea on November 16, 2006
Mail this to a friend!
Hi Dalton

I was interested in snakes from the age of eight when I first kept them as pets but I am not sure when I decided I wanted to be an herpetologist, it just sort of happened. I guess my 'training period' ended when I started being asked to participate in expeditions such at the Royal Geographical Society Maraca Rainforest Project in Brazil in 1987-88.
I have been to West Virginia, I filmed there with snake handler Dewey Chafin in 1999 during the making of "Nemesis" (OBA1) about timber rattlers.

Regards

Mark
RE: Mark O'Shea Answers Questions
Reply
by Mark_OShea on November 16, 2006
Mail this to a friend!
Hi Vietherp,

There are plenty of cobras and Malayan pitvipers in Vietnam, although did not know the Malayan pitviper does not really occur in Malaysia, other than possible the extreme north, it is more an inhabitant of the dry forests and plantations of Indo-China than the more tropical rainforests of the peninsula, then it occurs again in dry Javan woodlands. Your questions:
1. You are quite correct, the entire region is a cobra cross roads with spitting common cobras, non-spitting common cobras, and kings present and apart from the fairly obvious king cobra, the others can be difficult to distinguish apart. Unfortunately the hood markings are not all that helpful either. Wolfgang Wuster and I recently looked at the hood of a cobra in a photo sent by someone in India (I think it was) who thought it was a new species, but it wasn't. Basically I think the common cobras of Vietnam are Naja atra, Naja kaouthia and Naja siamensis. The expert is of course Wolfgang, he revised the entire Naja complex in Asia in a series of important papers - you can check out his site at
http://biology.bangor.ac.uk/~bss166/update.htm

2. I honesty cannot tell you the cobra's altitudinal record but being oviparous they are less well adapted to cool conditions than the viviparous vipers. Cobras are also opportunistic feeders, I reckon they may take eggs sometimes but some snake charmers force feed their snakes nothing but eggs and that does not do them any good.

3. You are correct again, Russell's viper is not reported from Vietnam.

4. Information on cobras in Asia, the best source will be the taxonomic papers by Wolfgang so check out his site listed above. There are several good regional guides to snakes in SE Asia and even that war-era book on snakes of Vietnam by Campden-Main but there is also a recent book (in German) on Vietnam herps by Thomas Zeiger, pub. by Natur und Tier Verlag. I also have a little book on snakes of Vietnam in Vietnamese.

5. I don't know who you mean but I too have met numerous spitters and during filming I met with them in S.Africa and Indonesia.

6. My series' were never produced on vhs or dvd so all you can do is tape it when you see it - sorry, best I can offer.

Enjoy the diverse snake fauna of Vietnam

Best wishes

Mark
RE: Mark O'Shea Answers Questions
Reply
by Mark_OShea on November 16, 2006
Mail this to a friend!
Yes Brandy, there are four mamba species but space precluded me including them all:
Black mamba Dendroaspis polylepis
Eastern green mamba Dendroaspis angusticeps
Western green mamba Dendroaspis viridis
Jameson's mamba Dendroaspis jamsoni

Hope that answers your question.

Regards

Mark
RE: Mark O'Shea Answers Questions
Reply
by snakeguy101 on November 22, 2006
Mail this to a friend!
Hello Mark, big fan,
This might help settle a dispute that has been going on in this site for quite a while. When do you consider someone mature enough to start handling venomous reptiles?

Thanks for your time
ps. i love your midwest hook, works like a dream ;-)
RE: Mark O'Shea Answers Questions
Reply
by Mark_OShea on November 23, 2006
Mail this to a friend!
Hi Chris
You used the right word in your question - 'mature'.
On the way back from Papua New Guinea I dropped in at a workshop on exotic snakes at Melbourne Zoo and it was interesting to hear the Aussie zoo people discussing training keepers in their departments. The thing that came over strongly was staff selection and a phrase that cropped up was "no dick heads". Taking on someone who wants to work with venomous snakes because it is cool, or dangerous, or because it makes them feel big, is dangerous in itself since they may get themselves or someone else killed. The zoo curators try to filter out people who are a danger to themselves and others and take on people with a genuine interest in reptiles and not egocentric. It is all about maturity and attitude, and that does not necessarily mean mature in years, one curator said he had mature 20year olds working for him, it means mature in outlook, sensible, forward-thinking etc.
It is quite possible that someone who is a mature 20year old would make a better venomous snake worker than an ego-centric 30year old out to impress.
Does that answer your question ?
I note you are 15 so I must add that I do think that is too young, but another few years of maturity can only help.

Mark
Mark O'Shea Answers Questions
Reply
by KingCobraFan on November 23, 2006
Mail this to a friend!
Mark,
I've always thoroughly enjoyed your tv shows; a shame they're no longer on here in the US. Speaking of which, do you have any stateside appearances scheduled in the near future? Thanks and good luck with whatever projects you undertake.

Sincerely,
Bill Huseth
RE: Mark O'Shea Answers Questions
Reply
by bothrops03 on November 27, 2006
Mail this to a friend!
Hi Mark! How are you?
I wanted to know if you know something about Clelia bicolor. I found one when I went to Chaco (Argentina), and I'll buy two CB babies in a few days. I know how to care them, that's not the problem, I wanted to know if you know something general of the species.

Besides, I would like to know what do you think about venomoids.

Cheers!
Martin
RE: Mark O'Shea Answers Questions
Reply
by Mark_OShea on November 28, 2006
Mail this to a friend!
Hi Bill, I recently filmed a short item about British snakes for the BBC but I think it is unlikely that will be transmitted in the US. Other than that, nothing happening on the TV front now or in the immediate future. I have some ideas out with various production companies but nothing has been picked up and commissioned and in any case I am busy with several fieldwork projects. I am also looking for new challenges within the herp world, especially as the word over here is that reptiles, especially snakes, are not fashionable in television and documentaries about them are not being commissioned. Fashion is a cyclic thing so they will come around again.
No plans for any trips to the US either. I had thought of a US lecture tour taking my powerpoint presentations around the various herp societies but have not had time to take the idea any further.
Sorry I can't offer anything more positive than that.

All the best,

Mark
RE: Mark O'Shea Answers Questions
Reply
by Mark_OShea on November 28, 2006
Mail this to a friend!
Hi Martin, no I don't know Clelia bicolor although I have caught Clelia clelia in northern S.America and C.rustica in Patagonia. The best sources for natural history and distribution data fo Argenine reptiles are the twin volumes by J.M.Cei 1986 Reptiles del centro, centro-oeste y sur de la Argentina: herpetofauna de las zonas aridas y semiaridas, and 1993 Reptiles del noroeste, nordeste y este de la Argentina: herpetofuan de las selvas, subtropicales Puna y Pampas, both from Museo Regionale di Scienze Naturali Torino, vols. IV and XIV.

As for venomoids -well check out my comments on the Speak-out section of this site and my Herptile article posted on http://www.aussiereptileclassifieds.com/
phpPETITION/

I do not agree with venomoids and can see no valid reason for creating or owning them.

All the best, Mark
RE: Mark O'Shea Answers Questions
Reply
by snakeguy101 on December 10, 2006
Mail this to a friend!
hey mark,
yes you did answer my question and i would have to agree with you on everything you said.
thank you
~Chris~
RE: Mark O'Shea Answers Questions
Reply
by vietherp on December 22, 2006
Mail this to a friend!
Thank you very much for your reply and your reference to Wolfgang at bancor uni. It helped very much,I now believe the vast majority of my encounters have been with naja siamensis,although they tend to be much more earth tone in color here than i suspected.
I will investigate this further,
Kraits inhabit this area and Their bites are almost always fatal.I only know of one gentleman to survive one he got a dry bite.(he's convinced some herbal tea saved him.)
My questions regard two very odd herping encounters
Is the malayan banded krait the only krait in seasia?
is their a False viper found here?

I encountered a very small Dark brown snake that exhibited all the traits of a venomous snake(coiling and striking ) I was convinced it was a cobra but it never "hooded" and it possesed elapid length fangs.was stout so it seemed mature it coudn't have been larger than i guess 30cm and as large around as a mans thumb, i have photos, not great quality, Is their a common krait found here? i don;t handle poisonous snakes under any circumstances.Love em will move them if i have too, but barge pole distance and a hazmat suit when i do. But i did take some photos, it acted just like a viper of some sort.

also One rainy afternoon actually reading your book. they presented me with a dark dark purple almost brown snake with a thick vanilla band along the back of its head it looke exactly like your photo of a fijian coral snake. I can't for the life of me figure out what this species was, any ideas
Thank you so much for taking the time.
Venomous snakes on West New Britain, PNG?
Reply
by natrix on December 31, 2006
Mail this to a friend!
Dear sir-
From available literature (your book of course is number 1 on the list) I find no reference to venomous snakes on West New Britain, Papua New Guinea. I recently returned from a month caving in the Nakani Mountains and heard recurring tales of people getting sick from snake bites. Is this just urban legend?

I'll be returning next year to perform a natural resource inventory in the Hargy Caldera west of Bialla and would much appreciate being pointed toward the most up to date herp species list.

Thanks for your time and everything you've done,
Ralph Cutter
Mark O'Shea Answers Questions
Reply
by ichabod on January 5, 2007
Mail this to a friend!
Hi Mark,
I was wondering what it takes to become a herpatologist, I have been working with snakes for about 5yrs now and I cant see my self not working with snakes. I am a Docent at Potawattomi Zoo in South Bend, IN home of the "Notre Dame Fighting Irish"
I will be going back to school to get my vet tech degree. I just wanted to know what it takes.
Mark O'Shea Answers Questions
Reply
by Matt_Wall on January 6, 2007
Mail this to a friend!
Hi Mark, Firstly I'd like to thank you for writing 'Venomous Snakes of the World' I got it for Christmas and it's a fantastic read which has greatly increased my knowledge of venomous snakes (and I still haven't finished it!).
Secondly, I was wondering if you've ever worked with or met Dr Bryan Fry? Like you he has been extremely helpful to me by explaining simple things (sometimes not so simple) that beginners such as myself sometimes feel embarrased asking experienced herpetologists about.
Finally, I hope to go to university next year to study animal biology and conservation and eventually go on to become a herpetologist. I was however (being the optimist that I am) wondering how I would go about becoming a herpetologist if I didn't get into university.

Thanks for reading, Matt.
RE: Mark O'Shea Answers Questions
Reply
by Mark_OShea on January 27, 2007
Mail this to a friend!
Hi Chad (vietherp)
In December you asked me two more questions, sorry for not getting back soon but you know how it is ;)

No, the Malayan banded krait is not the only krait in S.E.Asia, though that common name could mean more than one species, and how you define S.E.Asia is also not explained. Obviously you include Vietnam, Cambodia, Thailand, Laos and peninsular Malaysia but S.E.Asia also includes Myanmar (Burma) in the northwest, Yunnan (China) in the north, and western Indonesia, plus the island of Borneo which is 2/3 Indonesian, 1/3 Malaysian and also contains the tiny sultanate of Brunei. The Andaman and Nicobar islands, which span from Myanmar to Sumatra, are Indian but they are still part of S.E.Asia. Then you might even extend S.E.Asia eastwards to include the Philippines, and some people even include eastern Indonesia (Sulawesi, Lesser Sundas, Makulu, West Papua), along with East Timor and Papua New Guinea and Palau, but I do not accept these last countrues consider them more Australasian. However, the kraits, Bungarus, are a mainland S. & S.E.Asian phenomenom which also venture onto the islands nearest to the mainland.

Here is a list of S.E.Asian Bungarus with the five that occur in Vietnam, Cambodia, Thailand and Laos asterixed:
B.andamanensis - Andaman krait (Andamans)
B.bungaroides - Cantor's krait (Myanmar)
B.candidus - Malayan krait*
B.fasciatus - banded krait*
B.flaviceps - red-headed krait*
B.magnimaculatus - Burmese krait (Myanmar)
B.slowinskii - Red River krait*
B.multicinctus - many-banded krait*

Your second question concerned a false viper in S.E.Asia and the answer is yes, Psammodynastes pulverentulus is the mock viper, a widespread colubrid snake thought allied to the natricines (watersnakes). It has a very viperine physique and head, slightly vertically elliptical pupils, adopts 'the position' and even has enlarged teeth in its mouth, but it is not a viper any more than Xenodon in S.America.
I have found these snakes are far apart as Thailand and the Philippines and its strikes me that there are probably more than one species hiding in what we call Psammodynastes pulverentulus. So many colubrids, so little time !!
There is a second species, P.pictus, on Borneo and Sumatra.

Hope that answers your questions,

Regards
Mark
RE: Venomous snakes on West New Britain, PNG?
Reply
by Mark_OShea on January 27, 2007
Mail this to a friend!
Dear Ralph (Natrix)
You asked about available literature on the snakes of West New Britain and to be honest, apart from my A Guide to the Snakes of Papua New Guinea (1996 and out of print) there is no other field guide or popular book covering this region. There are scientific papers and you may be able to obtain some of them as pdfs or do a literature search in a good library using a variety of keywords. The papers by Sam McDowell are wll worth sourcing.
West New Britain is, conveniently enough, the western province on the island of New Britain in the Bismarck Archipelago to the east of Papua New Guinea, the other province, being surprisingly named East New Britain! However, the Nakanai Mts are mostly found in ENB, not WNB which is dominated by the Whiteman Range. Still it really does not matter from a snakebite standpoint because none of these islands have any dangerous species.
Mainland New Guinea and its satellite islands (Karkar, Daru, Yule) are home to a reasonable array of elapids including eight species which can and do cause human fatalities. However move into the eastern archipelagos and the risk is hugely diminished even though elapids occur there.
Milne Bay Province island archipelagos are inhabited by the striped crowned snake (Aspidomorphus lineaticollis) and several mountain or forest snakes (Toxicocalamus spp.)
New Britain (WNB & ENB) has only one elapid, Muller's crowned snake (Aspidomorphus muelleri), a widespread species of which I recently caught a couple of examples in Oro Prov., a snake which can and will bite and can cause illness but has not caused death. So people may have got sick from bites, but not died. Only one snakebite is documented from Muller's snake so anything you can learn would be very useful for when I complete the second edition of Snakes of PNG.
New Ireland, further to the east, also has A.muelleri.
Manus Province, to the north, had zero elapids
The final province, the most easterly, is N.Solomons or Bougainville Province (not to be confused with the Solomon Islands across the border) and here there are three endemic and monotypic genera Salomonelaps, Loveridgelaps and Parapistocalamus, although in truth Loveridgelaps has not been recorded from the PNG side of the border, but on the close-by Solomon's Shortlands island.

So cave away to your hearts content and "don't fear the reaper", not if he is using snakebite as his method of harvesting souls.

If you are after a list of species occuring in New Britain that is more difficult because new frogs, especially the direct-breeding Platymantis, are being described with surprising regularity and without a specialist who knows these species you will not be able to identify them. As for skinks, they are legion in New Guinea. You will have your work cut out I promise. You will need to make a voucher collection but will not be able to export it so you will need to deposit it at the National Museum of PNG and if you are conducting research you will need a research permit, which is not like a tourist or business visa. PNG is not the easiest country in which to carry out fieldwork.

Good luck and apply for your permits many months before you plan to leave

Mark
RE: Mark O'Shea Answers Questions
Reply
by Mark_OShea on January 27, 2007
Mail this to a friend!
Hi Isaac (ichabod)
What does it take to become an herpetologist ?
Well it takes different things depending where you want to go.
First let us define herpetologist because it is a much abused term, many people claim to be herpetologists who are not strictly herpetologists.
Herpetology is that branch of zoology than involves the study of reptiles and amphibians (although in the past the term batrachologist was applied to the latter and the French still use the term). However, the important word here is the tenth in that sentence 'study', the study of reptiles etc. not the keeping of them in captivity, the breeding of them etc.
People have kept tropical fish for generations and they call themselves aquarists, those that breed fish call themselves aquaculturists, and those that study them in museums or in the field are generally known as ichthyologists as in the American Society of Ichthyologists and Herpetologists (est.1913).
It is just that no alternative term existed for reptile keepers and breeders until someone coined 'herpetoculturists' obvious really, can't imagine why it took so long.
Herpetoculturists keep and breed reptiles
Herpetologists study them, really study them, genetics, phylogenetics, taxonomy, natural history, distribution, physiology, veterinarian, toxinology dar de dar de dar.....
So wanting to work with reptiles does not mean you have to become an herpetologist (the 'h' is silent like in 'erbs or 'otel so it should be 'an herpetologist', though few speak it that way).
To breed reptiles commerically, to work with them at the keeper level in a zoo, to engage in any number of activities which involve reptiles, one does not need a degree or even formal education, just passion, enthusiasm and knowledge, all of which can be learned or gained on the job.
But to become a proper herpetologist, engaged in field research or the laboratory study of venoms, DNA or reptilian parasitology, then one needs education and the higher level one can achieve the further one can climb up the ladder of success. Even in zoos, if one wished to achieve senior keeper status, then a qualification is usually desirable since you may well be required to publish an important breeding record in the International Zoo Yearbook and that is a lot easier using skills picked up in traditional educational programmes.

I note that you are going back to school to get your vet tech degree.
That shows dedication and I applaud your move. Having already worked in a zoo collection you will also be better equiped with plenty of ideas from the real world, than kids coming straight from school. To use a military analogy, a top sargeant with a tour of duty under his belt may be more clued into what is going on than the most highly qualified West Point graduate, having learned through practical rather than theoretical methods. It is a case of finding the happy medium between education and experience and that is why I continually push kids to study (see March Reptiles p.28) but also see the value of gap-years and field experience. I did my first degree as a mature student in my early 20's, having already made three field trips overseas including one to Borneo. I found I had more to contribute to lectures than someone younger than myself who had only ever seen the inside of a classroom, and I was better equiped and more willing to learn too.

In a nutshell, you asked me what to do but I reckon you are already doing it. Good luck to anyone who goes back to education to better their chances of achieving their ultimate goal.

Mark
RE: Mark O'Shea Answers Questions
Reply
by Mark_OShea on January 27, 2007
Mail this to a friend!
Hi Matt
Thanks for your comments on Venomous Snakes of the World. if you enjoyed it you will be pleased to know that Boas and Pythons of the World is coming out soon, already available in the UK as I have copies and will be offering signed copies of both on my website www.markoshea.tv (along with sets of the postage stamps I designed on Dangerous Snakes of PNG). I hope to set up a paypal system for overseas purchased BUT shipping books from the UK is expensive due to our postal system. I can have a book sent to me from the US three-times for about the same amount it costs me to send the same book in the other direction. This is obviously an unhelpful factor when it comes to me selling signed copies of my own books. Anyway I digress.

Yes, I know Bryan Fry, we are old friends, he worked on a film in the second series of O'Shea's Big Adventure entitled Sea Serpents, when we caught plenty of seasnakes off Queensland Western Australia. He has paid me a visit at West Midland Safari Park and I last saw him at the Exotic Venomous Snake Forum at Melbourne Zoo, on my way home from PNG in Nov 2006, where I had been asked to present the plenary lecture and a quiz on venomous snakes (which Bryan won).

With regards to your last comment about becoming an herpetologist without going to university, see the previous reply to ichabod.
At university you would learn skills you could never pick up reading reptile books at home or wandering the field and woods with a snake stick.

Regards

Mark
Mark O'Shea Answers Questions
Reply
by JeremyTMoore on January 28, 2007
Mail this to a friend!
Hello Mark O'Shea I am one of your biggest fans. I hope you are still answering these. I have to ask you a few questions. 1) Did you ever encounter any Big Headed Amazon River Turtles? 2) Were you nervous around those Alligator Snappers? 3) What do you think of the Sea Snake Species? 4) People say I shouldn't keep my Sea Snakes in captivity, but I have a few that are thriving and have been for 3 1/2 years now, Do you think I should stop?

Thats all I would like to know. I wish you luck with your life, and I hope to hear some answers from you.
Jeremy T. Moore

RE: Mark O'Shea Answers Questions
Reply
by Mark_OShea on January 30, 2007
Mail this to a friend!
Hello Jeremy, yes I continue to answer questions when I have a little time.
You asked four questions, so I will try to respond.
1) Amazon big-headed turtles. I have been to the Amazonian countries quite a few times over the past 20years and seen quite a few river turtles from a distance but they are very wary so I have only caught a few, mostly Podocnemis unifilis or smaller Phrynops, Rhinoclemmys and Platemys.

2. No I am not nervous around alligator snappers, but I reckon they should be nervous around people since man has pushed them to the edge throughout most of their range.

3. "What do I think os seasnake species ?"
Which one, or all of them ?
There are 57 species of true seasnakes and 8 species of sea krait (Laticauda). I have encountered only 10 of the seasnakes and 4 of the sea kraits, but I find them fascinating. The diversity is vast, totally oceanic Pelamis compared to aquatic Laticauda, coral reef dwelling Aipysurus to turbid estuarine Enhydrina and mangrove mud-flat dwelling Parahydrophis, even land-locked lake or river species, dietary specialists and generalists, rare and common species, Oriental and Australasian species, wide-spread and reef endemics, bethnic and pelagic species.

4. Some seasnakes may do okay in captivity, a few may thrive but many have such specialised diets (on species of blenny or one species of eel) that it is almost impossible to maintain them away from their home ranges. You say you have kept seasnakes but you don't say which species. I looked at your profile and the seasnake in the picture looked like a thick-bodied Aipysurus, but the shelved supraocular, pointed snout and especially the apparently laterally placed nasal openings were curious, most seasnakes have dorsally positioned nasal openings. Yellow-bellied seasnakes, which do okay in captivity on small pelagic fish, are listed in your profile, banded seasnakes (of which there are 33 species in genus Hydrophis) but you also refer to a "green seasnake" but that is not a common name with which I am familiar - please elaborate.
Is this an olive seasnake Aipysurus laevis, it is most like that species apart from the nostrils. They are actually quite docile, despite a large specimen having fangs that will penetrate a wetsuit, and they are territorial and curious and off PNG they innocently hassle divers on particular bommie dives.

There is a fold down the underside of the snake in the picture which suggests this is one of the species capable of flattening its entire body when swimming, and that rules out many species with wide or semi-wide ventral plates because in order to do this some seasnakes have evolved to possess ventral scales hardly larger than the lateral or dorsal scales and they tend to have a pair either side of the ventral midline so that the body can fold neatly. That would fit with Aipysurus.

If you are doing well and the snakes are healthy I do not think you should stop, I think you should publish.


Mark
RE: Mark O'Shea Answers Questions
Reply
by JeremyTMoore on January 30, 2007
Mail this to a friend!
Yes I am refering to Olive Sea Snakes. I thank you for your answer. I am refering to pretty much all Sea Snakes. I am searching for a Stokes and have been for a few years. I wish you well
Jeremy T Moore
RE: Mark O'Shea Answers Questions
Reply
by Mark_OShea on February 1, 2007
Mail this to a friend!
Hi Jeremy

Thought it must be an olive, not a bad ident. from a low res. colour cast picture. They are fairly placcid and can be quie common and inqusitive too.
Join the club, I was looking for a Stokes' on Ashmore & Hibernia Reefs but did not find one. Found about eight other species, in numbers too, but no Stokes'. Why Stokes' ? big fat, ugly, unfriendly things. I beleive they are fairly generalist feeders though so they should be maintainable in captivity, unlike some of the real specialists.

Mark
Mark O'Shea Answers Questions
Reply
by Aust_elapid on February 10, 2007
Mail this to a friend!
Hello Mark,

This so much as a question but more of a thankyou for you insperation in herpetology, I have had a up and down life and I always get the enjoyment of watching you doco's and reading your articals, so thanks again and keep up the good work...

cheers
wildfire_photography@hotmail.com
Mark O'Shea Answers Questions
Reply
by bayu on March 7, 2007
Mail this to a friend!
may i get free your book?because i don't have enough money to buy. i need this book for my research in west papua. thanks a lot.
RE: Mark O'Shea Answers Questions
Reply
by Mark_OShea on March 13, 2007
Mail this to a friend!
Dear Bayu

I assume you mean my Guide to the Snakes of Papua New Guinea. I am afraid I do not have any copies left, I have not had any more several years since it is out of print. Some book dealers in the US have copies but they are expensive because they are now hard to find.
I am also sorry to say that even if I did have copies I could not afford to be giving them away. I amd sorry I cannot help you. There are two copies available on Abebooks www.abebooks.com, one in US and one is Australia for $60 and $62.33 respectively.

I do have some of my other books available for sale on my website shop: www.markoshea.tv but if you look there you will see Snakes of PNG is not available.


Regards

Mark
RE: Mark O'Shea Answers Questions
Reply
by Mark_OShea on March 13, 2007
Mail this to a friend!
Thanks for your vote of confidence Marc, it is appreciated.
Most of my work is not in front of the cameras at the moment, I'm back doing field research in the wilds without a film crew, and busy writing too of course.

Best

mark
RE: Mark O'Shea Answers Questions
Reply
by Aust_elapid on March 14, 2007
Mail this to a friend!
You have trips to Brisbane coming anytime soon..love to catch up and do some herping :)

cheers Marc
RE: Mark O'Shea Answers Questions
Reply
by Mark_OShea on March 18, 2007
Mail this to a friend!
Sorry Marc, I was in Melbourne end of last year for a meeting at the Zoo but other than that these days I am just in transit ie. heading for PNG for the AVRU.
I would love some herping downtime in Oz, but it never happens.
Hear you even have a new taipan species out there (well not Qld, you already had one, but in central WA) - I wonder how that slipped under the Raydar (well done fellas).

Mark
RE: Mark O'Shea Answers Questions
Reply
by Aust_elapid on March 20, 2007
Mail this to a friend!
Yes I know isn't it exciting, I spent a few week out there a few months back (article will be published in Reptiles Australai mag around June), and I can undersatnd how these animals do go un-noticed.

cheers Marc
RE: Mark O'Shea Answers Questions
Reply
by martyn on March 31, 2007
Mail this to a friend!
Hi Mark hows it going ?

I have'nt seen your shows in a while, but remember the one on the splendid leaf frog that lives in eastern Costa Rica . I remember at some point in the programme you come across a Golfo Dulce arrow frog . According to all the range maps i was looking at, they dont live any where near the area you found one. Do they occur in that part of costa rica then ?

Cheers
Mark O'Shea Answers Questions
Reply
by Speckledking on April 1, 2007
Mail this to a friend!
Hi Mark

You are a highly respected Hepetologists I want to congradulate you on your sucesses in your fields. Best wishes.
Mark O'Shea Answers Questions
Reply
by Speckledking on April 7, 2007
Mail this to a friend!
Hello Mark
Im interested in your opinion.What courses should I take in college if im thinking about a career that involves working with wild animals? Im not able to afford many classes so i'll only be able to attend a few every semester.Which are the most important?
Thanks.-Specking
RE: Mark O'Shea Answers Questions
Reply
by CJROY on April 22, 2007
Mail this to a friend!
hello mr. mark
good to see u again.....sir can u kindly tell me that what sort of photographic equipment u use while photographing reptiles..pls specify the lens and the camra body... i recenty bought a copy of "snakes of india" by RW & AC. saw some som of ur pics too...
hope u r fine and take care of urself ...
regards
Chirag Roy
India
Mark O'Shea Answers Questions
Reply
by SugoiNoVenom on May 3, 2007
Mail this to a friend!
Mr. O'Shea-
I purchased your book "Venomous Snakes of the World" and have read it nearly cover-to-cover and highly respect your work. After reading your book, however, I was left with a couple of questions which I hope would not be too bothersome to answer:
First; how does a South-American snake obtain the name "Lichtenstein's Green Racer" (Philodryas olfersii).
Second; Youmentioned the possibility of the King Cobra (Ophiophagus hannah) becoming several subspecies--has this happened, yet?
I have been studying reptiles, and elapids in particular, for as long as I can remember (and am fairly computer illiterate), and would much appreciate an answer.
Thank you.
RE: Mark O'Shea Answers Questions
Reply
by Mark_OShea on June 12, 2007
Mail this to a friend!
Hi Martyn

Not been around to answer questions for a while.
Whne I made the film in Costa Rica, way back in '99, we travelled widely through the eastern half of the country. Now I don't recall the common names for the frogs we found, esp. now eight years later, but I was in the company of a top neotrpical frog expert Andrew Gray, and he idented most of them - snakes are strong point after all. You have provided a common name but no scientific name and since most of these species have conflicting common names I simply cannot answer your question. However, rest assured, the No.1 rule of OBA was No Setups, so if we found a species, we really did find it, end of story.

Regards, Mark
RE: Mark O'Shea Answers Questions
Reply
by Mark_OShea on June 12, 2007
Mail this to a friend!
Dear Speckling

I am assuming you live in the US and the danger is you may have made the same assumption about me.
I am completely unfamilair with the US educational system as I am UK born, bred and educated.
However, if you look back over this Q&A I am sure you will find an answer as I must have been asked this question half a dozen times on this site alone. I hope that helps.

Mark
RE: Mark O'Shea Answers Questions
Reply
by Mark_OShea on June 12, 2007
Mail this to a friend!
Dear Speckling

I am assuming you live in the US and the danger is you may have made the same assumption about me.
I am completely unfamilair with the US educational system as I am UK born, bred and educated.
However, if you look back over this Q&A I am sure you will find an answer as I must have been asked this question half a dozen times on this site alone. I hope that helps.

Mark
RE: Mark O'Shea Answers Questions
Reply
by Mark_OShea on June 12, 2007
Mail this to a friend!
Hi Chirag

I shoot film (Velvia 100 slide film) 1n a Canon EOS 1V body and digital on an EOS 30D. I use 100 and 60mm macro lenses for msot of my close-up and flash, usually two units for main and fill-in, triggered by an infra-red transmitter on the camera. My latest toy is a 5x life-size macro lens and a maco-flash unit which enables me to photograph the underside of individual gecko toes - it opens up an entire new work beyond macro.\

Mark
RE: Mark O'Shea Answers Questions
Reply
by Mark_OShea on June 12, 2007
Mail this to a friend!
Hello SugoNoVenom

Thanks for buying Venomous Snakes of the World.
In answer to your questions: Philodryas olfersi is called Lichtehnstein's green racer because was described by Martin Hinrich Carl Litchtenstein in 1823, nothing to do with the European country of Liechtenstein.

As for the king cobra revision, we are all waiting but Indraneil Das has not publlished yet, and until he does, we must just wait. Come on Neil, you must have the Nepalese data by now !

Mark
Mark O'Shea Answers Questions
Reply
by gopalkrishna on August 6, 2007
Mail this to a friend!
Mark,i have learnt quite a lot from your show on Animal Planet.I have been trying to contact you for a long time and finally i have come across this site.I am really concerned about not much being done to control human population.Don't you think all the field work and research work will become useless if finally there is no space for wildlife.Wildlife sanctuaries can work only for a short time because ultimately they lead to islandization.I don't understand why there should be competition between channels like Animal Planet and National Geographic which have a common goal.What do you think of Sir David Attenborough? I think his narration is simply brilliant.I hope to see you back on Animal Planet very soon.
Mark O'Shea Answers Questions
Reply
by boomslangandrew on December 4, 2007
Mail this to a friend!
hi mark,

my name is andrew and i live in harlow essex i have been into reptiles since i was 5 and i am 11 now. As you know it is quite hard to find british reptiles and my parents don't approve in me snake hunting in dorset. i have a rat snake, tokay geko and corn snake
could you also give me some info to help me become a hereptologist

many thanks

andrew
Mark O'Shea Answers Questions
Reply
by sinbad on November 9, 2008
Mail this to a friend!
I am currently living in thailand and often visit the mountain where a few of us have a get together admiring the view with a few beers, yesterday I was plucking some fruit from the bottom of a bush and when I stood up I found myself face to face about 6 inches from a gorgeous looking bright green what I beleive to be a whip snake approx 1.5 mtrs long slim and as said bright green. I took a photo of it and watched it elegantly glide off and after the initial shock was amazed that the snake had probably clocked me and was just as intrigued with my antics as I was with the snakes, I was going to send the photo of it to you but cannot find where to post it, but I hope to see many many more of thailand snakes.
Mark O'Shea Answers Questions
Reply
by Luke1989 on August 14, 2009
Mail this to a friend!
Hi, I'm from the UK and went to the West Midlands safari park fro my 20th, it was great I loved the ayeaye and all the great snakes.

I heard while i was there you once got bitten by an english adder, I hear that the symptoms can last up to a year, my question is what were "your" the symptoms and how bad are the symptoms from the average adder bite each year in the UK.

I hear a lot of scare tactic stories but I just wanted to ask whats the truth about the uk adder bite?

I plan to work with plenty of different animals but handling an adder is not at the top of my list so it purely a curious question.

Thank you,
Luke.
RE: Mark O'Shea Answers Questions
Reply
by ViperLover on January 19, 2010
Mail this to a friend!
Hi Mark,

My name is James (You do know me from RFUK).

As you are already aware, I have a massive interest in reptiles and an even greater interest in Venomous species.

Being only 16, I am not eligable (And nowhere near experienced enough) to apply for the Dangerous Wild Animals (DWA for Outsiders of the UK) Lisence.

However, At some stage I would like to gain some hands-on experience with venomous reptiles after having sugnificent experience with non-venomous to move onto a career in Herpetology, and then onto Toxinology studying and specialising in various snake venoms from different species worldwide.

I am just woundering on how I would go about studying for Herpetology, for example AS/A2 Qualifications, Degrees, Masters, PhD's and so on...

As you can tell by my name, I am interested in various species of Terrestrial, and Arboriel Vipers therefore I am looking into gaining experience with both.

I have been advised by a very experienced keeper in the US, who I routeingly talk to via FaceBook and he said in the spring, to go out and see if I can find some natural herps around me, and if I come into contact with Vipera berus, then to try and note-down observations, and always handle this species carefully with the appropiate handling equipment.

Do you also reccomend I do this? And if so, what protocols are nesecary if I were most unfortunate enough to take a bite?

Many thanks in advance,

James Mintram.
RE: Mark O'Shea Answers Questions
Reply
by Hotherps on March 7, 2010
Mail this to a friend!
Hi Mark,
Talk about people digging up old threads eh!
Stay safe and I will see you at the end of the month when you are back from PNG.
Regards,
Paul
Email Subscription
You are not subscribed to discussions on this article.

Subscribe!
My Subscriptions
Subscriptions Help

Other Field Notes Articles

The Spring Egress: Moments with Georgia's Denning Horridus

Bushmasters and the Heat Strike

---