SHHS Banquet - Man of the Year 2005
from Roark Ferguson
Website: http://www.reptilesafari.org on March 21, 2006
View comments about this article!

The Annual SHHS Banquet was held on 18 March 2006 in Charleston, SC at the Eastern Buffet Dining Hall reserved especially for this grand occasion. Many members were present in anticipation of an evening resplendent with fine oriental dining, camaraderie, and a keynote presentation by the Dean of Bushmasters, the enigmatic Dean Ripa.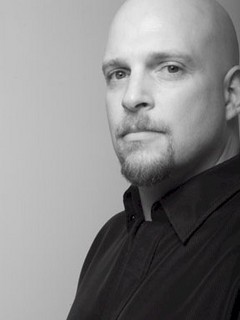 Chris Harper, SHHS 2005 Man of the Year
Photo by TommyBridgesPhoto.com
Dean was in rare form and he would not disappoint as he shared the highs and lows of an exciting life filled with adventure and danger. As expected people were spellbound by his honest appraisal of his life's accomplishments as well as the humbling aspect of more than a few envenomations. Dean twitched, vibrated, and nearly levitated as all present howled heartily at his witticisms, observations, and vast knowledge of venomous snakes, and venomous keepers.
Every ounce of energy this man had was spent in his rendition of little man fighting. Afterwards yours truly rallied the troops for the excitement yet to come. Roark's Reptile Safari presented the first of four awards (long overdue) to four very deserving SHHS members. The awards for SHHS Educator of the Year went to Brian W. Smith, Chad Minter, and absentee recipient John Pullian. After speaking passionately about the qualifications, dedication, and professionalism of these three SHHS members I encouraged Brian W. Smith to share his visions and accomplishments with us all and he did so in a humble yet no nonsense manner that captured the attention of everyone in the room.
Brian humbly accepted his Educator of the Year 2005 award which was made of acrylic and had a laser engraved king cobra image in it along with a crisp $100 bill to help in his conservation efforts.
Next up was Chad Minter to receive his 2005 Educator of the Year Award. Like Brian before him Chad humbly enthralled us with his perspectives on conservation and his activities to that end. Chad accepted his award and that $100 to fuel his efforts as well.
It was then time to rally the troops again in preparation for The 2005 Man of the Year Award. I scanned the audience and caught the man of the hours attention and began to illustrate his life as a child growing up in the south surrounded by a cornucopia of opportunity to immerse himself in serpent study. Our young president was encouraged by his father who kept venomous rattlesnakes in the garage to hone his capturing and grasping techniques on local blacksnakes before moving up to pit vipers.
The analysis and observations about his progress for age and accomplishments in all aspects of snakebite envenomation and treatment protocol continued for a short while culminating in his trophy presentation before turning the floor over to a now energized and fully prepared SHHS Founder, President. Teacher, and more! Chris proceeded to hold service and I must admit surprised a few and memorized the rest with volumes of pertinent medical procedures designed and proven to save lives.
Personal case histories, in-depth first hand treatment coupled with entertaining stories of his recent Sri Lanka trip with Dana Savorelli kept everyone riveted for nearly 40 minutes. Time seemed suspended that evening and though late I doubt anyone truly wanted the evening to end. But all good things must come to an end eventually, good-byes and goodnights were in order and we readied ourselves for the day ahead. I for one look forward to the next annual banquet and presenting the awards. Congratulations to:
2005 Man of the Year - Chris Harper
2005 Educators of the Year - Brian W. Smith, Chad Minter, and John Pullian.
Best regards. Roark Ferguson
http://www.ReptileSafari.org

SHHS Banquet - Man of the Year 2005
Reply
by LongDucDong on March 22, 2006
Mail this to a friend!
Chris Harper, congrats on the award! You most definitely deserve it!!!! --Steve Ferguson II (no relation to Roark).

SHHS Banquet - Man of the Year 2005
Reply
by TheRealSnakeBabe on March 22, 2006
Mail this to a friend!
WOW !!!

I was one of those individuals that were SPELLBOUND from beginning to end. This was my first time to have had the honor of being a guest at this Grand banquet...What an extraordinary event. Dean Ripa was wonderful to come all the way to Charleston and share the exciting story of his life and experiences as well as (the little Man that he spoke of that comes along with the Bushmasters Bite) ...LOL . Until the last year when Reptiles became a part of my love/life I was a mammal girl (camels ,zebras, monkeys, dogs ETC.)so this was very educational to say the least. I have some medical/surgical experience so I could really appreciate both the medical and reptile parts of this wonderfully detailed Adventure in Sri Lanka. I could have listened for hours on end . I was truly captivated. I can't tell you how exciting this was for me and how much I thoroughly enjoyed every story shared. What an entertaining and educating evening!!
Thank You!
Felicia


RE: SHHS Banquet - Man of the Year 2005
Reply
by live4hots on March 22, 2006
Mail this to a friend!
Keep up the good work Chris! I dont know what I would do with out this site:) We all appreciate your hard work.........Trey
SHHS Banquet - Man of the Year 2005
Reply
by Cricket on April 27, 2006
Mail this to a friend!
I really enjoyed the banquet. I found it to be not only educational, but fun as well. Congratulations to the award winners. You guys certainly deserved them.
Cricket
SHHS Banquet - Man of the Year 2005
Reply
by billt6 on August 28, 2006
Mail this to a friend!
All I can say is I would loved to have been there. Congratulations to each winner for a fine job well done.
Email Subscription
You are not subscribed to discussions on this article.

Subscribe!
My Subscriptions
Subscriptions Help

Other Field Notes Articles

The Spring Egress: Moments with Georgia's Denning Horridus

Bushmasters and the Heat Strike

---