Snakes on a Day Endurance Event
from Shannon McCormick
Website: http://www.snakesonaday.com/ on August 3, 2006
Add a comment about this article!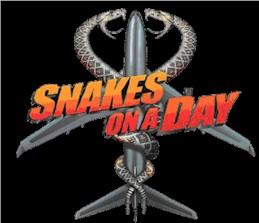 Snakes on a Day
"SNAKES ON A DAY" ENDURANCE EVENT/TRIBUTE
Proceeds to go to VenomousReptiles.org
AUSTIN, TX- The Alamo Drafthouse and Gnap! Theater Projects are proud to announce Snakes on a Day, a 24 hour viewing marathon of Snakes on a Plane during it's opening day, August 18th.

Starting at 10 PM, August 17th, Shannon McCormick, artistic director of Gnap! Theater Projects and local actor and comedy improviser, will attempt to induce in himself the state of being trapped on an airplane full of venomous snakes by watching the most anticipated movie of the 21st century around the clock for the first day of its release.
Audience members are invited to join in the delirium-creating marathon. If an audience member makes it through all 24 hours of the film, his or her admission is free. If they bail after the first screening, they pony up $1000. For each subsequent screening they make it through, the price is ratcheted down by $100. All proceeds gained in this way will be donated to Venomousreptiles.org, a non-profit dedicated to raising awareness of our poisonous friends and rehabilitating injured venomous reptiles.
Tickets will be available for regular paying audience members for each screening depending on seats available.
Snakes on a Day is also being filmed as a documentary. It will be something of a cross between Hands on a Hardbody, Koyaanisqatsi (time-lapse photography), and of course, Snakes on a Plane.
Expect other hijinx, including screenings of the Alamo's Blanks on a Blank contest.

WHAT:  Snakes on a Day

WHO: Shannon McCormick and you, the fellow participants

WHEN: Thursday, August 17th @ 10 pm through August 18th

HOW MUCH: Rolling scale depending on how long you last
There are no comments on this article: Post One