Take a trip to Belize!!!
from Georgia Reptile Conservancy
Website: http://www.conserveherps.org on December 2, 2006
View comments about this article!




All proceeds from this venue go to support our free environmental outreach programs.

Georgia Reptile Conservancy

Belize Natural History Excursion

Day 1: Saturday, March 10 Arrive Belize, transfer to Monkey Bay, orientation and settle in

Arrive at the Philip Goldson Belize International Airport on [airline, flight number] at [time], where Monkey Bay staff will meet and greet GRC group. Transfer to Monkey Bay by bus (approximately 45 minutes travel time). Off-load all gear, followed by brief orientation tour of facilities. Settle into bunkhouse/field station accommodations. Dinner will follow at MBay, with orientations to health & safety and a briefing on local natural history. Evening review of program schedule, facilitated by Monkey Bay staff and the group leader.

Day 2: Sunday, March 11  Tiger Bay Ceremonial Caves

Breakfast at Monkey Bay. Load gear (helmets, lunch etc) and transfer to the access point by bus (approximately 20 minutes travel time). Meet local guide, who for the next 4 hours will assist our exploration of the karst cave system, which is believed to be sacred space by the ancient Maya. Undisturbed artifacts and pottery, remnants of `underworld' ceremonies, are still seen in many of the caves. The excursion includes fruit picking in citrus and cacao (chocolate) groves, Sibun River crossing, jungle hike, native bird and tree identification, and extensive exploration of dry cave system. Afternoon swim before returning to MBay. Dinner at MBay, followed by a briefing of the next day's itinerary.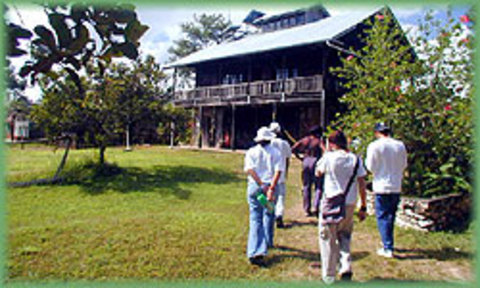 Day 3: Monday, March 12 Cox Lagoon wildlife exploration (day and evening canoe tour)
Breakfast at Monkey Bay after early birding walk. Time to explore local trails at Monkey Bay. After an early lunch, depart for Cox Lagoon with canoes for afternoon and evening exploration paddle of five-mile long black water creek and lagoon system. The diverse habitat in this private sanctuary supports correspondingly diverse animal life. Researchers Howard Hunt of Zoo Atlanta and Jim Tamarack of the Ford Plantation have recorded 124 species of birds, 23 mammal and 14 species of reptiles. Jabiru storks, the largest flying bird in the Americas wade in the marsh of the sanctuary. Up in the trees bordering the water Black Howler monkeys roar; tapir graze in the lagoon. Routinely, jaguars leave tracks on the farm road and call from the forest of Cox Lagoon - not to mention the crocodiles. Morelet's crocodiles gather at night for the best fishing areas; point a light at them and their eyes fire up the dark. At night, during dry season in March and April, when the fish congregate, it is common to count nearly 100 crocodiles. Morelet's crocodiles can grow to about 10 feet in length. These creatures dominate Cox Lagoon; no swimming allowed. From the safety of our canoes, we transition from daylight to dark night and experience the shift of activity at Cox Lagoon. Pack dinner … return to MBay in late evening for overnight. With luck, Howard Hunt will guide our day and night exploration at Cox Lagoon.
Day 4: Tuesday, March 13 Xunantunich Ancient Maya Site, Maya village lunch, San Ignacio shopping
Breakfast at Monkey Bay. Depart by bus to the Xunantunich Archaeological Site, situated only one mile from Belize's western border with Guatemala. Cross the Mopan River on a hand-cranked ferry, then hike 1 mile to the entrance of the archaeological site. Your guide will lead you on a two-hour tour of the site, explaining its historical significance and escorting you to the top of El Castillo, the stone temple that remains the third-tallest human structure in Belize. Take in the breathtaking view into Guatemala and across the Mopan river valley, then return to San Jose Succotz, the village where you disembarked, for a Mayan lunch prepared by Ms. Magaña. Travel by bus to San Ignacio Town to visit the local crafts shops and farmer's market, and then return to Monkey Bay with plenty of time for herping in the afternoon. Dinner at Monkey Bay.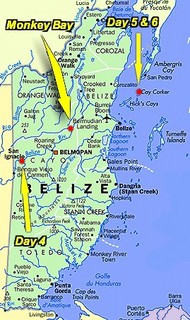 Day 5: Wednesday, March 14 Caye Caulker barrier island
Breakfast at Monkey Bay. Depart by bus at 9:00am for transfer to Belize City water taxi terminal (approximately 45 minutes travel time). Water taxi departs at 10:30am and arrives Caye Caulker around 11:15am. Check in at guesthouse, settle into accommodations, and join for lunch at local establishment. Monkey Bay staff will offer a brief orientation and tour of the island, and then leave the afternoon free for swimming, snorkeling, and island exploration. Group dinner at restaurant of choice. Overnight at island guesthouse.
Day 6: Thursday, March 15 Caye Caulker, barrier reef snorkeling at marine reserve
Breakfast followed by preparation for guided snorkeling tour of Caye Caulker Marine Reserve situated along barrier reef system with local guide Carlos Ayala. Three snorkeling stops including reef channel, coral gardens and sting ray alley. Return to island guesthouse for rinse off before boarding the 4:00 pm return water taxi, arriving Belize City approximately 4:45pm. Monkey Bay staff will meet you to transfer by bus back to Monkey Bay. Dinner at Monkey Bay and review of the next day's itinerary.
Day 7: Friday, March 16 Belize Zoo tour, Sibun River canoe paddle
Breakfast at Monkey Bay. Depart at 9:00 for the Belize Zoo (approximately 10 minutes travel time), where you will encounter much of the native fauna of Belize: tapir, jaguar, peccary, ocelot, jaguarondi, puma, spider monkey, black howler monkey, central American river otter, kinkajou, Morelet's crocodile, American crocodile, Jabiru stork, boa constrictor, fer-de-lance, and more. Return for lunch at Monkey Bay. Depart for Sibun River at approximately 2:00pm and travel 8 miles to the put-in point. Your guide will instruct you on safety protocols while paddling on this reach of the river, and point out a wide variety of birds, iguanas, cave bats and if lucky, a view of river otter and coatimundi. Meet Monkey Bay staff at your take-out point and after a long relaxing swim, return to MBay. Farewell dinner, campfire stories and overnight at Monkey Bay.
Day 8: Saturday, March 17 airport depart
Breakfast at Monkey Bay. Pack up all gear, load into the bus, and depart to Philip Goldson Belize International Airport in time for two hour pre-flight check in. Depart to home destinations; program concludes.
Includes all lodging, ground transportation in Belize, food*, park entrance fees, and tour guide fees. Excludes flight, tips, and departure tax.
Food and beverages purchased in addition to those provided at group meals are not included.
Georgia Reptile Conservancy
BOOKING PROCEDURES AND CONDITIONS (2006-2007)
RESERVATION AND PAYMENT SCHEDULE
A $350.00 per person deposit along with the completed Reservation Certificate is required to ensure your reservation. Reservations made within 45 days of departure require full payment with the Reservation Certificate.
Final Payment: Final payment for expeditions is due 45 days prior to departure and may be made with personal check, bank-to-bank transfer, Pay-Pal, or cashier's check. We regret that we do not accept credit card payments.
Rates are accurate and available at the time of publication. Any changes in costs are made only to reflect similar changes in cost of LAND SERVICES or CURRENCY EXCHANGE RATES. Expedition rates do not include domestic or international airfares. If the group falls below the minimum passenger requirement, the expedition is subject to re-pricing, or cancellation. All rates are per person, based on double occupancy. A single supplement may be charged when requested. Airline baggage regulations are subject to periodic change, and different airlines may have different baggage limits. It is the responsibility of passengers to check with their airline regarding baggage restrictions and limits. Georgia Reptile Conservancy. is not responsible for additional expenses that may be incurred by passengers who exceed weight limits or numbers of allowed pieces of luggage.
All cancellations must be made in writing and are effective upon receipt in our office. Cancellations received up to 45 days prior to departure are refunded all monies. Thereafter, all refunds are limited to the amount recoverable from boat, land, or other operators. In the event that an expedition is canceled due to circumstances beyond our control, and you are unable to schedule for another time, all monies are refunded with the exception of your personal expenses in preparation for the expedition.
RESPONSIBILITIES AND CONDITIONS:
Georgia Reptile Conservancy, its affiliates, and all cooperating airlines and agencies act only in the capacity of agents in matters of transportation and tour operation, and their liability is limited to the terms of the airline tickets and land accommodation contracts. They are not liable for any delays, inconveniences, accidents, expense or mishap of any kind whatsoever resulting entirely, or in part from negligence of others or from causes beyond their control. They can accept no responsibility for losses or additional expenses due to delay or changes in air or other services, sickness, weather, strike, war, quarantine, or other causes. All such losses or expenses will have to borne by the passenger as tour rates provide for arrangements only for the time stated. The right is reserved to substitute accommodations or modes of transportation and to make any changes in the itinerary when deemed necessary or to respond to changes in air schedules. On expeditions of this type it is not possible to accommodate persons with severe health problems or physical disabilities that involve walking or other activities. It is the passenger's responsibility to judge the appropriateness of these activities to their physical capabilities. Georgia Reptile Conservancy and its affiliates take no responsibility for special arrangements or problems incurred by passengers physically unable to participate in planned activities. No refund can be made for absence from the tour unless arrangements are made at the time of booking. The right is reserved to decline to accept or to retain any person as a tour member for any reason that affects the operation of the tour, or the rights, safety, or enjoyment of other tour members.
Georgia Reptile Conservancy does not offer travel insurance. We strongly recommend that tour participants purchase such insurance. Travel insurance protects you in the event of lost, stolen, or damaged luggage, flight cancellations, or events or circumstances that may prevent you from participating in an expedition.
Georgia Reptile Conservancy
Email: info@conserveherps.org