Eastern Coral Snakebite: Part I
from York Morgan on October 29, 2000
View comments about this article!

The Eastern Coral Snake:

Lessons Learned in the Field

By York Morgan

 

In March of 1997, I was lucky to find the notoriously elusive eastern coral snake (Micrurus fulvius) in southeastern Georgia. The encounter and the events that followed were not only exciting, they also taught me important lessons.

It was a beautiful spring day in the heart of the Georgia lowlands, near Folkston. My brothers (Derek and Wyeth, both SHHS members), a friend and I had just camped for two days near the Okeefenokee Swamp where we had been canoeing. We knew from experience that spring snake-hunting near the swamp is not always that productive due to the lack of high ground and easily accessible snake habitat. Still, we had our Furmont "Stump-rippers" along for the ride so that we could look for snakes as we worked our way home to North Carolina.

As we drove, we looked for suitable snake-hunting habitat. After several fruitless stops, we came across an old home site that had numerous downed timbers and pieces of plywood. While lifting old lumber from a large pile, we uncovered a handsome 6-foot rat snake (Elaphe obsoleta). We released the ornery beast after several photos and continued our search.

Minutes later, I was drawn to a spot covered with pine straw. As I picked through some scant debris, I discovered a board that was completely concealed under pine straw. My anticipation grew as I swept the straw from atop the board with my snakehook. The board was positioned flat and tight against the sandy ground. It was the type of site where I have often found corn snakes (Elaphe guttata) and scarlet kingsnakes (Lampropeltis triangulum elapsoides). Optimistic that I would find one or the other, I excitedly hooked the board and tilted it back. There it was! A beautiful 20-inch coral snake!

It was only the second coral snake that I had ever seen in the wild. I immediately relearned one lesson: To an experienced observer, the eastern coral snake and the scarlet kingsnake are quite distinguishable, even at a quick glance. In the early years before I had found a coral snake in the wild, I was always worried that I would be so busy trying to frantically remember a catchy rhyme ("red on black, venom lack" or whatever) that I would allow a prized coral snake to crawl away unphotographed. (In fact, the first scarlet kingsnake that I ever turned escaped during the moment of hesitation that its aposematic coloring caused me. Maybe there is something to mimicry after all...at least it worked on me.) However, the coral snake that sat coiled at my feet did not confuse me for a second. Its large size (relative to the scarlet kingsnake) and conspicuously bulbous, black head alerted me immediately.

I yelled, "Coral snake!" and the guys came running. Before they could arrive, however, the snake began to uncoil and nose around for a hole in the sand. Afraid that it would escape before we could all see it and take photographs, I gently pinned its body to the sand with the toe of my boot. It responded by writhing uncontrollably and to the point that I was afraid it would hurt itself if I did not do something. I decided to go ahead and catch it with my hands. I learned another important lesson: catching coral snakes can be tricky business. Their quick, jerky movements can make them difficult to pin. Plus, their bodies are so slender and fragile that an aggressive pin could easily injure them. Furthermore, the sandy soil in which they are often found is not a solid substrate for delicate pinning maneuvers.

After much maneuvering with both hands and a gentle boot (my snake hook was too big and clumsy to be of any use on this catch) I managed to grasp the squirmer just behind the head with my left hand. His positioning was not especially comfortable to me because I am right handed and because there was sand trapped between my fingers and his neck. Nevertheless, I decided to maintain the hold rather than undergo the certain ordeal that would have resulted if I had released my grip and started over. The four of us celebrated the find quite enthusiastically and Derek ran to the car to get the cameras. I had taken my eyes off the snake for only a moment when I felt a sharp pain on my left middle finger! Instantly, I dropped the snake on the ground and squeezed my finger to confirm what I already knew…the skin was broken. The wound bled more freely than similarly sized bites from non-venomous snakes. The blood, which I squeezed continuously from my finger in the same manner a milking a cow's teat, seemed to be slightly transparent at first. Then , it bled normally.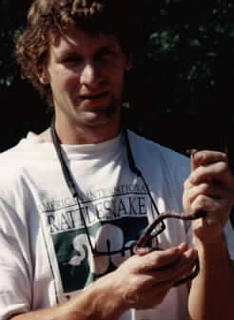 In less than a minute, I had learned many lessons, several of which seem blatantly obvious in retrospect but may be easy to ignore in the heat of the moment.
Firstly and most importantly, it is best to not restrain venomous snakes with your hands. Although I may often be willing to bet on my dexterity and risk harm to myself, is it also worth risking harm to the animal itself? It is much better to photograph the animal were it was found and never handle it at all.
If it is deemed necessary to catch the snake, use appropriate tools and methods. Small, squirmy snakes require small, agile tools. There are numerous ways of capturing a snake without touching it, but first you must be prepared by carrying along appropriate gear. Because coral snake sightings have been so rare for me, I was not as prepared to deal with one as I was to deal with more typically encountered snakes, like pitvipers. Simple work gloves would have changed the whole scenario.
If it is deemed necessary to touch the snake with your hands, always be aware your grip. Use your most dexterous hand to do the tricky work. If you are uncomfortable with your grip, then abort the mission and start over.
Never take your eye off the snake. Enough said.
Do not underestimate the coral snake's willingness to bite. I took unnecessary chances, in part, because I had read about and witnessed their generally benign dispositions and believed that the snake would not bite me even if I gave it the opportunity. When taken from its home and restrained in an aggressive manner, what able-bodied animal would not defend itself?
Maintaining a grip on small snakes can be more difficult than with larger snakes. The large, triangular-shaped heads of the pitvipers serve as a perfect "knob" behind which to fasten you grip and ensure that your fingers do not get too close to the mouth. The coral snake, on the other hand, has no such "knob" and can more easily squirm the centimeter or so that may be necessary to ensure its ability to bite.
Coral snakes can envenomate their target without necessarily chewing. While most literature states that the primitive venom delivery mechanisms of the coral snake means that it must chew on its intended victim to ensure envenomation, that does not mean zero envenomation occurs if the snake fails to "latch on". Considering the extreme toxicity of coral snake venom, a less than full dose could be quite dangerous.
As I "milked" my finger, I contemplated what to do. We snapped a couple of quick photos of the snake and returned it to its home under the board. Then, with great self-directed anger, embarrassment, and fear; we headed for a hospital where my lessons continued.
Eastern Coral Snakebite: Part I
Reply
by doc on December 15, 2000
Mail this to a friend!
I had similar experience with a 10"-12" copperhead,
and yes, things can go wrong in a split second.
I was fortunate though, I was not envenomated.
My left middle finger swelled about as big as my
thumb, about an 1/8" dot of dammaged tissue, and
stiffness to the middle joint of my finger.
That's minor compaired to wha I have seen.
Doc
Eastern Coral Snakebite: Part I
Reply
by 2-step on February 21, 2001
Mail this to a friend!
dont feel bad. i too have learned the hard way about handleing small venomous snakes,this one was a baby cotton mouth,i thought i could move it for cage cleaning by wearing a goat skin gardning glove.my thinking:"hey its just a baby,fangs cant be tooooo big,and besides,i'm wearing this glove..."leason learned:baby cotton mouths fangs are big enough!,goat skin gloves aint worth a flip!baby cotton mouths have very toxic venom(realitive to the type of bite i was given in this case it had just pricked a finger with one fang)my hand swole up and felt like some one whacked it with a base ball bat a few times,could not move fingers without pain for two weeks,all from a tiny little dose of venom!and finaly,never ever underestimate a venomous snake!regards,james
Eastern Coral Snakebite: Part I
Reply
Anonymous post on March 14, 2001
Mail this to a friend!
Coral snake skin 36"
also parts of another onet that the dog didn't chew up.
Just write with your mailing address
to MehnerJM@Juno.com

Yes I kill coral snakes here in town, my neighbors have a baby who crawl around in the back yard.
Eastern Coral Snakebite: Part I
Reply
by gator_guy on July 31, 2001
Mail this to a friend!
Great article, and I agree they are rather scwermy, and hard to handle. I caught a 10" specimen this evening crossin the road while looking for everglades rat snakes. I felt totally unprepaired when I realized my big, clumsy snake hook was of little use on it. Glad to know someone else has had the same difficulties. Hehe.
RE: Eastern Coral Snakebite: Part I
Reply
by reptiguy03 on July 29, 2003
Mail this to a friend!
i have really learned alot from this article has great details like the tuff sand to go through and plz send me pictures at amhummer2003@yahoo.com thanks and keep on those
Eastern Coral Snakebite: Part I
Reply
by rihnoruss on April 30, 2004
Mail this to a friend!
it's really simple... if you don't have a safe way of handling a venomous reptile , then don't handle it. excitement or enthusiasim is no excuse for idiocy.being a native georgian i can empithise that it is very rare and wonderful to find a wild coral , but tailing such a small elapid is just dumb . any elapid is much faster than you are no matter how much stock you put in your ultimatly human reflexis . you got kissed over the cardinal sin , overconfidence .... ha ha.
Eastern Coral Snakebite: Part I
Reply
by rihnoruss on May 1, 2004
Mail this to a friend!
Please disregard the comment above made under the name rhinoruss , it was not made by me . please see my official letter of appology at the "bitten by a copperhead " artical . thanks "the real " russ
Eastern Coral Snakebite: Part I
Reply
by rihnoruss on May 1, 2004
Mail this to a friend!
Please disregard the comment above made under the name rhinoruss , it was not made by me . please see my official letter of appology at the "bitten by a copperhead " artical . thanks "the real " russ
Eastern Coral Snakebite: Part I
Reply
by zinc on September 16, 2004
Mail this to a friend!
Wow what a scary experience!But i play bye my rules and catch snakes with just my hands because im only 13 and cant get the gear.Come check out my article that i experienced with a cottonmouth!I have been bitten 25 times by both harmless and venomous snakes.My article is Only 13 and bitten 25 times.
RE: Eastern Coral Snakebite: Part I
Reply
by longtooth on November 11, 2005
Mail this to a friend!
russ iam 51 i too have had in the pass had to get my son on the right path it's ok man you don't have to keep apologising for the boy . H E MADE THE MISTAKE I FEEL YOU GOT HIM BACK ON THE RIGHT PATH SO WE KNOW IT WAS NOT YOU ALL IS WELL later coy longtooth
RE: Eastern Coral Snakebite: Part I
Reply
by coralman on February 25, 2006
Mail this to a friend!
i am interested in coral snakes. i would like to talk to a top expert concerning likely hunting areas or anyone who knows of an area where they are 'common' if that ever applies to them bill
RE: Eastern Coral Snakebite: Part I
Reply
by Imatallun on May 11, 2006
Mail this to a friend!
Coralman didn't leave an e-mail address to respond for experts to say where to hunt them. I'm not an expert, but my dog killed an 18" coral snake in the backyard today. She's very quick and apparently didn't get bitten (my vet's prognosis) and the neighbors said they killed an even bigger one two weeks ago. The older, wiser generation around here say that coral snakes won't bother you unless you bother them.
RE: Eastern Coral Snakebite: Part I
Reply
by coralman on November 1, 2006
Mail this to a friend!
i would like to talk to a coral snake expert. i would like to know if there are any good hunting areas
RE: Eastern Coral Snakebite: Part I
Reply
by soberwolf on January 22, 2008
Mail this to a friend!
Not that I would ever endorse freehanding a Coral.They are usually a NON-aressive. It was proababley upset with all the miss handling. Anyways good thing you are ok
Eastern Coral Snakebite: Part I
Reply
by coralman on January 22, 2008
Mail this to a friend!
i would like to speak to an expert on corals. i would like to know if there are any hunting areas where they are more common than usual. drbill212@aol.com
Eastern Coral Snakebite: Part I
Reply
by shadowolffff on December 8, 2011
Mail this to a friend!
I had a nasty bite experience in Clay County Florida with a nice looking Eastern Coral Snake 5 days ago.

While out walking with my girlfriend in the Jennings State Forest, picking trash up along the roadside, I was so lucky to pick up a old bottle someone tossed out but didn't see the 14" Eastern Coral Snake just waiting for me to carelessly put my hand right on top of it. Sure enough, bang..right on my thumb. Being totally surprised about the "pinch", I jerked my had back quickly with snake attached. Who would think about being bitten by a coral snake, mid-day, in December. As quickly as possible, I got it off, but it had already managed to break the skin and chew for 3 or 4 seconds. Being on my finger, I tried to squeeze out as much of the venom as possible. Then,knowing exactly what it was, off to the hospital I went but not before very carefully pinning and capturing this snake down as I know it would speed the hospitals response with positive ID.

At the local community hospital, I found it amazing on how unfamiliar they were in treating Coral Snake bites. When I walked in, I told them I needed to be treated for a coral snake bite ASAP. At first they questioned me and without delay I had my girlfriend go get the snake(was covered in a proper container not to freak people out) so they would act. They then took me right in, hooked me up to monitors and stared observations. Then they had to call another facility to get recommended protocol...I was shocked. I told them I needed coral snake antivenom asap. They said that was in the protocol..I thought no kidding, lol. After 40 minutes, they came back and said they did not have the proper antivenom and had to have it delivered from another hospital but might have to transfer me because the hospital was resisting giving it up (as it was all they had)...I was thinking great. They did transfer it though after-all. At this point, about 2 1/2 hours after the bite I was starting to feel things just were not right but had little other signs except the slight swelling/numbness in my thumb/hand. Going on about 4 hours I started to get nauseous..still waiting for the delivery. They gave me medicine to combat the nauseousness. With my heart rate racing and blood pressure real high, it was likely I was going to be in further trouble soon without the antivenom, Finally, they got it to me and got it going 5 1/2 hours into this ordeal. I was fortunate that I never did have further developments from the bite, but did react mildly to the horse serum as many due, which they treated during the process.In 24 hours I was released and so far so good. I have a little numbness near the bite area still, but I'm sure this will go away in time.

My lesson here is to expect the unexpected, and if bitten by a venomous species, be proactive in helping the hospital staff treat you if you know what you need. While I would not say that trying to capture the snake was really best as I could of possibly got bit again, it did help speed the process in this case, thank God. Being a experienced snake handler and owner was the only reason I did this and don't recommend someone not experienced trying. Overall, I was calm throughout this experience, but it could of been much worse.

By the way, for those interested, I took great care and released the snake back where I had found him. As I just watched the snake bury itself under the leaves/brush, I just thought about the experience thinking it was my fault not respecting it's environment. I will be more careful in the future.
Email Subscription
You are not subscribed to discussions on this article.

Subscribe!
My Subscriptions
Subscriptions Help

Other Snake Bite Articles

I Should Be Dead

Lachesis Bites in Brazil: 2 Cases

Snakebite in Sri Lanka

Being Bit By the Big One

---