Camp Serenity, re-written and improved photos
from Peter84Jenkins
Website: www.georgiatimberdens.org on February 24, 2008
View comments about this article!




There had been considerable discussion between my good friend Blake and myself, concerning three days of snake hunting we were going to take in the month of April. Blake spoke confidently that the middle of the month would be a very rewarding time to hunt many of the species we wanted to see in the wild. Our excitement was almost too great to contain. In the weeks leading up to our trip, I purchased a canoe and was anxious to baptize her in the black waters of South Georgia. Much of my gear and non-perishable food items I bought nearly four weeks in advance; I lived every day as if I were leaving for the tin fields of South Georgia the next.

But Mother Nature being in her perpetual, brooding and irritable mood had other plans for us men. Now, she is indeed a woman of undeniable beauty, but a dangerous and malicious one as well. Her warmth is to be embraced and her fruits tasted ever so cautiously. An ever present doubt as to her fidelity should be kept in your conscious mind and not in your loins. Two weeks before departing, she would freeze Georgia's soil with record low temperatures for the month of April, killing the lovely flowers I had planted for my wife around our mailbox. Then, one week before our ascension upon the southlands, she would ignite South Georgia into a raging fire that would shroud our hunting grounds in a haunting vale of haze; a conflagration that is still burning as I sit and write this account nearly two weeks after the trip. And yet drunk with the lust of a sailor, who has been deprived of female companionship for many months, we still chose to go on our trip.

At the last moment I decided to bring along my younger brother, Justin. On Friday, April 20th, we left my house at four in the morning and headed for Blake's. Nothing of much significance happened between his house and mine. Indeed, nothing of any significance happened until we started snake hunting in Wrightsville. Less you want to include me slipping and falling out of the bed of Blake's pickup while strapping in the canoe. (In any other company that might have embarrassed me.) Blake had a couple of female canebrakes he collected last year in order to see the young, so he packed them up in order to release them back into their respective tin piles.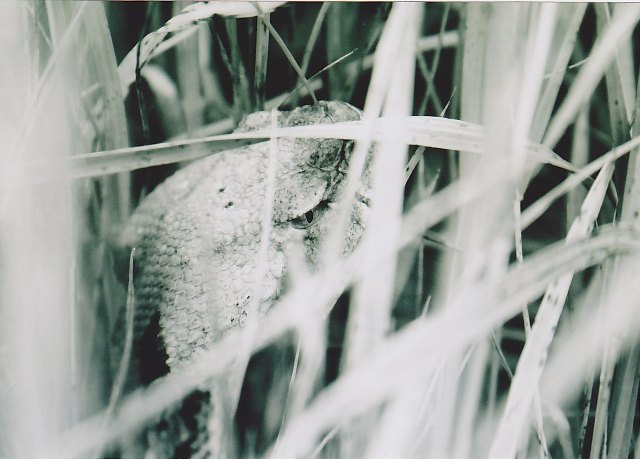 Our first stop was a tin pile in Wrightsville, Georgia at seven in the morning, the air had a chill to it and a light fleece kept me warm. We took this opportunity to photograph the canebrakes in their state of cold induced lethargy, and then we released them into the sun soaked tin pile. It was truly amazing to see these snakes basking under natural light once again. We lingered for a while and found a giant eastern king snake; he was surprisingly clean of any scaring. He obliged to a few photos, and then was left alone. When we departed our first tin site of the day we couldn't help but anticipate what surprises lay ahead.
As the day progressively warmed, we started to see innumerable lizards of various species, so naturally, we assumed our snake hunting would be bountiful. The next few tin piles had some mice, race runners, coluber and toads beneath them, but nothing much else. I was hoping for a good textbook representation of a southern copperhead to add to my personal collection, I was also intent on photographing as many native serpentine species as possible while in the field. It seemed the closer we got to our destination (the Suwannee River was to be our camp) the less snakes we were finding under tin. We had nearly 40 tin piles in different locations, all marked out on our map, and so we hoped to break this trend quickly.
Snake hunting as kids we were never really broken hearted if we came up short of our goals in the field. I am however, finding it much more difficult to accept defeat in my adult years, primarily because I don't have as much free time as I did in my teens to spend snake hunting. Blake and I are now fathers and both have a mortgage and jobs to go to; thus making the time we can spend field herping minimal. Another thing that bothers me to no end is the constant land development of our old stomping grounds. This, I am sure that every generation of field herpers can relate to. We humans are such parasites. I am also susceptible to a short bout of grumpiness in the field when we lack the success of our yesteryears.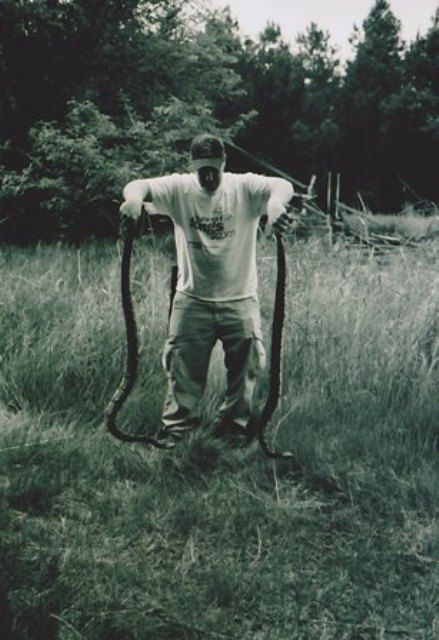 But our disdain quickly faded and our luck improved at the next stop. I peeled back a sheet of briar-covered tin, to find hidden beneath another very clean looking eastern kingsnake. I handed it to my brother, whom it promptly bit on the hand. There was more tin to look through, so I followed Blake through the woods, pushing brush aside, and along a collapsed chicken house to another pile of tin. We began digging like greedy children beneath a Christmas tree full of brightly wrapped gifts. I was still partially concentrating on pulling thorns from my hand after plunging it through a briar bush for that last kingsnake.
The word, "canebrake" uttered in excitement from Blake caught my attention. I glanced over to see a large coil of rattlesnake pouring from beneath a sheet of tin. Upon closer inspection I noticed a second canebrake slide into view. "Don't you mean canebrakes," I retorted. Once the sheet of tin was safely cleared we found a very nice pair of canebrake rattlesnakes, covered in dried mud, sitting motionless, not even rattling. We photographed the pair, then toasted our snake hooks like the Three Musketeers after another glorious victory!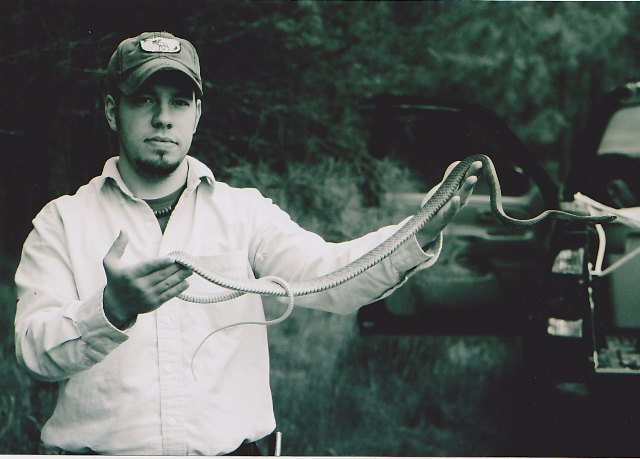 No more snakes would be found beneath tin on our first day. It wasn't until we got onto highway 94 that we could actually see for ourselves how bad the fire burning in Ware County, Georgia actually was. One moment the sky was a brilliant azure and the next, it took on the look of an alien planet. So thick was the smoke that oncoming cars couldn't be seen until they were nearly right alongside you. Even with the windows closed our eyes smarted and stung slightly. It was eerie and devoid of any sound other than the sudden "whoosh" of a passing car. My spirits dipped as I began thinking about all of the problems Mother Nature was throwing our way: freeze, drought, and fire. I stared silently out of the through the window at the yellow murk.
Blake soon announced that he was heading west, thus putting us out of the way of the fire. After nearly an hour of riding through the smog we were finally basking in clear, radiant light again, it felt like taking off a pair of sunglasses after having worn them for hours. A mutual decision was reached to make for camp; it was now about five in the afternoon.
The Suwannee River was dreadfully low and slow moving. We used the canoe to get to an isolated place to camp. However, due to the low level of water and the heavy load in the boat, we could only get about a quarter of a mile down river. We passed along many ancient looking cypress trees, one of which I named orgy island because it looked like a tangled mass of naked people; one must only use their imagination, so I will give no further descript. Once satisfied that our camp was safely hidden from the view of potential vandals, we made for the shore. With our ship moored upon sugary white sand, we piled out and took to the chore of putting up camp.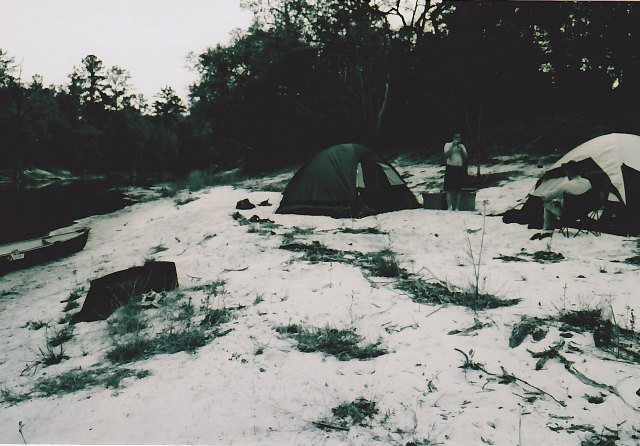 My brother occupied himself by cleaning his .22 pistol, and left me with the task of pitching the tent. Once camp was erected, we all went for a much needed swim. Justin, four years my younger, constantly chimed about his fear of alligators, a fear he would later learn to mold into respect and admiration. Now thoroughly relaxed, I threw on some light cloths and started dinner. Noodles, saltine crackers and water were the camps fare this fine evening. Blake and Justin made a wonderful fire deep inside a sand hole. The sky burned crimson and steel blue as the sun melted into the cypress. We were now in complete and utter serenity, and by consequence that is the name I gave our camp: Serenity.
The night sky was alive with bats darting in erratic flight, and the forest echoed with the haunting hoot of the wise old owl. A whippoorwill sang, and our ears were blessed with an orchestral like performance from the birds. My brothers eyes bounced around as each new sound resonated from the woods; he looked concerned. The comfort I offered was my soundness and confidence; it was his job to do the rest. We turned in at midnight.
Day two, April 21st, 2007 I was up with the sun. A cold condensation had formed on the inside walls of the tent and every surface outside glittered with dew. Our fire barely clung to life over night, and a thin column of smoke rose in wisps from its center. Blake and Justin slept as I made a pot of oatmeal. Once everyone was awake we breakfasted, and then piled into the canoe. Phantasmal fog loomed over the Suwannee, and she took on the look of something from Tolkien's mystical worlds. We pulled the canoe into a dried creek bed where it was best hidden from sight; at least, I hoped it was hidden well enough.
We didn't find much in the early morning hours. Blake became hungry and said that the oatmeal wasn't enough to keep him going, so we stopped for second breakfast at a Huddle House. We were a rough looking bunch that morning, but even then we did not stand out amongst the locals. The smell of coffee, smoke and fried ham hung thick in the air and everyone quietly conversed amongst one another. I couldn't help but overhear a gentleman talk about how he had fallen on hard times, and even though his welding job paid well, he was unsure he would have it long. I was immediately thankful for my job with the Gwinnett County Government. I remembered how hard it was when I was a welder, and shuddered as the thoughts came and went. Second breakfast was had and we set out once again.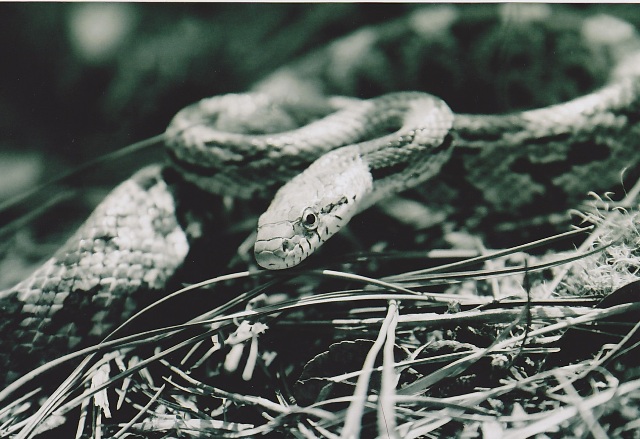 Our next tin pile was one that Blake was very familiar with and had had previous success at. We pulled up to an abandoned pig farm, the building was in overall good condition, but over the ages vines and other invasive greenery had consumed it nearly whole. My brother went immediately to the piles of pig skulls and tried to remove for himself a tusk, while Blake and I went directly for the tin. We flipped several sheets of metal and found nothing. Meanwhile my brother was lost in his morbid task of removing pig teeth.
Back at the truck Blake made mention that he had never explored the back part of the property, and so we agreed that we should do so today. Six hundred yards deeper into the wood line we found more tin, and we attacked the pile with much excitement. I began to pry on a piece of tin that was ensnared by vines, and beneath it, found a snake. "Oh, it's a nice corn snake," I exclaimed. Upon closer inspection, I found it to be just a beautiful young grey rat snake.
Blake, in an ever increasing desire to find rattlesnakes; decided to wade into neck high grass which was dry, brittle and crackled like it was on fire. As he trundled through, I could hear him cussing and whacking at the vegetation with his snake hook. I was fiddling with my camera when I heard him cry, "Canebrake!" I came to see if he needed help, but he had already made it out of the grass and secured the snake. .
I now turned my eyes upward and began searching the rafters of the pig barn. Justin followed my lead and Blake soon thereafter. I stopped abruptly and kicked a dried pig carcass that lay at my feet. Familiar patterns caught my eyes, and so I knelt, and took a closer look. A juvenile grey rat snake had been hiding in the carcass! This is perhaps the strangest place I have ever found a snake. I placed the snake back on the ground and we prepared to leave.
The sun burned our skins; we greedily guzzled water as we waited for the air conditioner in Blake's truck to blow cool. Much of the rest of the day was spent searching tin piles, and along creek beds for cottonmouths. We decided to road hunt our way back to camp.
The camp has always been one of my favorite parts about snake hunting. The amount of pleasure I get from bathing in the brackish river, then throwing on some light cloths and sitting by a fire is an incomparable feeling. It was dark when we arrived, and I was eager to see if my canoe had eluded theft. Under the stygian darkness we made our way along a trail, and then down into the creek where I spotted the faint, reflective green glow of my canoe. We all climbed in, and slid down the glassy river as graceful as an alligator.
Speaking of alligators, our headlamps caught numerous ruby red eye-shines from gators of all sizes. They moved silently and stealthily from our path. About a quarter of a mile down the river our tents came into view, now it was time to inspect camp. The canoe hit the shore line hard and we piled out one by one. Upon inspection everything seemed in its proper place. Justin went immediately to collecting as much firewood as one can beneath the dark vale of night, and I began to prepare a healthy meal of ramen noodles and crackers.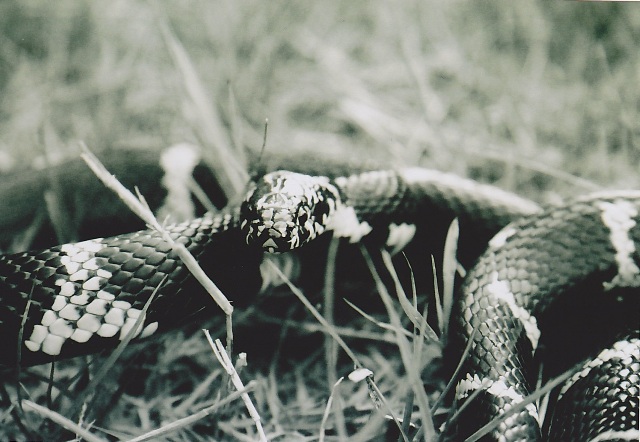 After dinner we all went for a much needed swim. Much of the river was so shallow that the canoe frequently ran aground in spots, but we managed to find a deep enough hole to swim in comfortably. The water was warm, much like a tepid bath. Alas, Blake having an interest in crocodilians, decided that he wanted to take the canoe for a closer look at the alligators. I declined his offer to join him, but Justin accepted; thus they departed. I stood by the fire, listening to the songs of the night, occasionally broken by, "shit, it's stuck" coming from down the river. I gazed upwards trying to identify familiar constellations. I muttered to myself the ones that I knew.
I was quite alone, and except for the euphonic sounds of the river, it was silent. I decided that I would take advantage of the isolation and freedom and stripped myself of all clothing. You can't get any freer than that and Believe it or not, it was pleasant and refreshing. There were no bugs, and the air was brisk upon my bare skin. I sat abreast the fire and pondered if this was how primitive man would have felt out here, if this is how they found relaxation, like we often find in a recliner with a beer in hand.
Not long after sitting by the fire I could hear the subtle approach of paddles swoosh in the water, I could also here Justin shout, "Daniel, are you naked?" to which I didn't reply. I simply met them along the shore to help pull them in. I spoke in pidgin, asking them, "what good do white man have trade?" They looked on bemused and probably uncomfortable by my nudity, so I got out of character and put clothing back on. It was midnight when we turned in.
April, 22. Morning comes quickly in the wilderness, and for some strange reason it is the only place where I become a morning person. I was the first one up, so I started breakfast of oatmeal and energy bars. Justin was soon up, and since he is such an obnoxious person by nature, Blake was soon awakened. Once we finished breakfast we broke camp as quickly as we could, and then played around with my brothers .22 pistol. A can was placed on a stump and we commenced fire. After a few rounds, we climbed in the canoe and prepared to leave this beautiful place. Heavily laden with gear and our persons, it made it quite an ordeal to shove her off the sand bar, but we managed. We would make two trips to collect all of our trash and gear.
Today would be our last day to snake hunt, so we decided to check our tin spots in Fargo, and then hunt our way home. Despite having numerous sheets of tin to flip we came up empty handed; only finding the shed skin of a canebrake rattlesnake. The smoke from the fire burning in the Okeefenokee was considerably worse today; which made my eyes turn red and burn. Blake also came down with a furious fit of violent sneezing, his eyes smarted profusely and snot ran freely from his nose.
While hunting through familiar tin sites we discovered one that Blake and I had yet to explore. I found a beautiful, cream-colored coachwhip beneath a single sheet of tin, sitting in the shade. Surprisingly, she remained motionless and I was able to snatch her up and examine her. Not a single scar or blemish showed on her entire length. Despite her calm capture, she soon turned defensive; holding her mouth agape and expelling the foul contents of her cloaca. On that note, I released her back into the pile of rubbish.
We searched multiple tin piles on our way home in spite of the sweltering heat; most of the sun exposed sheets of metal where obviously vacated as soon as the sun became too harsh. Some of the roofing metal hidden deep in the shaded woods still held signs of its previous occupants; flattened spots resembling a coiled rattlesnake, shed skins, and even remnants of serpentine vertebra were found. I felt that given the circumstances we hunted well, a good time was had and a memorable one too.
Camp Serenity
Reply
by FSB on March 18, 2008
Mail this to a friend!
Hey guys-

I just want to say, in my own humble, subjective opinion, that these are some really beautiful, artistic photos -- especially the snake close-ups (and most especially the e. kingsnake). They aren't exactly b&w.... I'm not sure what they are, but they look great.

All the best-

Frederick
Camp Serenity
Reply
by biff on March 29, 2008
Mail this to a friend!
wow!!! this article is very well-written. Good job. I'm surprised that there aren't more comments?!?

Steve
Camp Serenity
Reply
by Voided37 on April 18, 2008
Mail this to a friend!
Good clean fun....I liked the article.
Swamps are where life started["they" say], so their always a cool spot to go back to. I hope they don't ALL wind up subdivisions!

Steve
Camp Serenity, re-written and improved photos
Reply
by BigJT on March 21, 2012
Mail this to a friend!
Yea I lived in south GA most of my life until now. Pine, marsh and palmetto bushes get very boring after a while but it is a good place to wrangle up some creatures.
Email Subscription
You are not subscribed to discussions on this article.

Subscribe!
My Subscriptions
Subscriptions Help

Other Field Notes Articles

The Spring Egress: Moments with Georgia's Denning Horridus

Bushmasters and the Heat Strike

---