The Banded Rock Rattlesnake
from James D. Bear
Website: http://southwesternherp.com/articles/accountsofmytwovenomousbites.html on November 21, 2000
View comments about this article!

Editor's Note: The author of this article passed away on Jan 29th, 2008 from a Canebrake rattlesnake bite.

One of the most spectacular of native US rattlesnakes, the Banded Rock Rattlesnake, Crotalus lepidus klauberi, has been a popular species among private and zoological collections. Found in some of the most difficult terrain, the klauberi is sheltered from the collection method of road cruising which will only yield its nominate race the Crotalus lepidus lepidus. Restricted in most part to a life in the high mountain slopes, these animals enjoy basking in the early morning hours of the spring, summer and fall. Their range in the US is isolated to small mountain "islands" from southwest Texas, throughout southern New Mexico and into southeastern Arizona. In the wild the primary prey is sceloporus and small mice, however, in captivity they will do very well on mice.

Most females in the wild produce litters of 1 to 5 offspring during the months of June, July, August and September. On rare occasions births before and after these months have occured. In captivity the births still coincide with the wild cycle. Klauberi enjoy a "hibernation" period of at least three months, and in some areas for 5 months due to the high elevation. Breeding usually occurs during the months of August, September, October and November and yes, some action is witnessed during the spring months as well. Whether or not these copulations result in viable offspring for the following year or the same season is still a big mystery to those of us working with them.

The variation in color between mountain ranges can be extraordinary, from the silver and black of the Franklin mountains to the extremely mottled color of Chiricahua animals. Each show a remarkable resemblance to the habitat that surrounds them. (Except Franklin's, there's not much silver in the rocks, but it alludes to the fact that they spend much of the summer months moving well after dark, unlike other localities). Some specimens with lichen green stripes, purples, blues, lavenders, pinks and greys, are next to impossible to recognize in suitable terrain without the alarming buzz they sound off.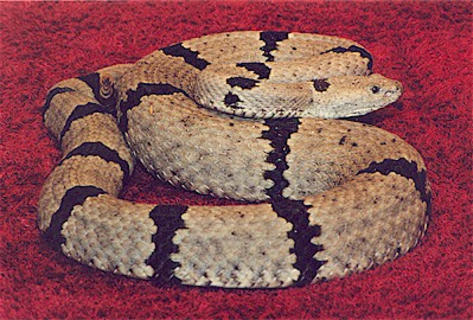 James D. Bear, copyright 2000

Here at our home, we offer our klauberi a "naturalistic display". They receive a basking area set to a timer. This basking spot allows for a very tight thermal gradient within a two foot cube. The background temperature in the room is kept to below 70 degress, and lights are on for 10 hrs during the summer and still offered for 4 hours during the winter but with a drop to 50 degrees in background temp. We use soil topped with cypress mulch as bedding, a basking area of piled rock or driftwood offer hideout and security. Water is offered at all time, and animals are misted in conjuction with the rainy season as it happens naturally. If it rains outside, the leps get it too. After using this arrangement we have noticed aggressive behavior in our specimens, much better weight gain, and awesome feeding response. This should contribute to better offspring production as time moves on.
We feed our captive females weekly, males every two weeks, appropriate sized meals are taken, and care is given not to stuff the lep due to the ever changing temperatures they endure (nightime lows). After a hibernation of 3 months to 4 months, we feed for 2 months, then begin introductions of pairs. At this time we keep our males and females together for 2 weeks at a time, giving some period to allow the female to produce pheromones and waiting for the response from the male. We do not recommend combatting, but sometimes it is necessary; just supervise them while they are together. Severe combats have been seen here with ours resulting in death of the younger, defeated male. Also, understand the losing male has no where to retreat in a cage and the aggressor will not relent with this "encroachment" of territory!
After the female is receptive, copulation is subtle and seen normally at night or evening, lasting for several hours or only 15 minutes or so. Expect young after copulations for a 4 month or longer gestation. Breedings that occur in the fall, will produce in the summer of the following year. Getting the female to ovulate is the consistent problem with lepidus. Babies are pretty simple to work with, most taking pinkie mice right away after first shed. Problem feeders will require a lizard or two to get them started.
This species is very interesting and I personally recommend maintaining at least one specimen in your collection. But beware, the bite is pretty bad. With a higher amount of neurotoxically active components than most crotalids, they pack quite a punch. And even a bite from a baby C.l.klauberi is cause for concern.
James D. Bear, Copyright 2000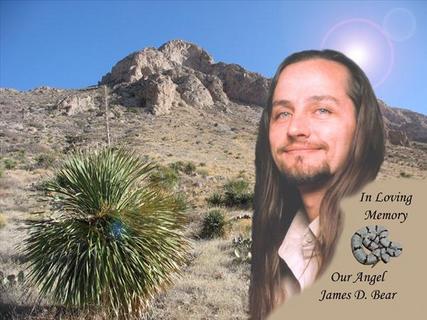 The Banded Rock Rattlesnake
Reply
by Felix_in_hat on March 8, 2001
Mail this to a friend!
Very interesting and well written article!! Do you have anymore pics of your rock rattlers maby some mottled?
RE: The Banded Rock Rattlesnake
Reply
by lcrr on February 24, 2002
Mail this to a friend!
Nice article, good info packed tightly. I have 1.0 klauberi myself. He has a pale lavender tint on the base color, sometimes showing a pale green tint, especially during the rainy season.
The Banded Rock Rattlesnake
Reply
by LuckyRick on September 29, 2002
Mail this to a friend!
I was interested to here your description of color variants to C.l.klauberi. I have seen specimens at the Arizona Sonora Desert Museum and also have been on trips to the Chiricahuas and Huachucas where we collected them on talus slopes. All of these specimens were green.
At the museum and in the Snakes of Arizona by Fowlie, Crotalus lepidus klauberi is referred to as the Green Rock rattlesnake.
The Banded Rock Rattlesnake
Reply
by Ezra on April 11, 2006
Mail this to a friend!
Nice article, do you have any further info on their venom? Or can you guide me where to find some?
The Banded Rock Rattlesnake
Reply
by blyon3 on July 16, 2007
Mail this to a friend!
Nice article. I ran into one of these guys last weekend -- looked exactly like your picture. He was up near Mundy's Gap in the Franklin Mountains above Tom May's park. He was very good at giving us early and constant warning with his rattle, luckily...
The Banded Rock Rattlesnake
Reply
by hallosb on May 11, 2008
Mail this to a friend!
Thanks for the tip on the color variation. I saw one this morning in the Huachuca Mountains in Arizona and couldn't identify it. Green in color with yellow stripes. Just as described, we probably would not have seen him but, he gave us a nice warning with his rattle.
Email Subscription
You are not subscribed to discussions on this article.

Subscribe!
My Subscriptions
Subscriptions Help

Other Captive Care Articles

Jameson's Mamba Captive Care

Captive Care and Breeding of the Monocle

Keeping Kraits

The Black Mamba

Captive Care of the Russell's Viper

---