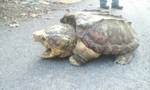 Ok I have a few animals we are looking to sell. Open to many trades and these will be on display at the Colombia SC repticon show this upcoming weekend. Most animals private facility and ZOO born. Message with any questions.

CB 2012 Phillipine Palm Pitvipers European IMPORTS Parias Flavomalctus VERY RARE in US collections. LARGE Asian aboreal pitvipers with screaming green and red coloration.We have 2 trios (2.4) available of gorgeous screaming CB offspring. NOW is the time to take advantage of this VERY RARE and beautiful aboreal species. $Inquire
1.0 GIANT (75-100lb) Alligator Snapping turtle, HUGE DISPLAY animal, carapace is 29 by 19 in alone. Eats anything from whole fish to rodents. GREAT FOR A ZOO WITH A BIG DISPLAY $inquire 0.0.2 adult Hindgeback Tortoise. Good looking young adults, only $200pr 0.0.3 CB 2012 Dumerils Boas $75 each 1.0 CB 10 Sub adult Bothrops moojeni, Brazilian Lancehead, not for the faint of heart. Beautiful hard to find Bothrops for $275, ready to breed right now
0.0.4 CB 2011 Big Yearling Northern pines $75 each
1.0 7 ft forest cobra 'Void" sold $220
1.0 HUGE (4ft and Thick!) CB fl. Cottonmouth $75 SALE pending
0.0.1 CB Young sub adult Brazilian rainbow Boas, nice big red and orange subadult $200
1.0 CB adult corn snake $50
1.0 Colombian Red Tail boa $75, young adult
1.1 Proven Northern pine snake adults $225 pair
0.1 Young adult female reticulated python. About 10 ft but has nose rub $100
1.0 CB Dusky Pigmy Rattlesnake, BIG adult male $50 SALE pending 0.0.9 CB Virginia Locality Eastern cottonmouths, northernmost locality of the species, not an easy locality to find only $75 a pr
0.0.2 CB 2012 Northeastern NC Locality Red Rat (corn) snakes. AWESOME BRIGHT DARK RED offspring from stunning orange and red adults. Island variant.These guys are awesome natural oranges and red. $40ea
1.0 Durango mountain kingsnake (3ft) $120
0.0.1 SCREAMER RED Brazilian Rainbow Boa (2 1/2 ft)$200
2 bumble bee poison dart frogs $40 ea
0.0.8 cb 2012 -Crested geckos - $40 each
1.1 Proven Adult Crested geckos $150 pair

I am looking for the following in Trade,
Neonatal EDB's 2.2 max: CB with locality specific parents
Rat snakes: *Everglades, Bairds, Yellow, Greenish: Individuals 3 feet plus exhibit quality
Any large Garter Snake: Over 32 inches
Eastern Coachwhip: Black head brown body over 4 foot
Red Racer: Any adult Grey Banded King, adult male with lots of orange
*Taylor's Cantil: adult Need a female
*Urutu: Adult or young adult female
*Palestinian Viper: Any age male
*Sulawesi Wagler's Viper: Any age male
Tiger Rattlesnake: Female any age, well marked
Argentine Black and White Tegu: Female
Rhino Iguana: Male over 2 feet Exceptional Puff adders Kraits Certain hot species including various beaded lizard ssp

All animals are available for pick up in central VA or delivery to the Colombia SC repticon show.Pics available for serious parties, KNOW your REGS. THANKS again!!